It may be a leveraged buyout, but not as you know it.
I'm referring to Calpine Corp. The merchant generator's stock has popped by 32 percent since May 9 on reports it has put itself up for sale (something of a theme lately, with renewed talk on Friday of rival Dynegy Inc. also getting taken out). Private equity names feature heavily in the roster of potential suitors.
What's weird is that Calpine already carries a ton of debt -- almost 7 times trailing Ebitda at the end of the first quarter. It is also already pretty efficient, and its market, wholesale electricity, faces big challenges to growth and profitability. So it's difficult to see how a traditional LBO -- where you layer on a ton of debt, cut costs and flip it later for a higher multiple -- would work.
If an LBO does happen, it will likely use a different playbook: Sell assets to recoup the initial payment as quickly as possible and hope public equity markets have got this sector all wrong:
Merchant generation is, to put it mildly, a challenge to the average investor, exposed to price swings, both in terms of fuel and electricity, and facing regulatory and technology risks.
High leverage compounds this. For example, analysts forecast Calpine to generate $2.8 billion of free cash flow in the next three years, equivalent to almost 60 percent of its current market cap. Problem is, it's all earmarked already for bondholders.
This is where private equity may see an opportunity. They don't care about debt; they bathe in the stuff. And while public markets see a volatile business model facing potential doom, private equity sees options around rejigging the portfolio of assets and unexpected price-spikes that might juice cash flow. Plus, Calpine's plants have the advantage of being mostly modern ones running on natural gas.
Here's how it could work in theory.
Assume Calpine accepted a bid at $15 a share, in line with the consensus analyst target price and roughly 50 percent higher than on May 9. Cost: $5.4 billion.
Now assume Calpine earns Ebitda in line with consensus forecasts as compiled by Bloomberg through 2019, staying flat thereafter. Depreciation clocks in at $650 million a year; maintenance capex at $435 million. Losses carried forward negate taxes.
One potential obstacle would be if a deal were to trigger change-of-control clauses on Calpine's bonds. However, it appears that would also require Calpine's credit rating to be downgraded as a result of the deal (even more reason not to put on more debt.) 
Assuming that didn't happen, one lever to pull almost immediately would be to sell Calpine's 725 megawatts of geothermal "Geysers" plants in northern California. Assume they generate $300 million in annual Ebitda -- in line with analyst forecasts -- and could be sold for 10 times that. That's $3 billion paid back -- or 55 percent of the equity check -- likely within a year (although Ebitda also would go down, of course). 
Then assume that, instead of trying to pay down debt like after a traditional LBO, the buyer holds Calpine's net debt at a fixed multiple of Ebitda; say, leverage of 6.5 times. Free cash flow would go to dividends instead: roughly $2.4 billion of them across 2018 through 2022. By then, the equity check is paid back in full (on an undiscounted basis, anyway).
The buyer might then choose to sell in 2023 (in theory, they could hang on and keep taking cash out, but that offers low returns overall). Assume an exit at 8 times Ebitda -- below the 9.3 times paid originally -- and the buyer would net a final $3.1 billion payment for the equity.
The product of this layer cake of assumptions is an internal rate of return of 20 percent -- just scraping the traditional target for private equity funds.
That looks too low, and shaky, to really warrant a deal at $15 a share -- especially as, given the murky outlook for merchant generation, even 8 times Ebitda may be ambitious for an exit in 2023. Here's how those rates of return look assuming different acquisition prices and exit multiples (but keeping all other assumptions the same):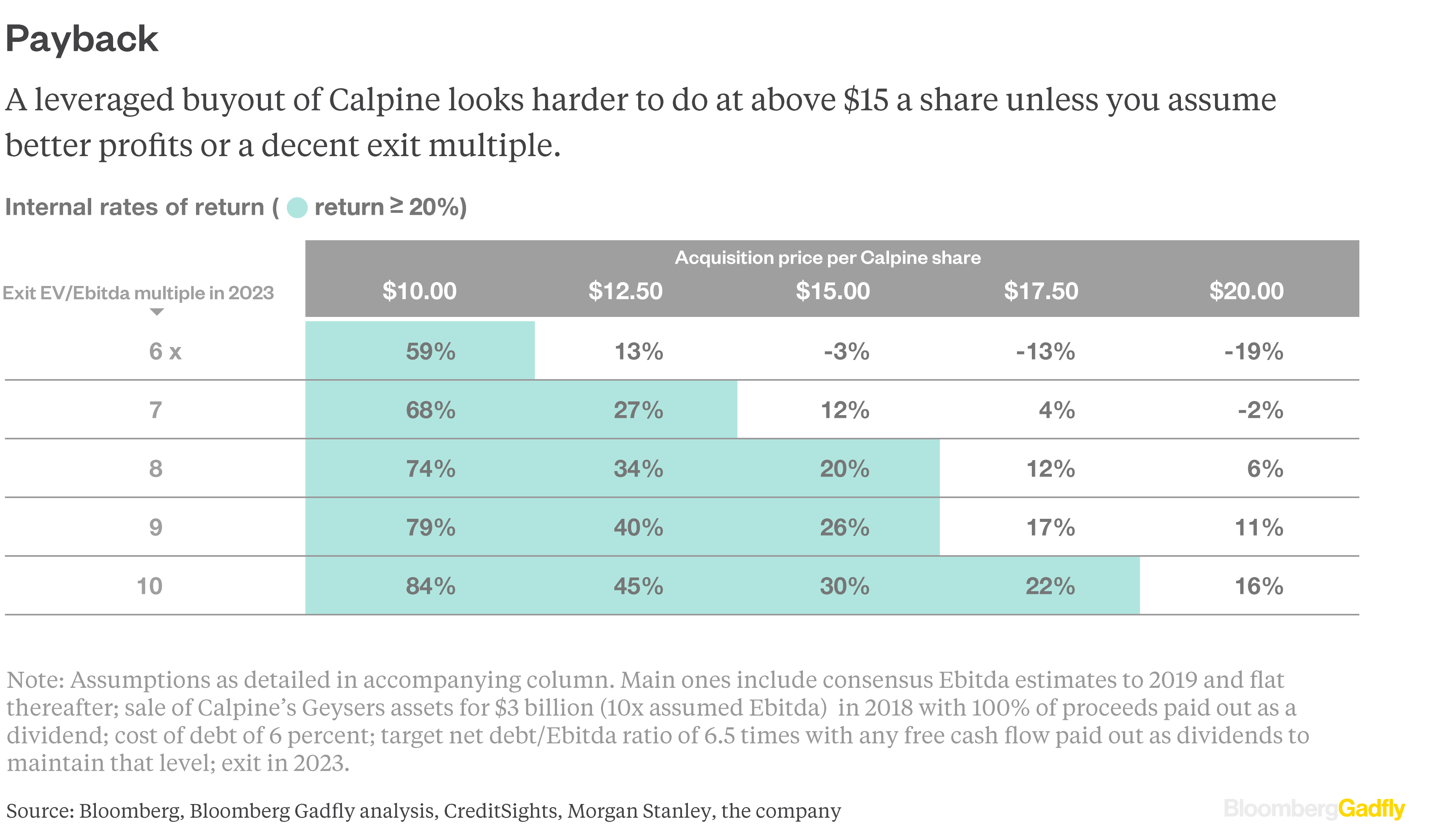 Notice how things look more feasible at the sub-$15 level.
There are other things any private equity buyer might consider, though.
One is that they may use leverage distinct from Calpine's. Say they found a friendly banker -- and bankers tend to be friendly to fee-paying buyout firms -- willing to lend them half the money needed for that upfront equity check -- $2.7 billion -- at a cost of, say, 6 percent.
Then the buyer's leveraged rate of return on their (smaller) equity check could get very interesting -- albeit much riskier too.
On this basis, you could drop the exit multiple to a more conservative 7 times Ebitda and, at a $15-a-share bid, get a levered return of 21 percent. 
The other big variable is optimism.
Say, instead of staying flat, Calpine's Ebitda rises incrementally between 2019 and 2023, by just 5 percent overall. In that case, the levered rate of return leaps to 32 percent. This chart shows just how sensitive the implied returns are at different acquisition prices:
Optimism and leverage work both ways, of course: If Ebitda falls instead, then things turn nasty very quickly.
LBO models are, of course, only as good as their assumptions and can be tweaked to come up with myriad outcomes.
Still, a Calpine buyout does look like a possibility, albeit one that requires more than the usual level of creativity and bullishness.
And the sensitivities suggest you need way more creativity and bullishness to feel good about buying Calpine once you start moving north of $15 a share.
A strategic buyer, if one could be found, might finesse this with cost savings. But it seems clear that if you bought Calpine shares at $10 or below, a meaningful buyout premium is a reasonable possibility -- more reasonable, anyway, than if you're buying now at $13 and change.
This column does not necessarily reflect the opinion of Bloomberg LP and its owners.
To contact the author of this story:
Liam Denning in New York at ldenning1@bloomberg.net
To contact the editor responsible for this story:
Mark Gongloff at mgongloff1@bloomberg.net