Toll Ahead
The Benettons' Way or the Highway
Any interloper will find it a struggle to beat Atlantia's offer.
By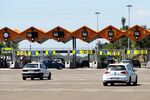 ATLANTIA SPA
+0.29
At Closing, June 19th
It's my way or the highway. That's how Atlantia SpA must be hoping shareholders in Abertis Infraestructuras SA will view the Italian toll-road operator's 16.3 billion-euro ($18 billion) offer for its Spanish rival.
The industrial gains from merging infrastructure companies are small; the financial gains are anything but. Atlantia, which is 30-percent owned by Italy's Benetton family, can fund the desired takeover almost entirely with debt that would carry a low interest rate of less than 2 percent.
Any deal will comfortably boost Atlantia's earnings per share from the get-go. An acquisition would also bring diversification away from Italy, something that could help to improve the group's perceived creditworthiness. All helpful ahead of a possible infrastructure splurge by Donald Trump. 
What's in it for Abertis? Atlantia's 16.50 euros-a-share offer is a humdrum 8 percent more than the target's share price before Bloomberg News revealed the talks in April. That premium rises to 17 percent if you use Abertis's average stock price over the prior three months. Such an incentive wouldn't normally cut it.
But Abertis will struggle to drive its shares to this level on its own. The road to a rising share price in infrastructure is tortuous. The last time the stock was at the offer level was two years ago. It's a case of take it or leave it.
Only a counter-bid would push Abertis shares higher. Don't count on that. It would be a mouthful for the big infrastructure funds like Borealis and the Ontario Teachers' Pension Plan -- and such buyers would need to assemble a consortium. Any private-equity interloper would be unable to use as much debt as Atlantia in funding its offer, and the borrowings would be more expensive too.
These dynamics have enabled Atlantia to structure its bid aggressively. It is seeking only 50 percent plus 1 share -- enough to win control, get cheap financing and secure the diversification benefit. 
Criteria Caixa SA, which has a 23 percent holding in Abertis and appears reluctant to sell, is therefore unable to block a transaction.
But it is being thrown a bone: Atlantia is willing to pay up to 23 percent of the purchase price in its own stock. Cunningly, this has an inbuilt deterrent to ordinary Abertis shareholders -- anyone who takes the stock won't be able to sell it until February 2019. So if all other shareholders elect to receive cash, Caixa can take payment entirely in Atlantia shares, giving it a rough 15 percent stake. The same structure was used by Anheuser-Busch InBev in its takeover of rival brewer SABMiller back in 2015.
Abertis management and Caixa aren't commenting yet on Atlantia's offer. Abertis may want to appear open to rival pitches. Caixa may want to look neutral. For everyone else, this looks like the best they will get.
To contact the author of this story:
Chris Hughes in London at chughes89@bloomberg.net
To contact the editor responsible for this story:
Edward Evans at eevans3@bloomberg.net
Before it's here, it's on the Bloomberg Terminal.
LEARN MORE