Merger Mechanics
Beat This, Hedge Funds
A German telecommunications deal comes with a cunning design feature.
By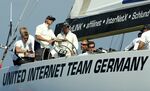 1&1 DRILLISCH AG
-0.10
As of 2:11 AM EDT
It's the M&A banker's holy grail: a deal invulnerable to an assault by greedy hedge funds. Two German telecommunications groups have had a go at just that -- seemingly with some success.
United Internet AG and Drillisch AG want to combine. Drillisch has a contract to access a big chunk of Telefonica SA's mobile capacity in Germany, way more than it can actually use. Add United's customers and the pair can fully exploit that asset.
The estimated synergies from the deal are put at 250 million euros ($272 million) by 2025. Valuing such distant benefits is tricky, but they're probably worth at least 1.3 billion euros and more than 2 billion euros in today's money. Nice, given the duo's combined market value of 11 billion euros before the talks emerged.
The natural course would be for United to make a straightforward bid for Drillisch. It already owns 20 percent of the company. But a cash offer that included a 30 percent premium would come to 63 euros a share, or 3.5 billion euros -- too much for United's balance sheet. A stock offer would dilute founder CEO Ralph Dommermuth's 39 percent stake.
If United tried to make a cheap bid, hedge funds would pile into Drillisch and push the share price out of reach. United would be held to ransom: if it ever lifted its holding above 30 percent, it would have to make a bid at the inflated stock price under German takeover rules.
The companies have concocted a way round this. First, United goes straight to 30 percent by receiving new shares in Drillisch in return for a small stake in the bigger group's mobile assets. The rules would then require United to make a bid at close to the target's recent share price, around 46 euros a share. No sweat. United will preempt the obligation by proposing an offer at 50 euros a share -- 3 percent more than Thursday's close.
What if Drillisch shareholders reject the offer? It hardly matters. Drillisch and United fully merge anyway in another cunning transaction: United will put the rest of its mobile assets into Drillisch in return for taking shares that lift its stake in the company to 73 percent.
In short, United gets to 30 percent for sure, giving it de facto control. It moves to full control without being forced to pay a fat premium. 
There's a wrinkle: Drillisch shareholders need to approve the second stage of this. But they don't have a better alternative. Vote no and the companies won't realize those juicy synergies, the prospect of which pushed Drillisch shares up 12 percent on Friday. And forget anyone making a counterbid for Drillisch given United's existing stake.
Hedge funds will scream that Drillisch shareholders deserve a premium for losing control. But it's not obvious at this stage how they can force United to pay more.
This deal was more than a year in the making. Ingenious would be the hedge fund that could find a way through this seemingly bullet-proof structure. 
To contact the author of this story:
Chris Hughes in London at chughes89@bloomberg.net
To contact the editor responsible for this story:
Edward Evans at eevans3@bloomberg.net
Before it's here, it's on the Bloomberg Terminal.
LEARN MORE