About Time
TVB Deep Dive Deserves Gold Star
Getting to the bottom of who owns some of the mainland Chinese companies listed in the city matters.
By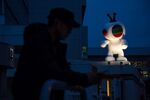 In a city whose stock exchange is dotted with listings of opaque mainland firms, Hong Kong's securities regulator is doing a rare thing: digging deep.
If the Securities and Futures Commission is right, not only is Hong Kong's top broadcaster effectively owned by a Chinese media tycoon rather than a Hong Kong resident as is required, but the tycoon himself -- Li Ruigang -- could have a mystery partner.
An SFC panel review Wednesday into Television Broadcasts Ltd.'s ownership marks a rare exploration into a publicly traded company's structure. And its conclusion surrounding who controls Young Lion Holdings Ltd., TVB's biggest backer with a 26 percent interest, is surprising.
Apparently, Young Lion isn't majority owned by local businessman Charles Chan, but by Li, through a vehicle called CMC Holdings Ltd. That's because when you include crucial non-voting shares, it elevates CMC's stake in Young Lion to 79.01 percent, surpassing Chan at 6 percent. Cher Wang, the president of Taiwanese phone maker HTC Corp., holds the remaining 14.99 percent when her non-voting rights are counted.
Young Lion's legal team disputes the panel findings and says there is no precedent for disclosing non-voting rights. But the SFC outlines why those shares matter. The ability to appoint independent directors to Young Lion's board, for example, falls to whoever has the most stock, voting or otherwise. And it means CMC, or Li, gets to pick the Hong Kong resident who would purchase Chan's stake should he sell.
That Hong Kong's major free-to-air broadcaster, which has a huge following among Chinese living overseas in places like Canada and Southeast Asia, is owned by a mainlander isn't the end of the story. The SFC had more revelations in store.
Its review says Li holds 86.19 percent of the voting rights of CMC, and "this indicates the presence of another class of shares in CMC, a fact that was confirmed at the panel hearing, and that Li may not have such a substantial equity interest in CMC and, in turn, in Young Lion and TVB." Cue an unknown third party.
Why is all of this just coming to light now?
The SFC began looking into TVB's ownership structure after it sought a so-called whitewash waiver, or an exemption from having to trigger a general offer in the case of a buyback. In January, TVB announced a HK$4.2 billion ($539 million) share-repurchase plan in a move aimed at further cementing Young Lion's control over the group. That proposal was opposed by U.K.-based Silchester International Investors LLP, which described it as a "disguised nil premium takeover attempt" by Young Lion. The SFC concluded the whitewash waiver application should go to a shareholder vote.
The bigger issue, however, is the SFC's concerted attempt to drill down into TVB's ownership structure, even as it says there "should not be an endless pursuit of a river to its multiple tributaries." Silchester said on Thursday that the SFC's steps to protect minority shareholders, and shareholders in Hong Kong companies more generally, help preserve the city's reputation in financial markets. It also said TVB's board should respond in a timely and transparent manner, and independent directors must become actively engaged in the process.
Questions around who actually owns some of China's biggest companies are being raised more often as firms such as Anbang Group Holdings Co. and HNA Group Co. display a seemingly unending appetite for assets globally. For its efforts, the SFC should be highly commended.
(
Updates to add Silchester comments in 10th paragraph.
)
To contact the author of this story:
Nisha Gopalan in Hong Kong at ngopalan3@bloomberg.net
To contact the editor responsible for this story:
Katrina Nicholas at knicholas2@bloomberg.net
Before it's here, it's on the Bloomberg Terminal.
LEARN MORE