Scotch Tape
Oil Investors Love Those Single Malts
Diversified giants and mid-sized majors lag shale specialists.
By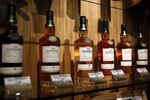 ANADARKO PETROLEUM CORP
-0.56
At Closing, June 19th
Oil investors seem to be into single malts these days, not blends.
It wasn't always thus. For the longest time, success in the oil game meant spreading your bets: Get into several countries to balance your political risks; build a refining business to hedge your price risk; produce some natural gas to manage your fuel or, latterly, carbon risk. This reached its apotheosis -- if that's the word -- in the 1970s, when oil majors veered way off the reservation: For example, Gulf Oil, now part of Chevron Corp., came within a whisker of buying the Ringling Brothers and Barnum and Bailey circus operators. And while those crazy days are long gone, don't forget the 21st century kicked off with oil mega-mergers.
Diversification doesn't seem so desirable these days. Mid-sized majors and diversified E&P companies such as Anadarko Petroleum Corp. and Occidental Petroleum Corp., especially, aren't getting much love:
Their performance over one year is more mixed, with Anadarko doing relatively better, though generally still weak. Since July 2014, just before the oil crash got going, they have been serious laggards compared to the supermajors, shale-focused companies such as EOG Resources Inc. and Pioneer Natural Resources Co., and the Energy Select Sector SPDR ETF.
On one hand, this seems odd. Take Occidental, or Oxy, a $47 billion market-cap company with a mixture of oil and gas production in the U.S. -- including that magical Permian place you've heard of -- the Middle East and Latin America, as well as chemicals, pipeline and power-generation businesses. It projects production growth of 5 to 8 percent this year, as well as offering a dividend yield of 5 percent, and says it can fund both with oil at $50 a barrel, roughly in line with the average so far this year.
Similarly, Anadarko is projecting annual average growth of 15 percent in its oil production over the medium term; Apache Corp., meanwhile, expects its output will rise by between 8 and 14 percent by the end of the year compared to the first quarter and offers a yield of about 2 percent, in line with the S&P 500. Hess Corp., meanwhile, is accelerating drilling in the Bakken shale and has had some notable exploration success alongside Exxon in Guyana.
All are laggards.
There are some specific factors at work here: Anadarko, for example, lucked out on an exploration well in the Gulf of Mexico and had to shut in thousands of wells in Colorado last month following a house explosion. 
But it's possible there's a more fundamental problem: Diversity just isn't delivering.
One clue as to why can be found in these projections by Morgan Stanley of capital expenditure by a sample of integrated oil majors, both on their upstream and downstream businesses, and by U.S. E&P companies:
U.S. shale's combination of a large resource, short lead times, scope for productivity gains and relative political stability has made it a magnet for capital in these uncertain times for oil prices and long-term demand. There are effectively two oil industries out there when it comes to drilling wells right now: shale and everything else.
E&P companies able to demonstrate productivity gains and double-digit output growth are rewarded not merely with high multiples, such as EOG, but also open access to fresh capital when they want it, with Diamondback Energy Inc. a poster child.
At the same time, the experience of the past two years and the emotional roller-coaster of relying on OPEC cuts has deterred investors from the sector. I wrote recently about how E&P stocks had disconnected from oil and natural-gas prices. On Wednesday, Tudor, Pickering, Holt & Co., an energy-focused investment bank, revealed that the number of responses to its weekly "Energy Pulse" investor survey had dropped almost 80 percent since its January launch, something the bank took as a sign of "sheer apathy" toward the sector.
In that environment, investors will naturally migrate toward shale's relatively straightforward story of high growth, cost-cutting and access to a large, growing set of resources (especially in the Permian basin).
While Oxy, Anadarko and the other 'middlers' all can -- and do -- boast of shale credentials, they don't offer pure plays. And yes, dividends offer some enticement, but if you want dividends, you'll likely buy Exxon. Oxy may offer both a higher yield and higher growth, but dividend investors like strong balance sheets. So the increase in Oxy's ratio of net debt to equity from 19 percent to 40 percent over the past year is a deterrent.
The upshot is that the middlers trade on relatively low multiples and yet, despite the laggardly performance, not at bargain discounts, by and large:
Looking ahead, if oil prices recover, pure-play E&P stocks will enjoy the most leverage. On the other hand, drifting or falling oil prices will still hamper the middlers and push investors toward bigger lifeboats like Exxon, or out of the water altogether.
That tension could potentially spark some interest from activists or strategic buyers. Streamlining portfolios is activism 101, and the sector has some experience on this front, most recently with Hess --where Elliott Management remains a shareholder -- and Oxy, where the former chairman was ousted in 2013.
As for mergers, Anadarko has long been talked of as a potential takeover target for Exxon -- which, don't forget, could use a top-up. Meanwhile, even after Wednesday's oil price-induced jump, Oxy's stock, remarkably, trades below where it was in the depths of the crash in February 2016.
Yet if the middlers' muddle message leaves them vulnerable, then Exxon has a problem of its own. As I wrote here, Exxon's scale and diversity, while useful in a storm, have proven less powerful with investors lately. Perhaps most strikingly, a synthetic Exxon made up of a group of stocks covering the major's different businesses has not only trounced it over the past 12 months, but the entirety of the oil-price crash, too:
In fact, the "stock" of that synthetic major I made up on the Bloomberg Terminal is higher today than at the end of July 2014, before the oil crash.
The message from that? The crash and the shale boom that helped shape it have made diversification a hard sell, especially for the middlers but also for the supermajors. That is a big problem.
Yet even if investors don't necessarily back energy companies spreading their bets on their behalf, there is value in them doing it themselves.
In other words: Enjoy your single malts by all means; just don't stick with only one.
To contact the author of this story:
Liam Denning in New York at ldenning1@bloomberg.net
To contact the editor responsible for this story:
Mark Gongloff at mgongloff1@bloomberg.net
Before it's here, it's on the Bloomberg Terminal.
LEARN MORE