Brexit Battles
Gilts on Hold, Hold, Hold
Sterling markets aren't buying the Bank of England governor's hawkish tone.
By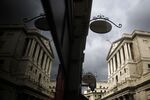 Bank of England Governor Mark Carney did his best to sound hawkish on interest rates at as he set out explain the central bank's latest decision and thinking on Thursday.
Markets weren't buying it. The pound fell modestly, yields on two-year gilts fell, and gilt futures were unchanged on the day.
The 7-1 vote to leave rates unchanged was enough to reinforce the view that rates aren't going up for the foreseeable future, however much the BOE wants to sound prudent.
The central bank's punchline was that, if the economy follows the path it expects, rates will be higher at the end of its three-year forecast period than the current yield curve suggests. Carney made this the principal point of his opening remarks. Yet it didn't take long for the markets to shrug it off.
The governor was unable to shift investors' rate expectations because there are too many obvious risks to it -- especially around Brexit, where the Bank of England's central scenario is for a smooth transition with a trade deal.
To put it charitably, that's an optimistic scenario that few investors are banking on. The big shock of the press conference was that policy makers aren't even modelling for a disorderly outcome.
Most of the Q&A session was taken up with the bank's wage inflation forecasts. Carney still holds dear to the mantra that wage inflation will return with a vengeance. Yet the BOE has sharply revised down this year's estimate for wage growth to 2 percent from 3 percent. That's lower than the inflation forecast, meaning they expect a real income contraction. Hardly fertile ground for rate hikes.
That makes it a stretch to have confidence in the BOE's longer-term forecasts for a strong bounce in wage inflation. What would propel that wasn't clearly explained. Indeed, Carney covered himself by saying that if wages don't rise as much as expected then that would have consequences. In other words, rates won't be going up after all.
Gilts have maintained their safe-haven status precisely because of such risks. Better to be safe in low-yielding gilts than in riskier equity markets and wait for the Brexit storm to pass.
There was nothing the markets heard today to change these views.
To contact the author of this story:
Marcus Ashworth in London at mashworth4@bloomberg.net
To contact the editor responsible for this story:
Edward Evans at eevans3@bloomberg.net
Before it's here, it's on the Bloomberg Terminal.
LEARN MORE