Get On With It
BT and the Importance of Being Boring
CEO Gavin Patterson pledges to do better after a bad year
By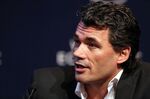 BT GROUP PLC
+1.50
At Closing, April 20th
TELECOM ITALIA SPA
+0.01
At Closing, April 20th
Telecom companies in Europe tend to be pretty predictable. There isn't much sales growth, capital expenditures go into network investments with long payback times, and whatever cash flow is left goes to pay dividends to keep investors happy. 
When that implicit contract with shareholders breaks down, though, things can get ugly. That's what's happening at BT Group Plc, the worst performer in the European telecoms index in the past year. And while the FTSE 100 has rung up total returns including dividends of about 24 percent in the past year, BT shareholders are sitting on a loss of about 26 percent on the same basis.
On Thursday, BT Chief Executive Officer Gavin Patterson issued a raft of initiatives on Thursday aimed at winning back confidence in Britain's biggest provider of mobile and broadband services. There will be 4,000 job cuts, a new head for the unit that serves multinationals that was hit by an accounting scandal, and Patterson will return some of an earlier bonus and forgo one for the financial year through March 31. A chastened Patterson promised to do better, while arguing that BT has the right strategy for future growth.
He's only partly right, and that's the problem. BT only gave sales, profit, and dividend guidance for the 2018 financial year, breaking with its usual practice of issuing two years of pledges at a time. It also scaled back earlier practice of raising its dividend by 10 percent a year; now it promises only "progress" on the payout.
 BT's reluctance to give investors longer-term goals is down to the uncertainty created by recent changes to Openreach, BT's unit that runs the national broadband network on behalf of itself and competitors, as well as another pending regulatory review. As Gadfly has explained before, Openreach generates half of group cash flow so BT's profitability and dividend payout depends largely on what is basically a heavily regulated utility sitting in the company. 
The trouble is that even after a bruising two-year fight with regulators that ended with Openreach being made more independent, the unit is still hesitating over how much capital to commit to building fiber lines closer to homes and businesses. It said on Thursday that it wanted to "consult" with companies who rely on Openreach such as Vodafone Plc and Sky Plc on their appetite for a more ambitious fiber roll out. BT may seek assurances on the competitors contributing to the cost or promising to move customers over to the new network; it's unclear now whether the other guys would agree.
Either way the consultation is unnecessary and wastes time that could be better spent improving Britain's broadband. Patterson and the board of BT seem unable to admit the obvious -- telecom companies must build faster fiber networks so as to provide the infrastructure that underpins the modern economy. Telefonica, Orange, and even perennial laggard Telecom Italia are doing so. BT is just delaying the inevitable, and leaving its investors hanging in the process. 
Beyond the Openreach issues, Patterson didn't deliver excellence on the operational front last year. Remember the profit warning in March? While the shares are trading at a roughly 10 percent discount to the sector on a enterprise value-to-Ebitda basis, that seems deserved given the challenges ahead. Patterson still has much to do before BT has the luxury of being predictable again.
To contact the author of this story:
Leila Abboud in Paris at labboud@bloomberg.net
To contact the editor responsible for this story:
Jennifer Ryan at jryan13@bloomberg.net
Before it's here, it's on the Bloomberg Terminal.
LEARN MORE