Banker Pay
A Last Hurrah for Bonuses
Don't expect a forecast increase to turn into a long-term trend.
By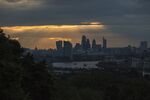 CREDIT SUISSE GROUP AG-REG
-0.23
At Closing, May 24th
Global stock markets are at or close to record highs. Interest rates are on the path to normality. Most big Wall Street banks are delivering bumper revenue growth. This is surely a good time for traders and bankers to feel a bit better about their employment prospects -- and, yes, their pay.
Just remember, it's unlikely to last long.
It's clear that bank CEOs now recognize they need to retain staff after years of cuts. Wall Street is set to hand out the biggest jump in total bonus pay-outs this decade: consulting firm Johnson Associates expects bonuses for bond traders to rise by as much as 15 percent this year, and those for securities underwriters by up to 20 percent, according to Bloomberg News.
This won't be enough to reverse a near-40 percent drop in investment-banking compensation since 2009, but it's certainly a happy change after years of culling staff.
European banks are unlikely to be as profligate, given they're still trying to turn their struggling businesses around, but they will also be aware of the need to stop rivals poaching talent.
They have some room to maneuver. In Thursday's slew of earnings, UniCredit SpA, ING Groep NV and Credit Agricole SA all beat analyst estimates. Credit Suisse Group AG recently said it was upping bonuses. Deutsche Bank AG's recent fundraising should allow it to return to a more normal pay policy after it scrapped bonus packages for top bankers in 2016.
European firms are well-positioned to reap the benefits of any improvement in the region's economy and rises in interest rates, something we've we've said before.
Still, traders dusting off their resume are unlikely to feel entirely confident about the long term.
Market valuations are high, but stock-market volatility has been crushed, squeezing equities revenue. Johnson's own forecasts predict more cuts to bonuses in equities and M&A divisions this year. And while bond trading and underwriting have been helped by clients racing to lock in cheap funding and bet on future interest-rate hikes, these forces may prove short-lived: Credit Suisse warned of more muted activity in April when it reported first-quarter results.
In coming years, investment banking will look less like a people business and more like a race against technology and regulation. Look at how shares of electronic bond-trading platform MarketAxess Holdings Inc., which has grabbed market share from banks, have outperformed Wall Street titans over the past five years.
In Europe, the looming Mifid II rules will require more transparency from dealers, add more cost and shift more trading onto exchanges, threatening margins. That suggests a more defensive stance.
So talk of better pay feels more like a case of short-term tactics in the face of tough competition than a durable bet on investment-banking growth.
Investors are punishing banks that fail to match optimistic forecasts -- Goldman Sachs and Barclays shares suffered one-day drops on disappointing quarterly performances. Shareholders are unlikely to endorse empire-building expansion plans either. Firms fighting to keep staff or hire from rivals are likely focused on hitting targets for this year, not changing their strategy for the next five.
Bankers hoping for a better bonus may find their prayers answered this year. But it's hard to see "rock-star" investment bankers looking like a more reliable bet than machines in the future.
To contact the author of this story:
Lionel Laurent in London at llaurent2@bloomberg.net
To contact the editor responsible for this story:
Edward Evans at eevans3@bloomberg.net
Before it's here, it's on the Bloomberg Terminal.
LEARN MORE