Niche Pitch
Here's Something Else Snapchat Should Worry About
Niche marketing by definition translates into lower potential future revenue.
By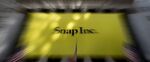 SNAP INC - A
+0.36
At Closing, April 20st
FACEBOOK INC-A
-1.82
At Closing, April 20st
One of Snapchat's remarkable accomplishments is how it created novel types of advertisements that seem like they're part of the app. Snapchat has gotten pretty close to the holy grail of advertising: Commercials that don't feel like annoying interruptions. 
But those slick ads are also an Achilles' heel for Snapchat. 
It takes skill and resources to be able to make ads for Snapchat. Big companies like Taco Bell and Toyota can do it, and so can internet-savvy smaller companies like clothing retailer Farfetch. But because the ads are creative, customized for Snapchat and downright good, that may limit the the number of companies with the desire or capability to buy commercials on Snapchat. And not every company can afford to limit its marketing pitches to Snapchat's mostly young fans. 
Don't get me wrong; Snapchat's revenue will grow quickly. It's popular and alluring to advertisers. But I'm worried about where the ultimate ceiling is. Fewer potential advertisers translates into lower potential future revenue for Snapchat parent company Snap Inc.
This Snapchat flaw hasn't received as much attention as it deserves. Predictably, in Snapchat's first quarterly financial snapshot since its March IPO, Wall Street instead fixated on the number of people who use the app. The company's number of daily users increased 5 percent from Dec. 31, to 166 million in Snapchat's preferred method of calculating users. That number was a bit lower than investor expectations, and so was Snapchat's revenue. Shares plummeted 24 percent. 
It's an overreaction, but an understandable one for a company whose $27 billion valuation and small number of shares outstanding mean its stock price is likely to bounce around on any news. Snapchat has already said its daily user numbers would be "lumpy."
The relatively small number of people who use Snapchat is not an insurmountable obstacle. But Snapchat isn't a mass-market advertising medium either, and that might be a much bigger problem. 
This is a contrast to Google and Facebook, which grew to become big and scary empires because they are an advertising medium for everyone from Main Street to the Fortune 500. Nike buys ads that pop up in Facebook feeds, but so does the "Lazy Lounger" inflatable sofa. Google and Facebook have proved their worth, particularly for companies that are trying to compel people to take a specific action, like downloading an app or buying that inflatable sofa. 
That big and broad base of advertisers on Google and Facebook are the companies' best asset. Each company has millions  of advertisers. It's not heavily reliant on any single one; the 100 biggest advertisers on Facebook represented less than 25 percent of the company's ad sales in the fourth quarter of 2016, executives have said. And in principle, Google and Facebook have a shot at the full $500 billion or so spent worldwide each year on advertising. 
Snapchat does not. 
First, there is the hurdle of making a slick ad just for Snapchat. It's complicated and expensive, which limits the potential pool of advertisers. Snapchat's savvy management is already figuring out ways to simplify the creation and sales of ads and to offer more details on whether companies' marketing pitches translate into sales. 
The company has less control over the limits of its fan base of mostly teens and twenty-somethings. That's perfect for many companies, which have a hard time finding those fickle youngsters on TV or many internet hangouts. But many companies need mass rather than niche. It would be tough for Procter & Gamble to pitch diapers on Snapchat, for example. 
It's inevitable that more and more advertisers will buy ads on Snapchat, but it may not be enough. Michael Nathanson, an analyst with research firm MoffettNathanson, recently estimated Snapchat's total potential market of advertising spending is just $7.5 billion a year. He arrived at that figure by tallying the ad dollars spent on youth-oriented cable television networks such as VH1. 1 Snapchat will be a huge disappointment if it can capture at most a few billion dollars in annual advertising sales. 
It's worth nothing that having a limited number of potential advertisers is not necessarily a bad thing. It's also hard and expensive to make television commercials and air them widely, which limits the number of companies that can do them. Nathanson said he thought the 200 biggest advertisers on TV represent the lion's share of total dollars spent on TV commercials. And the yearly spending on TV commercials is nearly $200 billion. 2 If that's a ceiling, it's a very high one. Snapchat indeed compares itself to television advertising. But TV, unlike Snapchat, attracts a large audience composed of people of every age. 
Snapchat's cachet comes from being app that isn't for everyone. The down side is Snapchat's weakness comes from being the app that isn't for every company with a product and service to sell. 
It's always dangerous to consider a company's potential revenue by looking only at current spending in an industry. For example, the total market for the iPhone didn't turn out to be limited by the annual spending on flip phones as of 2007. Instead, Apple found billions of people who previously never owned a mobile phone or a computer. But in advertising, total industry spending isn't growing, and it's hard to imagine Snapchat will unlock some previously untapped pool of money. 

And it's ironic that Snapchat has exactly the type of ads Facebook and Google dearly desire. Those companies' push into more video entertainment and video ads is an attempt to get many more of the TV-like, highly produced commercials that air on television and now on Snapchat. Those companies, unlike Snapchat, have an audience that's bigger than TV.
To contact the author of this story:
Shira Ovide in New York at sovide@bloomberg.net
To contact the editor responsible for this story:
Daniel Niemi at dniemi1@bloomberg.net
Before it's here, it's on the Bloomberg Terminal.
LEARN MORE