Billionaire John Malone has the kind of record that makes it noteworthy when there's a misstep at one of the many cable and media companies in his orbit. But his European flagship Liberty Global Plc has indeed stumbled, exposing a widening gap between its prospects and those of Malone's U.S. cable business, Charter Communications Inc.
Liberty Global has scaled back its yearly growth target for operating free cash flow to 5 percent from 6-7 percent. Most of the blame lies at the door of Virgin Media in the U.K., Malone's prime European asset. The shares were punished, falling about 9 percent on Monday.
There had been ill omens in Europe. In March, Liberty said some Virgin Media employees had exaggerated progress on the 3 billion pound ($3.9 billion) expansion of its British cable network, leaving the plan behind schedule. Meanwhile, heightened competition and price hikes took a toll in Europe last year. Liberty has had to spend more on marketing to try to halt a slowdown in sales growth.
And while some equity analysts still like to speculate about a big deal with Vodafone Plc, that old M&A chestnut seems further away than ever. 
Vodafone has already bought cable assets in Spain and Germany and created a joint venture with Liberty in the Netherlands, so the U.K. is the only big market in Europe where it doesn't have both mobile and fixed networks of its own. That makes it harder to justify paying a big premium for Liberty, especially when the latter's growth rate is falling closer to Vodafone's more modest one.
Vodafone would have to absorb some $44 billion in Liberty debt if it were to mount a takeover, and bridge a cultural chasm in how the two companies are run. For years, bankers have been beavering away to find some magic alternative structure of asset swaps, joint ventures, or share-based deals. But, as I've argued before, if that were so simple a deal would've happened already.
Across the Atlantic, things look brighter for Malone both on deal-making and operating performance. Under his guidance, Charter has been expanding by acquisitions. Some $1 billion of cost savings are promised.
With little real competition in high-speed broadband in much of the country, Charter sales are expected to increase annually by more than 6 percent between 2018 and 2020. Free cash flow will rise by 60 percent between now and 2020, according to the Bloomberg consensus of analysts. By contrast, Liberty's free cash flow is expected to rise by about 12 percent over the same period.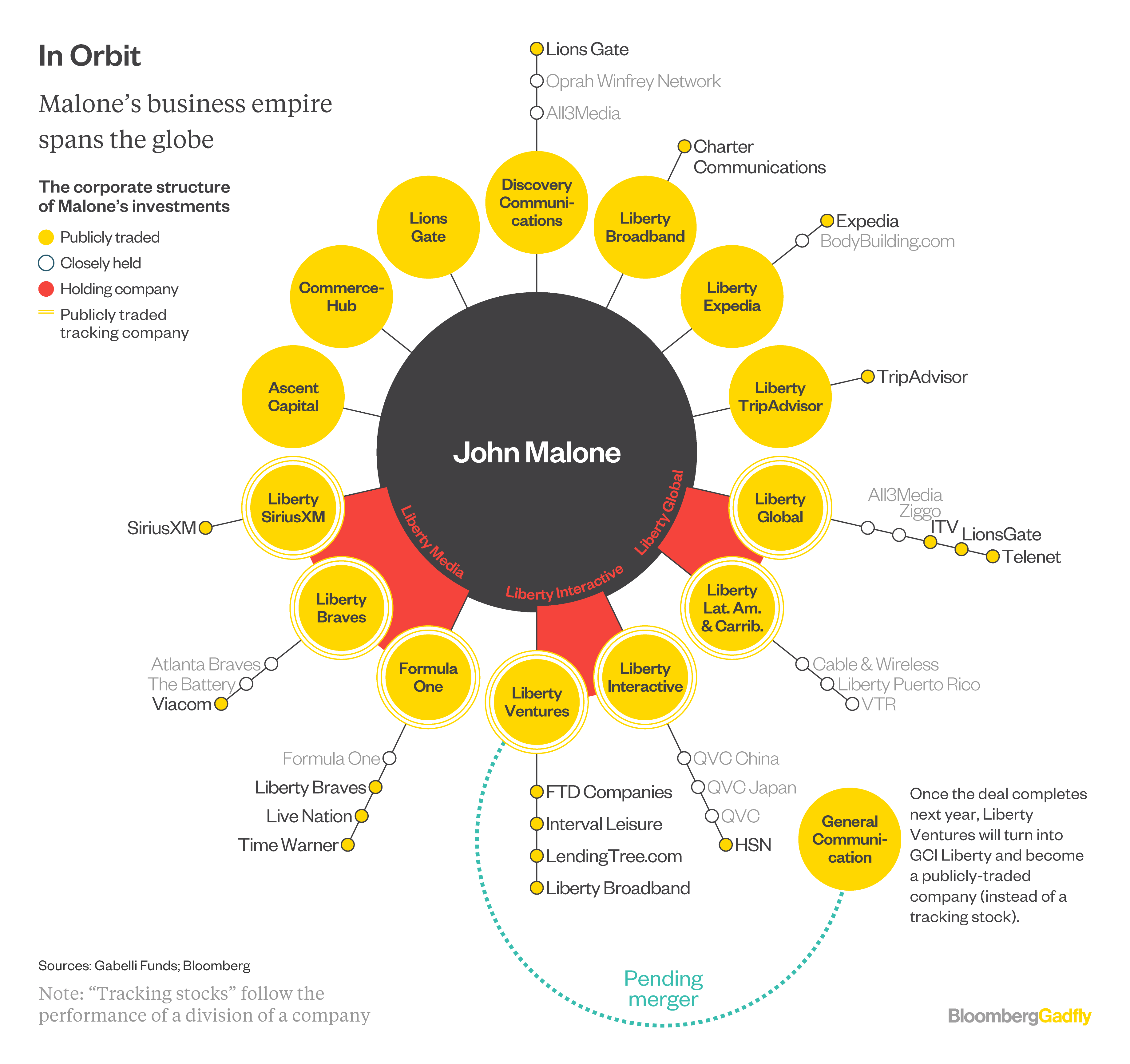 This all leaves Malone's Charter with more options than its European cousin. Under a merger-friendly Trump administration, U.S. media, cable and telecoms companies are all weighing up deals. As my colleague Tara Lachapelle has explained here and here, even once unthinkable tie-ups seem possible.
There's a lot of talk about whether the cable giants will expand into mobile by buying market number three T-Mobile U.S. or just rent capacity from Verizon Communications Inc. On Monday, Charter and Comcast Corp. -- the two biggest U.S. cable providers -- signed a slightly odd alliance pledging to team up on their fledgling mobile projects and to work together on any transaction with a wireless company in the next year.
Who knows whether the two would really do a big risky deal together. But at least the U.S. opportunity is real, backed by a favorable operating environment. In Europe, Liberty doesn't really have either. That's quite a comedown from two years ago, when Malone's ambitions toward Vodafone were the talk of the industry.
This column does not necessarily reflect the opinion of Bloomberg LP and its owners.
To contact the author of this story:
Leila Abboud in Paris at labboud@bloomberg.net
To contact the editor responsible for this story:
James Boxell at jboxell@bloomberg.net