If you believe the stereotype, people lucky enough to live in sunny California tend to be laid back. Investors in Facebook Inc. should channel their zen. Nothing in the social network's first-quarter results merits getting stressed out about, despite the dip in the shares on Thursday.
Yes, Facebook warned that revenue growth would slow "meaningfully" this year because it can't keep increasing how many ads it pumps out on its news feed without driving users away.
But Mark Zuckerberg can count on Instagram to take up some of the slack. Morgan Stanley estimates that selling more ads on the photo-sharing app will add $3.6 billion of incremental ad revenue this year, about 10 percent of the analysts' annual forecast. And Facebook is doing smart things to develop video across its apps to get its hands on money that's now being spent on television ads.
As Facebook nears the five-year anniversary of its initial public offering, it's worth reflecting on how far it's come. In 2012, Zuckerberg's baby was the world's tenth-biggest seller of ads behind a bunch of traditional media companies such as CBS Corp. and 21st Century Fox Inc., according to Zenith Media. It has trounced almost all of them to rise to number two in the rankings, surpassed only by Alphabet Inc., the Google parent that dominates search ads.
Together, these two companies controlled one-fifth of the $543 billion spent on ads last year, Zenith says, up from 11 percent in 2012. They're quite the duopoly, as Gadfly's Shira Ovide has explained.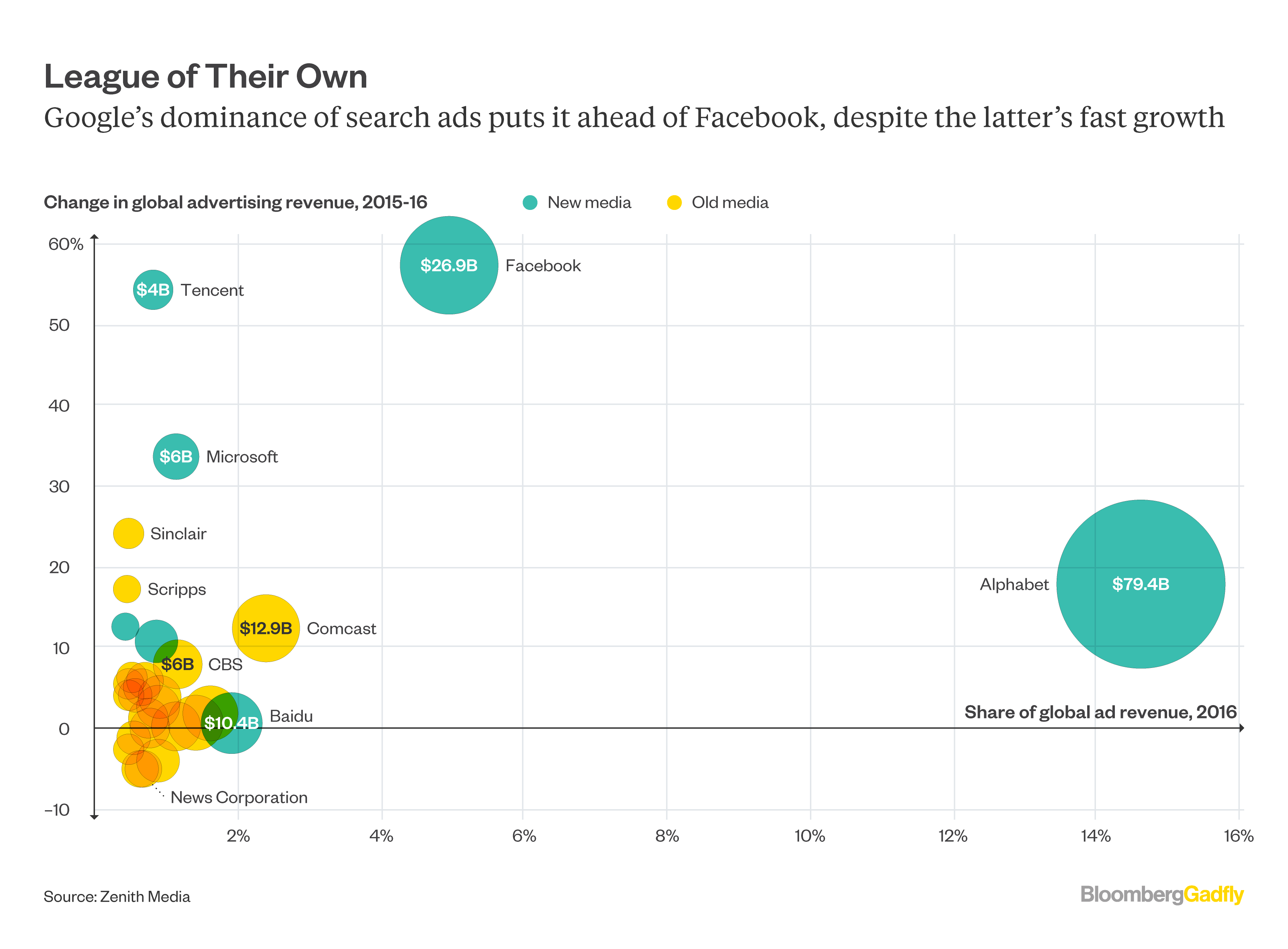 In five years, Zuckerberg has made Facebook a place that global brands can't avoid if they want to reach a growing audience of almost 1.94 billion people. Many brands probably wish it were otherwise. Just look at the complaints about Facebook's flawed video metrics, concerns about violence on its live streaming and Procter & Gamble Co.'s lament about "crappy" web ads. But Facebook's size and detailed targeting data make it irreplaceable to advertisers trying to sell everything from laundry soap to trucks. 
Even a slower-growing Facebook will be a money-spinning juggernaut for a long while. Does it really matter if Facebook sales are increasing by about 40 percent a year versus 60 percent if what it offers to brands is better than other advertising outlets? Nope. 
And Facebook's grip on the number two spot is strong. TV networks simply can't offer the same scale as global internet platforms. And Asia's formidable giants, including Tencent Holdings Ltd. and Baidu Inc., haven't yet ventured abroad much. Twitter Inc. and Snap Inc. still only appeal to niche audiences. Look at this chart of how the world's biggest sellers of advertising have evolved in the past five years.
Tech groups are displacing TV companies at a rapid clip. In 2012, only Google and Facebook were in the top ten. In 2016, half the top ten were digital: Verizon Communications Inc. joined with its pending acquisition of Yahoo, as did Baidu Inc. and Microsoft Corp. And the shift of marketing dollars from old media to new isn't even over. Online ad spending will surpass television this year for the first time.
There's been plenty of commentary in recent days on Zuckerberg's politico-style touring of the U.S. to meet ordinary folk. With business looking so good, you can understand why he might want new distractions.
This column does not necessarily reflect the opinion of Bloomberg LP and its owners.
To contact the authors of this story:
Leila Abboud in Paris at labboud@bloomberg.net
Elaine He in London at ehe36@bloomberg.net
To contact the editor responsible for this story:
James Boxell at jboxell@bloomberg.net