Dutch Election
It's Been a Wilders Ride
Look at the number of bets going on Wilders, not the odds.
By and
Investors aren't expecting a shock result from today's Dutch election.
Betting markets show the populist Geert Wilders's Freedom Party trailing Prime Minister Mark Rutte's Liberal Party, as do the latest opinion polls.
Now, look again at the percentage of bets being made, and more wagers are being made on Wilders's Freedom Party coming out on top, as this chart shows.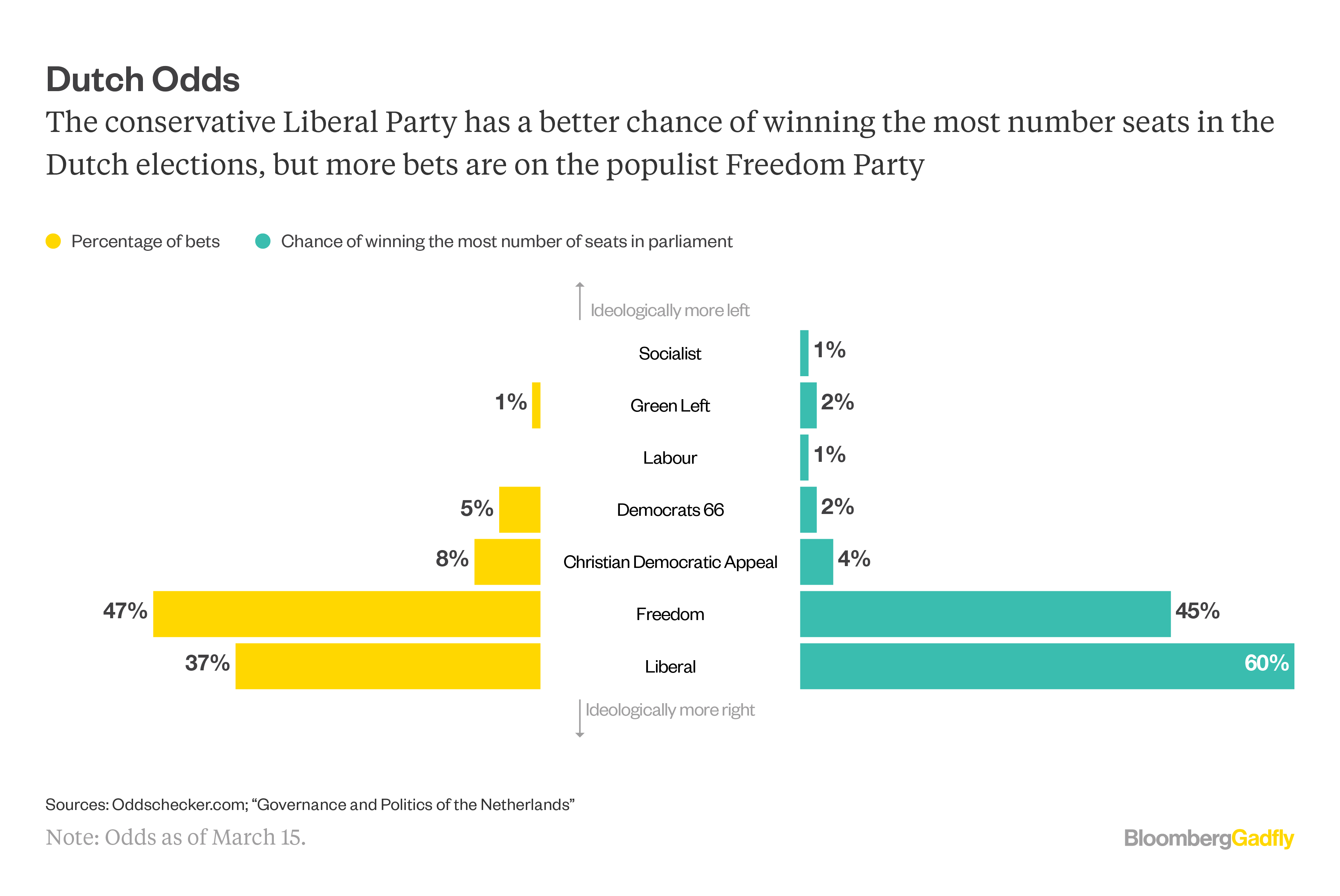 What accounts for the divergence? The implied probability of winning quoted by the bookmakers reflects the weight of money being put on each outcome, not the number of individual wagers being taken. More punters are betting on Wilders' party.
Could this foreshadow a surprise?
Look at what happened in the Brexit referendum: at the time, my Gadfly colleague Mike Regan presciently pointed out that more bets were being placed on a leave vote just as the opinion polls put the remain campaign narrowly ahead.
Then there's the U.S. election. While the odds favored Hillary Clinton and the weight of money being placed on a Democrat victory, Trump was attracting more bets. Do I need to spell out the result?
Granted, the Dutch election isn't a binary choice and British punters may be less than omniscient about voters' intentions in other countries. Wilders has been losing ground in the polls in recent days, too.
But he could yet end up running the country's second-largest political party, and there's still room for political turmoil. Any successful coalition will only have a very small majority, or possibly attempt to govern from a minority. There are elections to the upper chamber in 2019, and finding a coalition that can govern with support from both chambers will be an added dimension.
So far, investors have been happy to look past this risk. The benchmark AEX is one of the best performing stock indexes in Europe this year, up almost 6 percent so far. Ten-year Dutch government bonds have actually managed to tighten by about 10 basis points relative to their German equivalent throughout the election.
Even if Wilders doesn't pull off a surprise on the scale of Brexit or Trump, investors may still need more than Dutch courage.
To contact the authors of this story:
Marcus Ashworth in London at mashworth4@bloomberg.net
Elaine He in London at ehe36@bloomberg.net
To contact the editor responsible for this story:
Edward Evans at eevans3@bloomberg.net
Before it's here, it's on the Bloomberg Terminal.
LEARN MORE