I Love NY
Sterling Bancorp's New York State of Mind
The deal will deliver cost savings and an earnings boost, while making it a bigger regional player.
By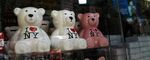 STERLING BANCORP/DE
+0.25
At Closing, April 23th
The rally in U.S. bank shares has begotten another deal. 
Sterling Bancorp on Tuesday agreed to buy Astoria Financial Corp. in a $2.2 billion transaction that will give the New York lender a bigger footprint in the Empire State, especially Long Island. The $3.2 billion bank is the latest of a handful of recent acquirers in the industry to use its stock as currency following gains in financial shares since last November's U.S. election. And even though Astoria Financial has bounced, too, it's still among the cheapest Northeastern U.S. regional banks as measured by its price to book value. 
Sterling Bancorp's stock fell slightly on news of the deal, in part because the purchase of Astoria Financial will make it a little less sensitive to interest rate hikes. But there are still many positives, including the fact that the transaction is projected to save $100 million in annual costs by 2019, should boost the lender's earnings by as much as 9 percent as soon as next year (and 16 percent in 2019) and lift its tangible book value by 12 percent when the deal closes. 
It's also a good result for Astoria Financial, which terminated its agreement to be acquired by New York Community Bancorp as of Jan. 1. While the two lenders didn't provide details, it's likely that the transaction was cancelled in anticipation of rejection from bank regulators on the basis of outsize commercial real estate concentration. Still, Astoria Financial's stock gained when the deal was cancelled, indicating that shareholders were comfortable enough that the company would thrive on its own or -- as it played out -- in the hands of another buyer. That was a fair assumption, considering the bank has been growing its deposit base at a compounded annual rate of 7 percent since 2010 through low-cost channels such as general savings and demand-deposit accounts.
Getting the green light from bank regulators for a deal should be a smoother process this time around. On a call with analysts on Tuesday, Sterling Bancorp's president and CEO Jack Kopnisky said the bank is "confident" in its ability to obtain regulatory approval, in part due to feedback from multiple meetings with both regional and national representatives of the Office of the Comptroller of the Currency and the Federal Reserve, both before and after the bank completed due diligence on Astoria Financial. Compared to New York Community Bancorp, Sterling Bancorp has low commercial real estate concentration levels and doesn't need to raise additional equity to maintain its solid capital ratios. 1  
Astoria Financial marks Sterling Bancorp's fourth and by far its largest bank acquisition in the past six years. The purchase will lift the bank's deposit base to $19 billion, more than eight times its $2 billion balance at the end of 2010. Its assets will creep up to $30 billion, which is still well below the current $50 billion threshold that would make it a "systemically important financial institution," or SiFi, and subject it to increased regulatory oversight. Experts predict President Donald Trump's administration could raise the bar on this figure. If that happens, it's a good bet that this deal won't be Sterling Bancorp's last. 
To contact the author of this story:
Gillian Tan in New York at gtan129@bloomberg.net
To contact the editor responsible for this story:
Beth Williams at bewilliams@bloomberg.net
Before it's here, it's on the Bloomberg Terminal.
LEARN MORE