Dam It
Raining On The Gas Market's Parade
Hydroelectric is taking power share away in the Pacific states.
By
If you happen to live in Butte, Sutter or Yuba counties in northern California, you're likely thinking more often than usual these days about the structural integrity of the Oroville dam. Even if you don't, but do happen to be in the natural gas business, you ought to pay attention.
The Oroville dam's overflow is a symptom of the West Coast having gone from drought to deluge in the past year or so. The U.S. Drought Monitor reports Death Valley is still "in moderate drought," but I'm guessing you won't lose much sleep over that. Everywhere else is looking much more soggy (or snow-covered) compared to this time in 2015: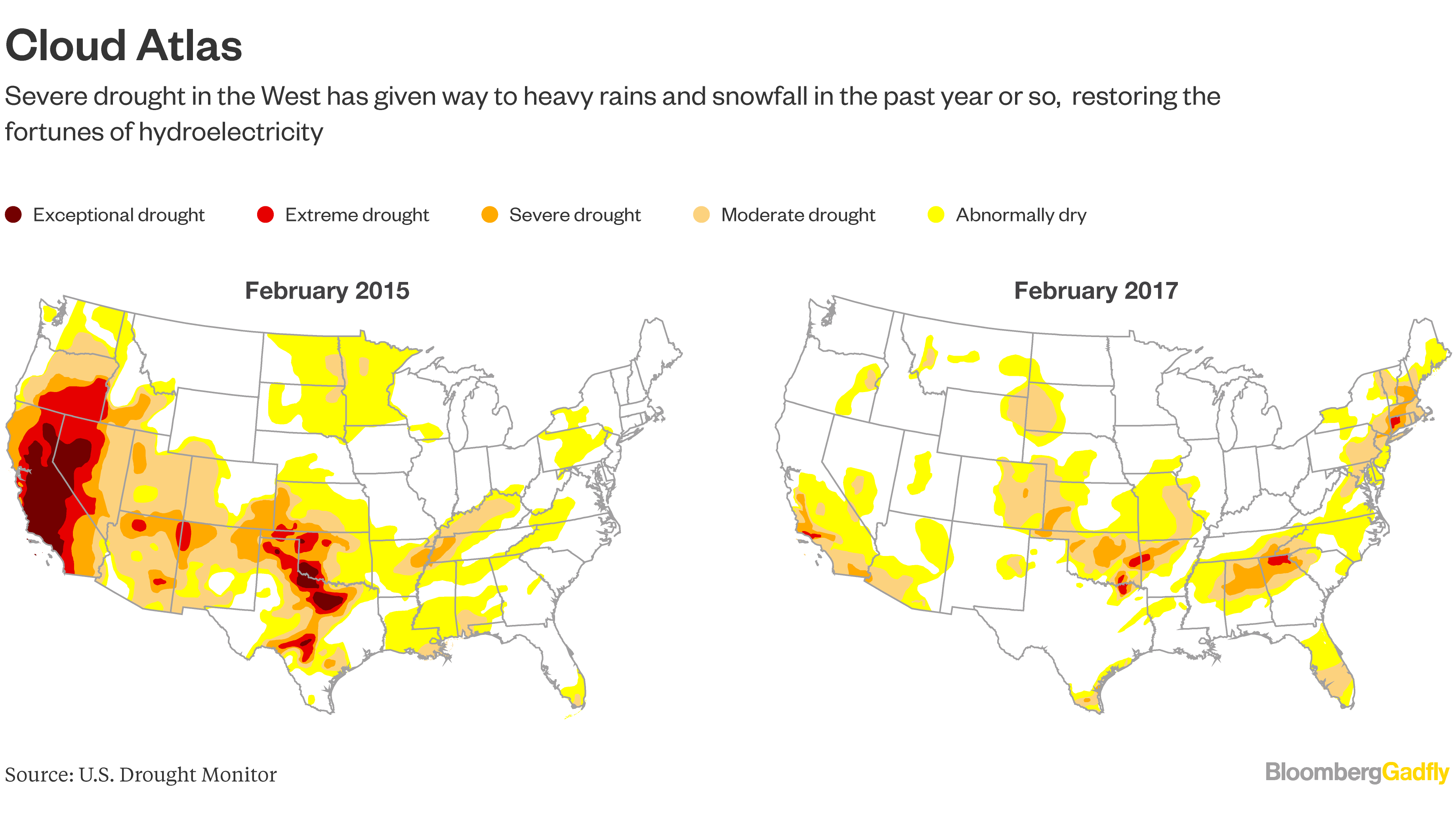 All of which is great for hydroelectricity. California, Oregon and Washington together host about half of the country's hydroelectric capacity, and they get to use it more when the rain gods do their thing.
The flip side is that if you're generating more kilowatt-hours from running water, you don't need quite as much electricity from burning gas. In fact, the interplay of water and natural gas in the West's electricity market is striking:
The return of the rains should, all else equal, mean less demand for gas-fired electricity in the West and, therefore, less demand for gas. In a report published this week, analysts at Citigroup estimated that if rising hydroelectricity output directly replaced that from gas-fired plants, it could be displacing around 1 billion cubic feet per day of demand by the end of May.
That may not sound like much in a national market of about 75 billion cubic feet per day. But it matters in a market where gas inventories remain above average for the time of year due to relatively mild weather across the U.S. Natural gas prices have tumbled, and every scrap of demand is required to mop up excess supply -- especially as new pipelines threaten to unleash more shale gas later this year.
Oroville's own problems may offset some of the pressure, as the dam's resources power a large hydroelectric plant.
Still, the return of the rains is one more problem for a natural gas market struggling to lift itself off the floor. The added sting? Even as Western clouds hang over the market this year, it also faces a growing competitive threat from another part of the sky.
-- "Cloud Atlas" graphic by Rani Molla
To contact the author of this story:
Liam Denning in New York at ldenning1@bloomberg.net
To contact the editor responsible for this story:
Mark Gongloff at mgongloff1@bloomberg.net
Before it's here, it's on the Bloomberg Terminal.
LEARN MORE