Kraft Heinz Co. is projected to show a meaningful drop in sales when it reports fourth-quarter earnings on Wednesday afternoon. But more important is what's happening to the bottom line. That's how the packaged-food company is priming itself for its next growth spurt -- coming in the form of a megadeal, of course. 
Ever since the 2015 merger of Kraft Foods and H.J. Heinz, the combined entity has been rapidly slashing costs -- right down to printing double-sided so as to not waste paper. It's the handiwork of penny-pinching private equity owner 3G Capital, whose own people are also at the helm of Kraft Heinz. Their strategy has been to expand margins as much as possible at a time when opportunities for innovation are scant and organic growth is lackluster.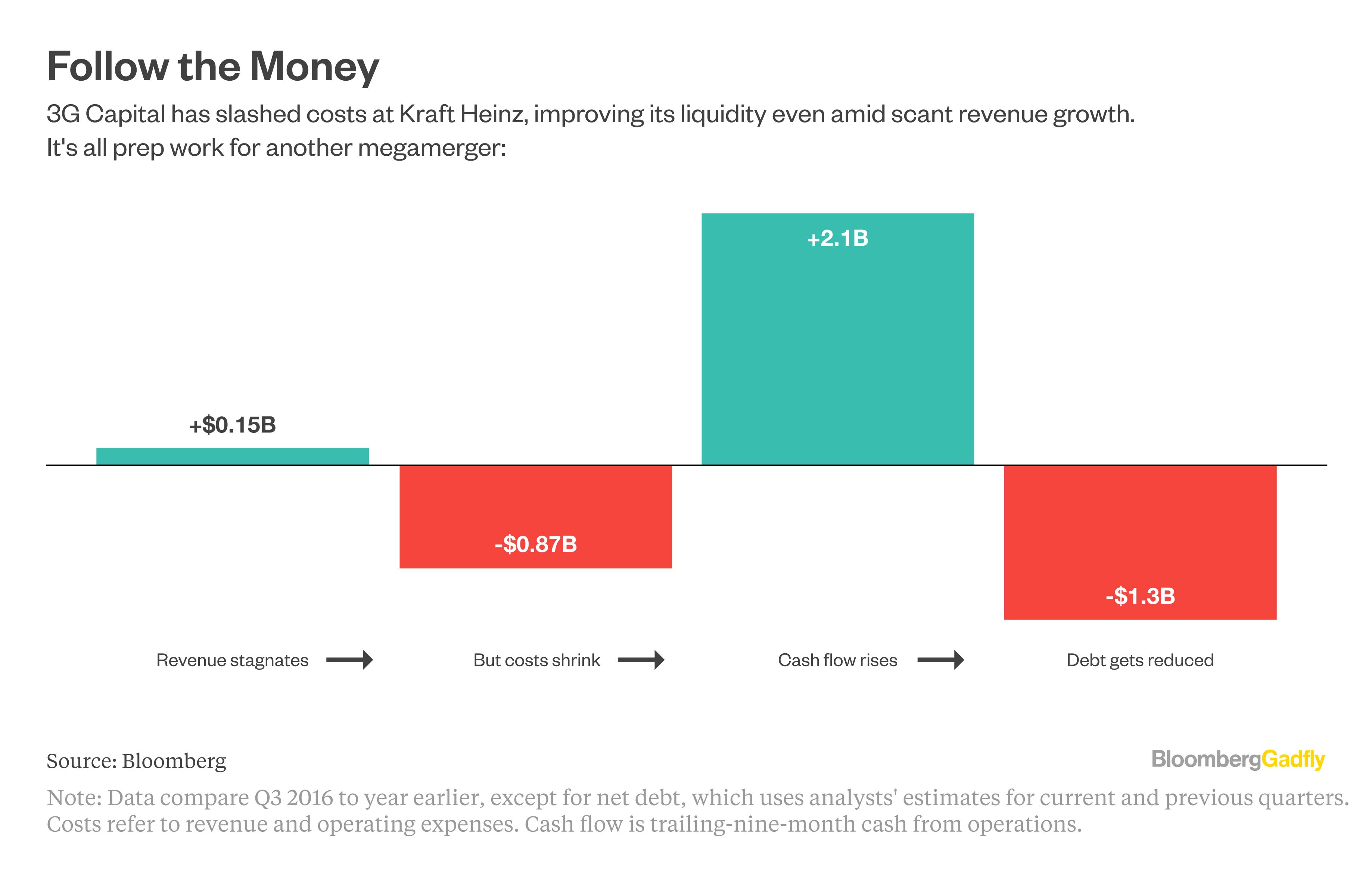 As you can see in the chart above, tightening the company's purse strings has helped to create a surge in cash flow and enough liquidity to chip away at the company's heap of debt. Kraft Heinz has also replaced the high-coupon preferred stock it issued as part of 3G's 2013 Heinz buyout with less costly investment-grade borrowings. 
Kraft is scheduled to release results after the close of trading. Analysts predict revenue fell about 5 percent in the three months ended December; however, the company's gross margin may have widened more than 400 basis points from the year-ago period and operating expenses may have shrunk to under $800 million, according to consensus estimates. Kraft Heinz is on schedule -- if not ahead of it -- for $1.5 billion of savings by the end of this year.
All of this is facilitating Kraft Heinz's next acquisition, which has been the industry's speculation du jour, especially amid reports that 3G is raising at least $5 billion for a deal. Although, that money may not necessarily be for a Kraft Heinz deal. If it is, potential targets included Mondelez International Inc., General Mills Inc., Kellogg Co. and Campbell Soup Co. This column from November explains why they're all ripe for the 3G treatment. 
The big-picture question, though, is whether Kraft Heinz's strategy is sustainable. In order to boost margins, either revenue has to go up or costs need to go down. The company's revenue -- along with that of its packaged-food peers -- isn't growing much, and some quarters not at all. And 3G can't cut costs forever. 
But for now, it's all about the next big deal, and by the looks of it, Kraft Heinz is hungry.
--Rani Molla contributed graphics
This column does not necessarily reflect the opinion of Bloomberg LP and its owners.
To contact the author of this story:
Tara Lachapelle in New York at tlachapelle@bloomberg.net
To contact the editor responsible for this story:
Beth Williams at bewilliams@bloomberg.net