Credit Check
American Express Shareholders Should Hold the Applause
It's only delivering earnings growth by keeping a lid on expenses -- growth remains a serious challenge.
By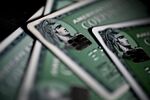 AMERICAN EXPRESS CO
-1.83
At Closing, January 19th
Investors are piling back into American Express Co. but credit card holders aren't following suit. That disconnect should give some believers pause. 
The heat on long-time CEO Ken Chenault has eased recently, with AmEx shares gaining more than 50 percent over the past 12 months, a rally that can be partially attributed to relief that the company has been broadly able to meet its guidance. That vote of confidence appears unwarranted, though, at a time when AmEx's business seems poised to be dented further by unrelenting competition. 
The $72 billion company is struggling to defend its turf, even as it throws millions more into marketing efforts -- a move prompted by the loss of its Costco Wholesale Corp. partnership to Citigroup Inc. last year. Such spending isn't translating, at least in the eyes of some bears. Nomura Instinent analyst Bill Carcache told clients on Friday that he expects AmEx to lose another 380 basis points of market share between 2016 and 2021 -- a figure that could be bumped up to 420 basis points if the company loses its co-branding partnership with Starwood Hotels & Resorts Worldwide Inc. (now owned by Marriott International Inc.).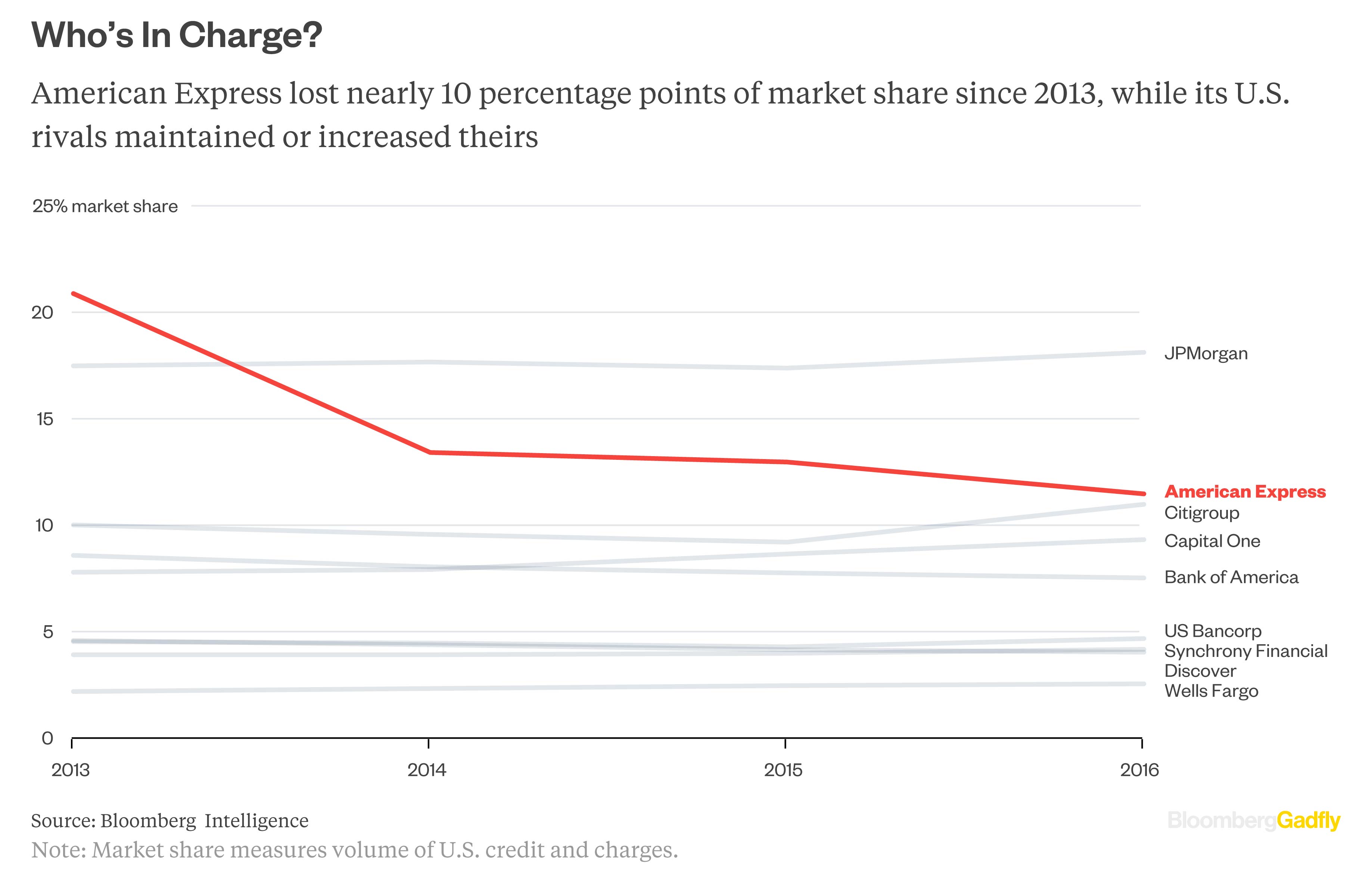 AmEx's lost market share comes as rivals step up their reward programs. JPMorgan Chase & Co.'s popular Sapphire Reserve card, for one, has better benefits for flying Delta Air Lines Inc. and stays at Starwood properties than AmEx, which has co-branded partnerships with the duo. 
Should rivals' already-lucrative rewards keep improving, as seems likely, that will only threaten AmEx's market share further and make it that much harder to deliver revenue growth with a model that is still more reliant on fees rather than interest  income. 
Investors on board the AmEx train -- including one Mr. Warren Buffett (through his Berkshire Hathaway Inc., the company's largest shareholder) -- may be disinclined to step off, especially since the company's future earnings are, by all accounts, set to climb. But such a trajectory is made possible mainly by reducing (and controlling) expenses, rather than any meaningful revenue growth. Something has to give. 
-- Rani Molla assisted with graphics
To contact the author of this story:
Gillian Tan in New York at gtan129@bloomberg.net
To contact the editor responsible for this story:
Beth Williams at bewilliams@bloomberg.net
Before it's here, it's on the Bloomberg Terminal.
LEARN MORE