Devilish Details
Elliott Misfires on Arconic, But It's Not Wrong
The company really does have some explaining to do about margins.
By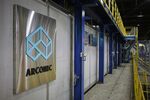 ALCOA CORP
+0.10
At Closing, January 19th
ARCONIC INC
-0.13
At Closing, January 19th
Elliott Management Corp. may have fumbled on its campaign against aluminum-parts maker Arconic Inc., but CEO Klaus Kleinfeld still has some explaining to do.
Arconic split from its mining and smelting business (now Alcoa Corp.) last year, a move Elliott backed. But the activist hedge fund said on Jan. 31 it was nominating five candidates to Arconic's board and calling for Kleinfeld to be replaced with a CEO better suited to cut costs.
Elliott estimated Arconic's stock could rise to "at least" $33 to $54 a share, from the roughly $23 it commanded at the time. That calculation was based partly on the potential for Arconic to add $750 million in Ebitda to its global rolled-products business (i.e. aluminum sheet for cars and planes) by managing its expenses more in line with peers.
But roughly a week later, Elliott submitted another presentation to the SEC offering a range of different methodologies to measure the potential Ebitda lift for that business. Its most optimistic estimate (that $750 million number) depends on comparing Arconic's costs to those of the producer in its peer group with the best practices for each expense line item. What this means is that Elliott is comparing Arconic to a perfect peer that doesn't actually exist as a singular company.
That doesn't seem fair. The hedge fund itself (in its updated presentation) admits this cost level "may not be fully achievable."
When remodeling the estimate based on a wider variety of methodologies, Elliott winds up with a mid-point of $245 million in potential Ebitda improvement, which knocks the high end of its targeted share price range down to $46. That's a 15 percent reduction. 1
At the very least, this is awkward for Elliott. Tweaking the numbers -- and more than just the Ebitda estimate for the GRP business was modified -- puts Elliott's credibility under the spotlight at a time when it's trying to argue Kleinfeld is the one who can't be trusted. The rapidity at which the figures were altered is unusual and suggests at least some of these alternative methodologies should have been addressed much earlier.
If these changes were made in response to company pushback -- or if the hedge fund was merely trying to strengthen its case by showing there's still big potential for value creation, no matter how you look at the company -- then it should have issued a separate presentation, or at least offered some sort of public explanation along those lines. As it was, the tweaks flew largely under the radar, and the refiled presentation still has a Jan. 31 date. Appearances do matter in activist campaigns.
All that being said, an activist investor being overly optimistic about value creation isn't a new phenomenon, and it doesn't mean the underlying idea is wrong. In fact, Elliott has a point.
There IS a large margin gap between Arconic's engineered product business (i.e. aerospace fastening systems and other parts) and that of rival Precision Castparts (owned by Berkshire Hathaway Inc.). Its stock HAS underperformed relative to the Alcoa business it spun off. Kleinfeld SHOULD face questions about why he got 2016 guidance so wrong for Arconic. Why does an aluminum-parts company need a New York headquarters anyway? The new high end of Elliott's price target is still more than double Arconic's unaffected share price, after all.
Kleinfeld has the support of Arconic's board, including three members previously nominated by Elliott, for now. A press release from the company on Monday touted the cost-cutting efforts he's already undertaken and reiterated a plan to further improve Ebitda margins. But other investors are already jumping to Elliott's side; First Pacific Advisors and Orbis Investment Management came out with statements criticizing Arconic's management. 
The devil may be in the details, but the message rings true.
To contact the author of this story:
Brooke Sutherland in New York at bsutherland7@bloomberg.net
To contact the editor responsible for this story:
Mark Gongloff at mgongloff1@bloomberg.net
Before it's here, it's on the Bloomberg Terminal.
LEARN MORE