BP PLC is big oil's chastened puppy: at once yearning for its masters' (investors) approval yet still pulling at the leash, desperate to be let out to play (spend) again.
Though rising oil prices have made equity and debt investors a little more comfortable about the British company's financial position, chief executive Bob Dudley would do well not to try their patience.
It's natural that Dudley wants BP to expand gain after six years of retrenchment, made necessary by the Gulf of Mexico oil disaster. The huge cuts to the industry's upstream spending during the crude price slump mean a supply crunch is quite conceivable, in the near term at least. Yet every bit as likely is a world in which plentiful supply, rising energy efficiency and the switch to electric vehicles, will eventually cause prices to ease again.
Dudley must therefore tread a very fine line. Spend too little and he risks missing out on the cash flows that would help him pay down debt. Spend too much and he risks destroying value and reviving worries about the sustainability of BP's dividend.
At a time when rival Royal Dutch Shell PLC is reducing leverage after buying BG Group, it's awkward that BP's liabilities are still rising. Net debt jumped by $3 billion in the October to December period. Gearing (the ratio of net debt to total capital) climbed to 27 percent, almost as much as Shell.
Because of a flurry of acquisitions at the end of 2016, which require additional capex, BP says it will only stop burning cash by the close of this year if oil prices reach $60 per barrel, compared to its previous goal of $50-55.  Brent is currently trading at about $55.
BP has a little leeway. After the Macondo spill, it started slashing costs and selling assets much earlier than rivals. It now expects the expansion of its Mad Dog Gulf of Mexico site, approved in December, to cost about 60 percent less than originally envisaged -- quite an achievement.
Still, cash flows aren't yet enough to instill full confidence. Net cash from operations in the fourth quarter was a modest $2.4 billion .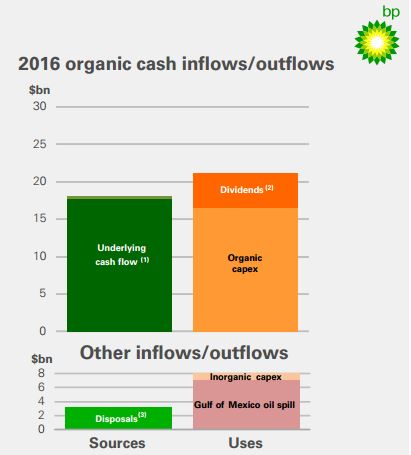 While divestments and new projects should deliver additional cash flows in 2017, BP shares yield 7 percent, suggesting investors aren't yet convinced their payouts will be maintained. If the Opec production cuts fail to hold and oil prices slip again, Dudley will feel quite a tug on the dog collar.
This column does not necessarily reflect the opinion of Bloomberg LP and its owners.
To contact the author of this story:
Chris Bryant in Frankfurt at cbryant32@bloomberg.net
To contact the editor responsible for this story:
James Boxell at jboxell@bloomberg.net