BP rounded out the oil majors' results season on Tuesday with a decidedly discordant note.
As fellow Gadfly Chris Bryant wrote here, the mismatch between BP PLC's cash flow and its expansion plans is showing up in an obvious place: Its dividend yield.
A flurry of recent acquisitions, requiring BP to invest more this year, led the company to raise its breakeven oil price target for 2017 to $60 a barrel, up from $50 to $55.
On one hand, BP's desire to do deals is understandable, given it has sold off more than $55 billion of upstream assets in recent years to fund liabilities from the Deepwater Horizon disaster. And the company isn't alone: Rivals Exxon Mobil Corp. and Total SA have both also plunged back into doing deals recently.
Yet raising the breakeven price at this point, even if BP indicates it is essentially a temporary issue, clearly unsettled investors: The stock fell 4 percent in London. Besides near-term uncertainty about oil prices, BP's move jars somewhat with the message from another presentation it gave last month: its annual long-term outlook for energy markets.
One of the most interesting slides in that particular deck -- and I am indebted to this blog post by Harry Benham of Carbury Consulting for highlighting it -- is this one: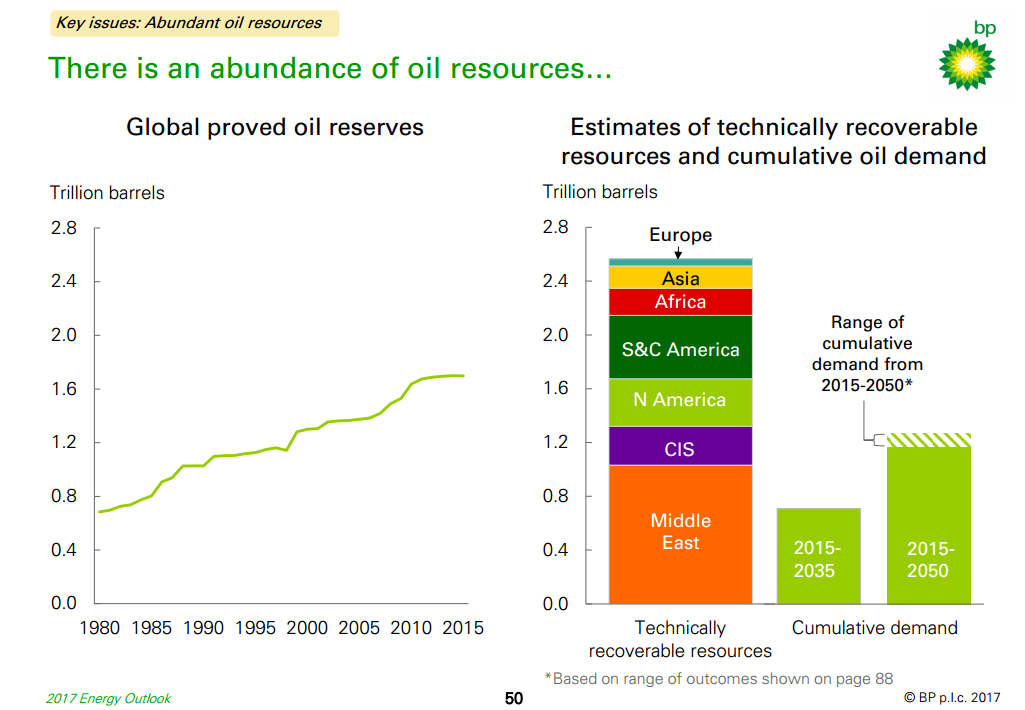 Focus on that bar chart on the right. The message is that global oil resources are more than enough to meet demand from here to 2050, whether you use BP's high or low case. Indeed, the resources to be found under the Middle East, the former Soviet Union and North America alone are more than enough to supply the world's needs through the middle of the century.
This seems like a self-serving message ("don't worry about peak oil, we got this"). For BP and its peers, though, it is anything but.
If there is more than enough oil available to meet future demand, then each barrel is that much less valuable. Why pay up for something that isn't scarce? Moreover, if major producers buy into that notion -- the Saudi Arabias and Russias of this world, for example -- then they may decide it's better to pump more oil, more quickly, rather than risk it being left in the ground for good.
From the perspective of an oil company focused on funding dividends for the next 30-odd years, it means one thing: Focus on the lowest-cost oil resources.
As I wrote here last year, the majors -- with their traditional strength in conventional oilfields outside of the OPEC countries, as well as oil sands -- risk being squeezed by a combination of lower-cost OPEC, Russian and North American shale barrels over time. That, along with a desire for shorter project timetables, is why the likes of Chevron Corp. and Exxon are pushing further into U.S. shale.
BP, traditionally known for its deepwater and conventional assets, has been making moves of its own that appear to address this challenge, notably its expansion in Egyptian gas and last year's merger of its mature Norwegian positions into a joint venture with Det Norske Oljeselskap ASA. 
It may well be the case that BP's higher breakeven price for 2017 is just a blip -- a necessary, but temporary, loosening of the fiscal reins in order to strengthen the portfolio. Given that its own long-term outlook has put itself, along with its peers, on notice, that had best be the case.
This column does not necessarily reflect the opinion of Bloomberg LP and its owners.
To contact the author of this story:
Liam Denning in New York at ldenning1@bloomberg.net
To contact the editor responsible for this story:
Mark Gongloff at mgongloff1@bloomberg.net