One woman in Macau is doing very well betting against casino mogul Sheldon Adelson.
A gambler who "wins every day" weighed on Las Vegas Sands Corp.'s fourth-quarter earnings, Chief Operating Officer Rob Goldstein told an investor call this week. Shareholders with an eye to the bottom line should be wary of doing the same.
For one thing, while the entire Macau casino sector is looking rather richly valued at present, Sands is in the unfamiliar position of being the cheapest of the bunch.
Some analysts have put this discount down to Sands China Ltd.'s breakneck pace of expansion last year. Revenue from Sands Cotai Central and the Venetian fell by $116 million in the December quarter, even as the newly opened Parisian resort added $344 million, the company reported this week. The new site was "cannibalizing" the other properties' mass-market revenue, Richard Huang, an analyst at Nomura Securities Co., told Bloomberg News.
That seems excessive. Cannibalism is generally resorted to only in times of extreme famine -- but Macau is experiencing something of a feast.
One way of looking at this is to examine hotel occupancy. While government restrictions on gaming-table licenses are a well-recognized constraint on the territory's gambling industry, one of Macau's biggest problems of late has been that it simply can't accommodate all the people who'd like to come.
Most hoteliers give themselves a pat on the back if they achieve an occupancy rate much above 75 percent, but Macau's rate has dipped to that level in only two out of the past 83 months.
While the opening of 4,700 new rooms at the Parisian and Wynn Macau Ltd.'s Wynn Palace last September caused the rate to drop briefly from 90 percent to 82 percent, by November it was back up at 86 percent. If you're hoping to stay at a Wynn Macau or MGM China Holdings Ltd. property for Chinese New Year on Saturday, you're out of luck: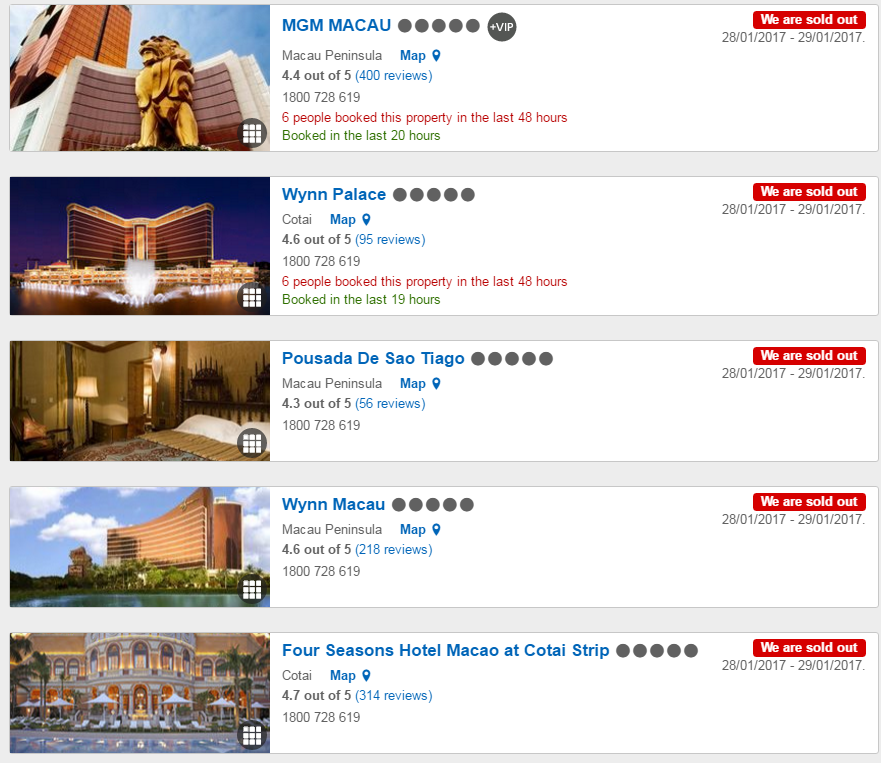 Sands China is an outsized beneficiary of this dynamic because it's the biggest hotelier, with about a third of the city's 35,500 available rooms.
Occupancy rates at its properties would be considered insanely high anywhere on earth except Macau: 94.2 percent at the Venetian in the December quarter, and 91.1 percent at the Parisian just months after it was opened.
Sands China has the same problem that its Macau peers have: a business model at the mercy of Chinese bureaucrats. A crackdown on high-rollers has hurt the returns on casino investments that were made on the basis of attracting such players. But Sands has been pitching for the mass market in Macau for years now, and analysts expect return on equity over the next 12 months to sit somewhere north of 30 percent.
After a rough few years, gaming revenue in the Asian casino hub has been on the rise for six months now. Investors should always take care of stocks on high valuations, but there are better candidates for those wanting to take a bearish punt on China's casinos. Betting against Sands China is like betting against Macau itself.
This column does not necessarily reflect the opinion of Bloomberg LP and its owners.
To contact the author of this story:
David Fickling in Sydney at dfickling@bloomberg.net
To contact the editor responsible for this story:
Matthew Brooker at mbrooker1@bloomberg.net