Yet another Chinese company swallowing a U.S. business, highlighting once again the threats that the nation faces from outside.
Except, not really.
A takeover of Dallas-based MoneyGram by Alibaba Group Holding Ltd. affiliate Ant Financial aligns more closely with President Donald Trump's job-creation vision than it may first appear. As fellow Gadfly Tara Lachapelle wrote earlier, "it's a smart deal that is likely to face more headline risk than real regulatory risk."
That headline risk is basically the aforementioned bad publicity over a foreign buyout, and once Ant makes clear its plans for MoneyGram, we can expect the concerns to disappear.
While Alibaba chief Jack Ma's very public pre-inauguration visit to Trump Tower was made to look like the Chinese billionaire's commitment to creating American jobs, that trip and the MoneyGram deal are as much about helping Alibaba and Ant shareholders as propping up POTUS.
The math is quite simple. Alibaba has been growing at a great clip, but that pace is going to slow. As I argued this week after it posted stellar fourth-quarter earnings, a slowdown in active-buyer growth numbers is putting pressure on the company to expand elsewhere. And it's already started down the path to product diversification by building up its cloud and content businesses.
Yet there's also both a need and room to expand geographically. Ma himself has said he wants Alibaba to get half its sales from outside China. That figure stood at around 16 percent last year and hasn't moved much in the past four years.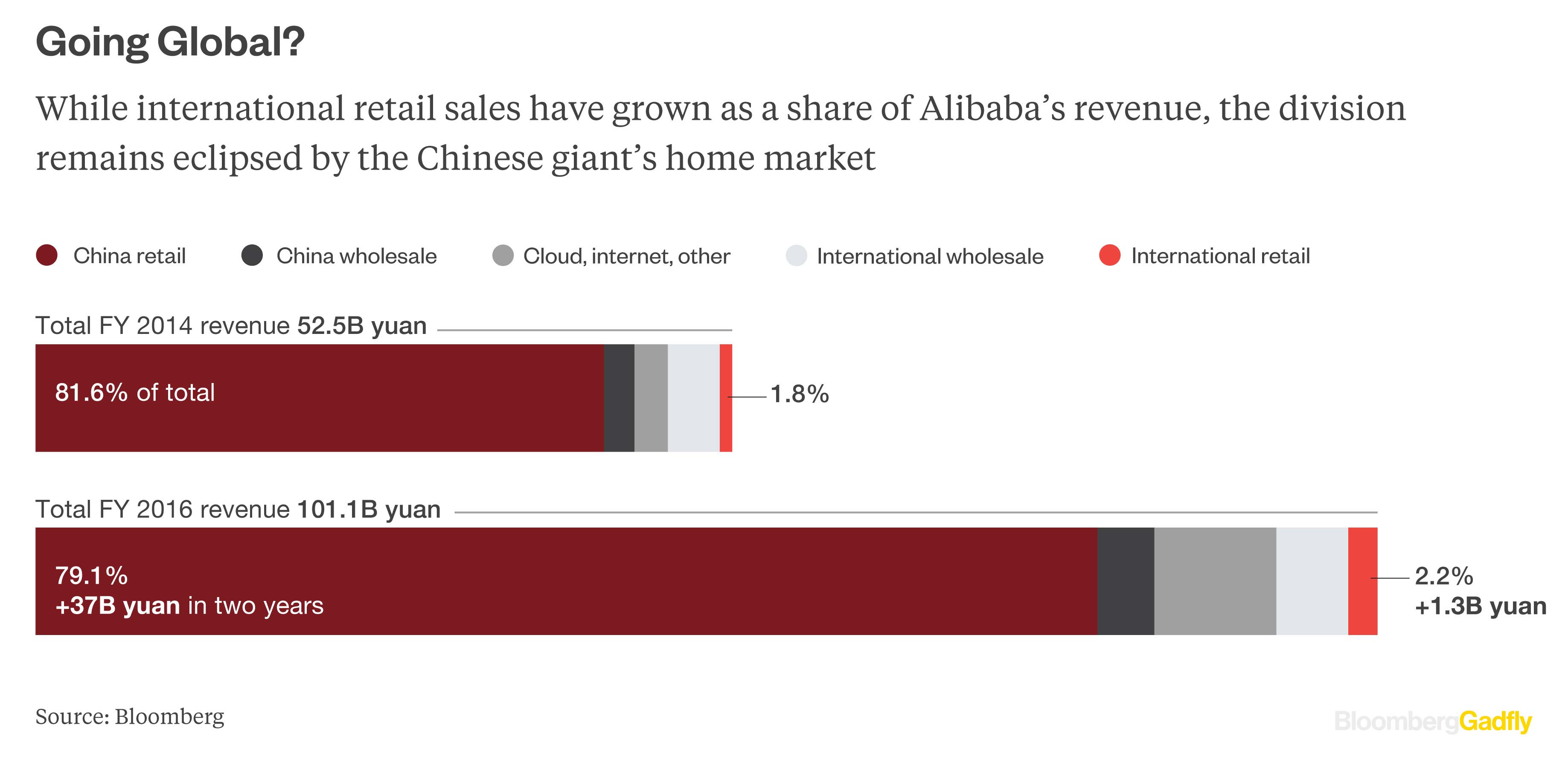 That's where President Trump, Ant Financial and MoneyGram come in. Alibaba wants to get 1 million American small businesses to sign up to its e-commerce sites to sell U.S. wares to Chinese consumers. It calculates that each of those mom-and-pop shops will need to hire, on average, one extra worker, hence the 1-million job slogan that plays into the president's campaign pledge.
Alibaba makes money from online shopping regardless of the buyers and sellers, and, along with Alipay, it has both the marketplace and the transaction network. It matters little to these two companies whether the deal is done in yuan, dollars or baht, except that a solid payments infrastructure is the grease that oils the wheels of e-commerce and Alipay is nowhere to be seen in the world's largest economy.
In dropping a mere $880 million to buy a network of 2.4 billion bank and mobile accounts, Ant brings the U.S. into its global orbit of payment platforms that include India's Paytm and Thailand's Ascend Money. 
Ironic then that a foreign buyout would align the interests of a Chinese tycoon, the U.S. economy and its new billionaire president all within the first week. 

--Rani Molla assisted with graphics 
This column does not necessarily reflect the opinion of Bloomberg LP and its owners.
To contact the author of this story:
Tim Culpan in Taipei at tculpan1@bloomberg.net
To contact the editor responsible for this story:
Beth Williams at bewilliams@bloomberg.net