What does Alex Ferguson have in common with some of Britain's top CEOs?
The Manchester United manager famously wrung the last drops out of a weak squad. But when he handed the team over to a successor it struggled.
It's something investors in some of the U.K.'s biggest companies will recognize: the newbie fails to deliver the stellar returns their long-standing predecessor produced year after year.
It would be easy to blame this entirely on the weakness of the newcomer -- but that ignores the legacy they inherited. The apparently successful strategies and cultures developed by their forerunner might actually have been less than stellar.
Take Pearson Plc. CEO John Fallon's position is in jeopardy after the textbook publisher warned last week that profit would be lower. The company failed to see how the internet has shredded the market for textbooks.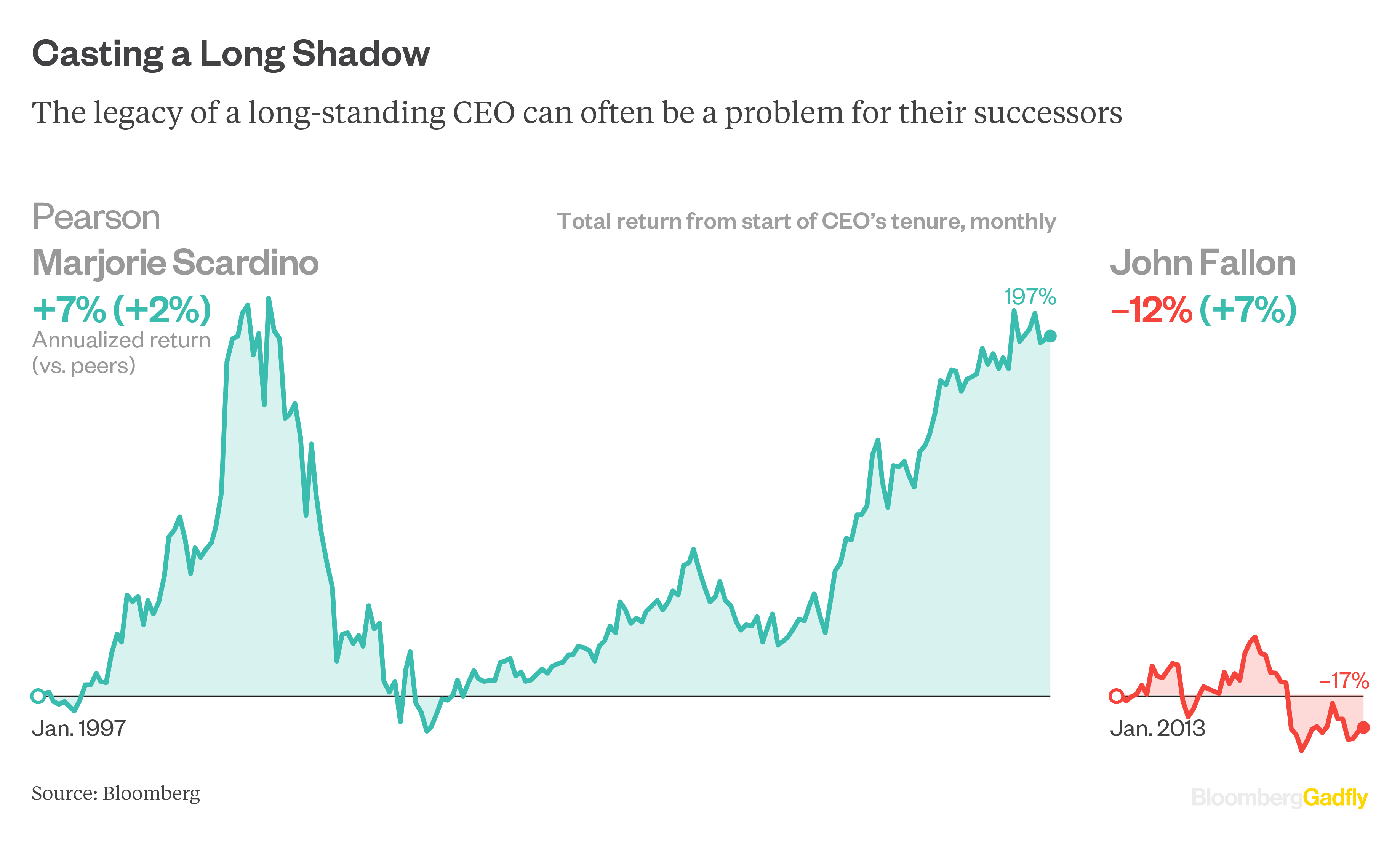 It's worth looking at what Fallon inherited: a sprawling group of businesses spread unevenly across the world, linked only by their connection to education in some form. Pearson suffered from weak cost controls and poorly designed IT systems.
Investors were willing to overlook all this as long as revenue and the dividend grew, as both did under Marjorie Scardino. To be fair, Fallon had already started to review the business and showed himself willing to sell prized assets (such as the Financial Times) that his predecessor had famously clung on to. Still, it may be too little, too late to save his job.
Likewise, John Rose's successors at Rolls-Royce Holdings Plc have been hobbled by his decision not to develop engines for narrow-bodied jets, while changes in accounting rules have taken the shine off Rose's strategy of pursuing lucrative, long-term maintenance contracts. John Rishton and Warren East oversaw five profit warnings between them as they grappled with his legacy.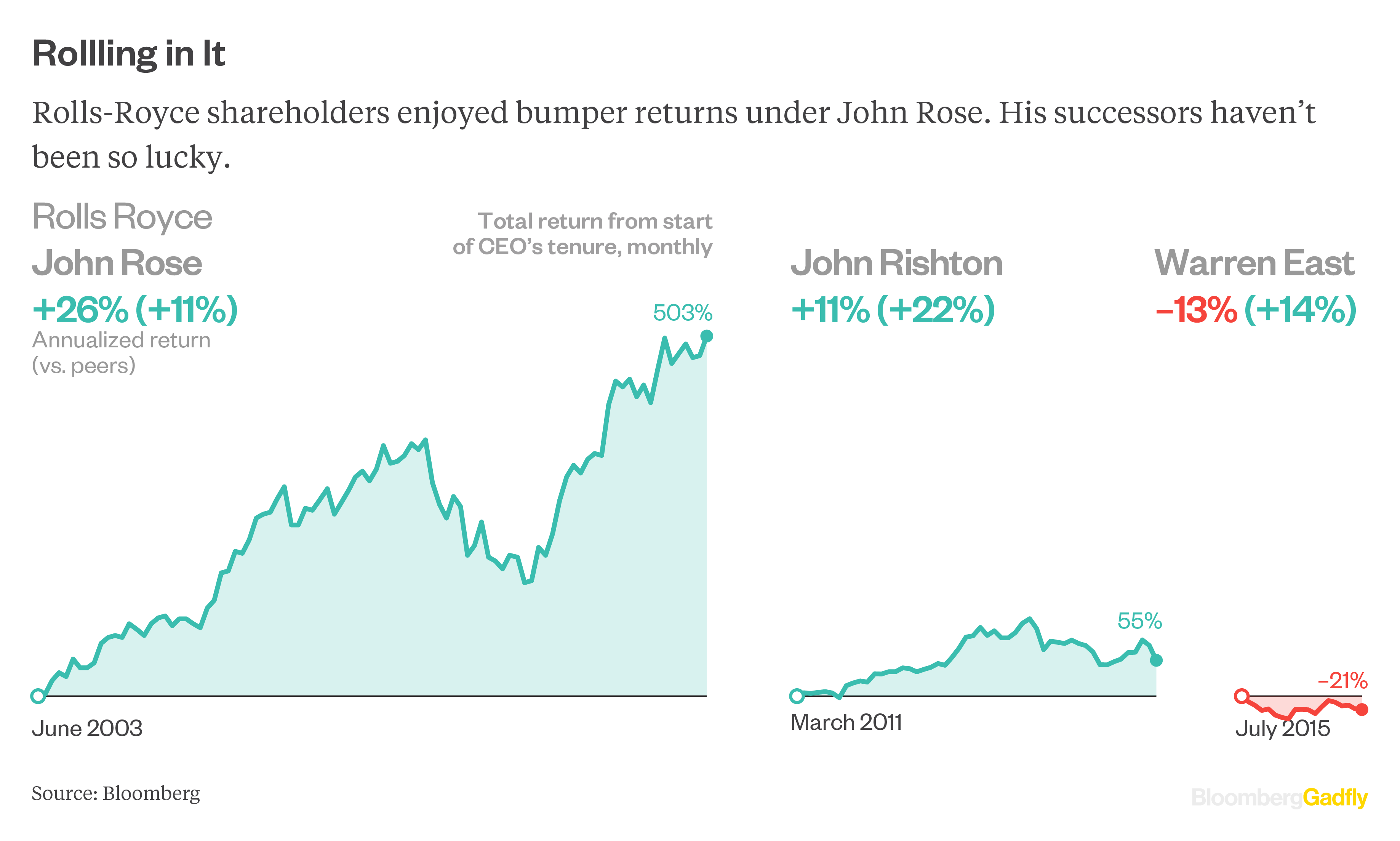 Terry Leahy turned Tesco Plc from an ailing local grocer into Britain's biggest supermarket chain. Investors cheered as the retailer met or beat the sales and profit targets he set each year. But an expensive foray into the U.S. left him with less to invest in his U.K. business. Domestic sales were already stalling by the time he handed off to Philip Clarke in 2011.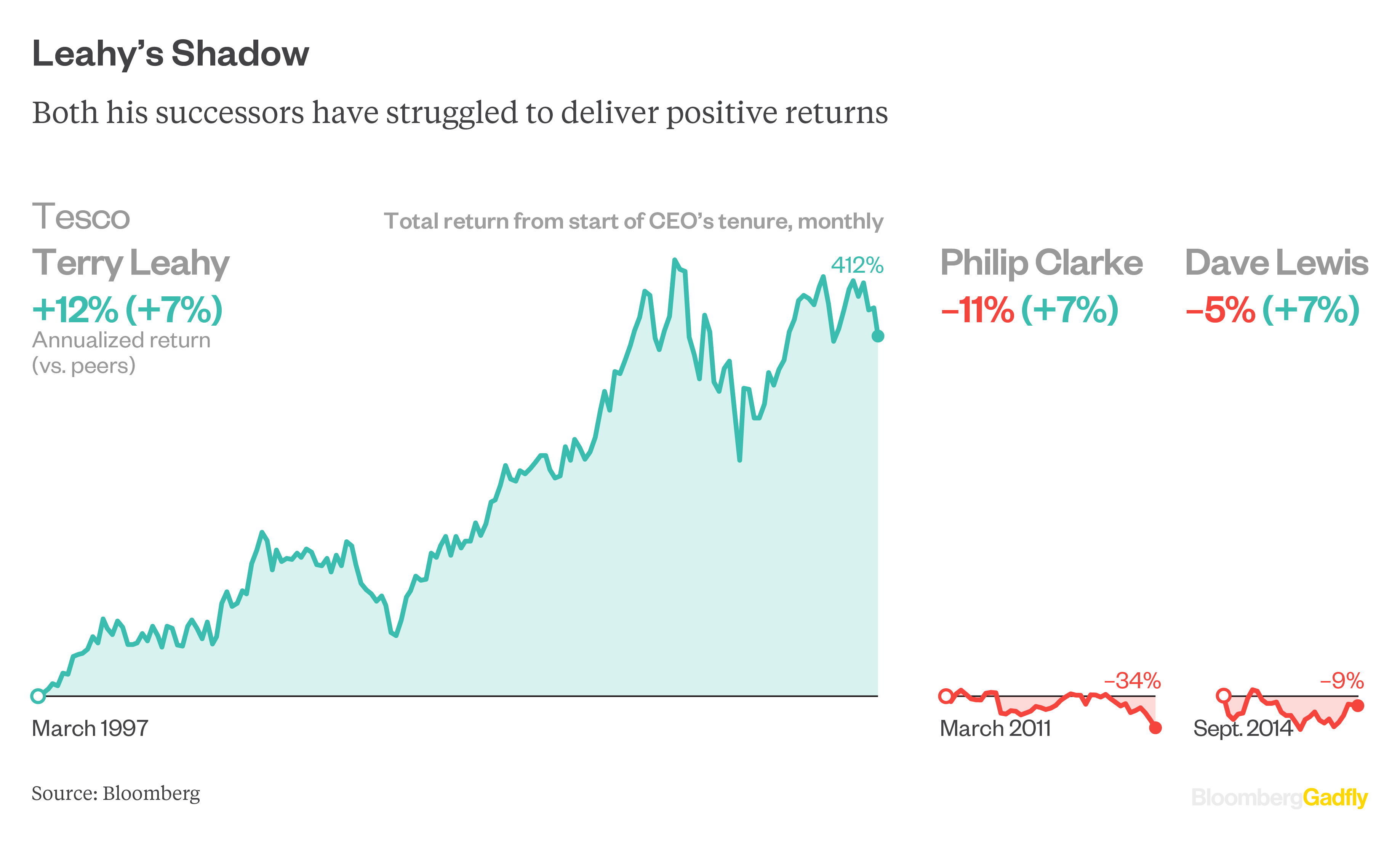 Clarke was ousted after years of poor performance. Within months, the retailer was being investigated for overstating its profit as it tried to meet its goals. Leahy may have already departed, but he created the retailer's target-driven culture.
The curse of the superstar CEO is by no means a recent affliction. John Browne was lauded as he turned BP Plc into a global giant, delivering returns that surpassed those of his peer group. But the Texas City refinery blast in 2005 heightened investor concern that growth had come at the expense of safety. Browne retired in 2007, but the same deficiency returned to plague his successor, Tony Hayward, following the Deepwater Horizon oil spill of 2010.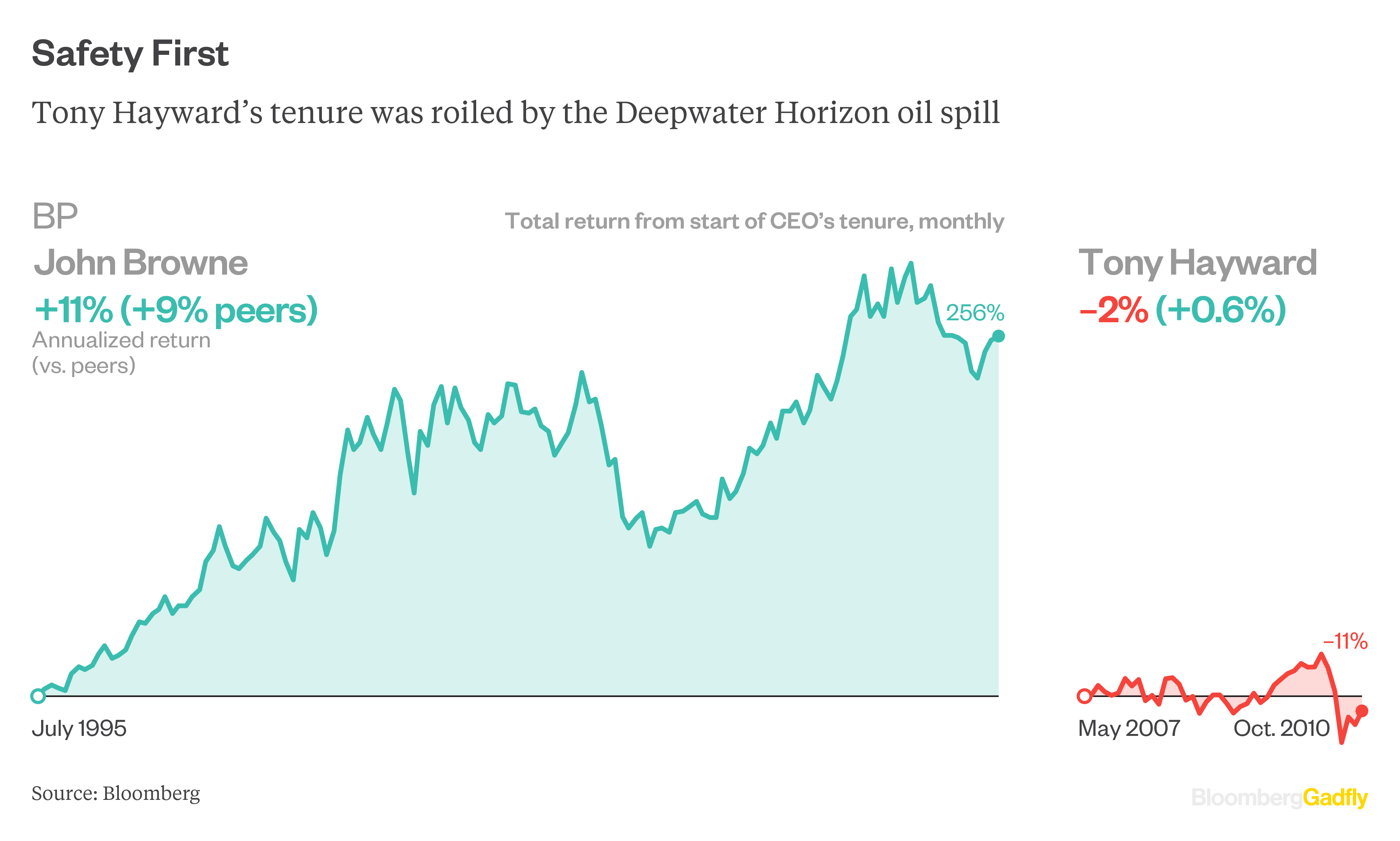 There are, of course, notable exceptions. Reckitt Benckiser Group Plc CEO Rakesh Kapoor hasn't just followed his predecessor Bart Becht in becoming one of Britain's top paid bosses, he's also into his sixth successful year as the top executive.
One thread links all of these companies: they all had a longstanding CEO who delivered outsized returns for shareholders relative to their peer groups. The travails of their successors suggest investors shouldn't be beguiled. They should instead be more concerned about how long is too long a tenure at the top. Would these companies' strategy and culture have benefited from fresh eyes at an earlier stage? The answer appears to be a resounding yes.
It's something shareholders in WPP Group Plc and Aberdeen Asset Management Group Plc will want to ponder. The companies have two of the longest-serving CEOs in Britain in the form of Martin Sorrell, who started the ad giant 31 years ago, and Martin Gilbert, who co-founded the Scottish fund manager. Both men have delivered great returns to shareholders. But that's scant assurance anyone can continue their legacy.
--With assistance from Gadfly's Leila Abboud and Andrea Felsted.
This column does not necessarily reflect the opinion of Bloomberg LP and its owners.
To contact the authors of this story:
Elaine He in London at ehe36@bloomberg.net
Edward Evans in London at eevans3@bloomberg.net
To contact the editor responsible for this story:
Jennifer Ryan at jryan13@bloomberg.net