Black Diamond
Superman Veers Off-Piste
First planes and now an Australian energy firm. What gives?
By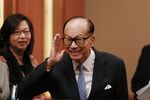 CK ASSET HOLDINGS LTD
+1.55
At Closing, January 19th
When is a real estate firm not really a real estate firm? When, as in the case of Cheung Kong Property Holdings Ltd., it's owned by Hong Kong billionaire Li Ka-shing.
Li, one of Asia's richest men, is forking out a sweetened A$7.4 billion ($5.5 billion) for Sydney-based gas and electricity distributor Duet Group. Including debt, the deal, if it isn't blocked by Australia's government, could be Li's biggest ever.
Two of Li's usual infrastructure-asset-acquiring companies are involved -- Cheung Kong Infrastructure Holdings Ltd. and Power Assets Holdings Ltd., both of which are held through his ports-to-telecom flagship CK Hutchison Holdings Ltd. But there's a third wheel in the acquisition in Cheung Kong Property.
As part of a large restructuring in 2015, Li, who earned the moniker Superman for his canny investing, created Cheung Kong Property, with a core mandate of real estate, and CK Hutchison, an old-world conglomerate with assets spanning mobile operators in Europe to retail shops and ports. So what's the former doing being drawn into a utilities deal?
In a broader sense, Li's hunger for staid but reliable utility assets isn't surprising. Duet also allows him to diversify away from Britain and Brexit, plus reduce exposure to an increasingly populist continental Europe. Duet's operations around Melbourne and in Australia's west are also a good fit for some of Li's other businesses in the nation, and they throw off a lot of cash. As Gadfly's David Fickling noted, a stapled structure that minimizes tax has allowed Duet shareholders to reap distributions of A$1.01 billion over the past five years despite the company turning in a consolidated pretax profit of just A$476 million over the period.
But having Cheung Kong Property involved in the deal muddies the waters for shareholders in Li's companies. That's especially the case considering Cheung Kong Property veered off course again last month when it spent $973 million buying aircraft-leasing assets. On Monday, responding to analyst questions on the firm's direction, executives said less than 20 percent of assets post the Duet deal would be in non-property businesses, which isn't exactly a small amount. Using cash to fund ever more acquisitions may also crush any dreams of a higher dividend.
While one could argue Cheung Kong Property itself is in need of some diversification as Chinese companies from the mainland beat out Li when it comes to winning land sales in Hong Kong, the firm increasingly looks like another conglomerate in the making. And that isn't what investors signed up for.
To contact the author of this story:
Nisha Gopalan in Hong Kong at ngopalan3@bloomberg.net
To contact the editor responsible for this story:
Katrina Nicholas at knicholas2@bloomberg.net
Before it's here, it's on the Bloomberg Terminal.
LEARN MORE