Barring a Christmas nightmare, investors in commodities will enjoy a gift they haven't received since 2010: a positive return.
A 10 percent gain wouldn't exactly make 2016 a leap year; the index is still only at roughly half the level where it ended 2010. Still, a positive number is a positive number. Can it be repeated in 2017?
For clues on that, look at where the underlying gains came from this year. In the chart below, we broke out the main constituent groups of the Bloomberg Commodity Index, showing their gain year-to-date (for the longer perspective) and quarter-to-date (showing recent momentum) and weighted by their size in the index: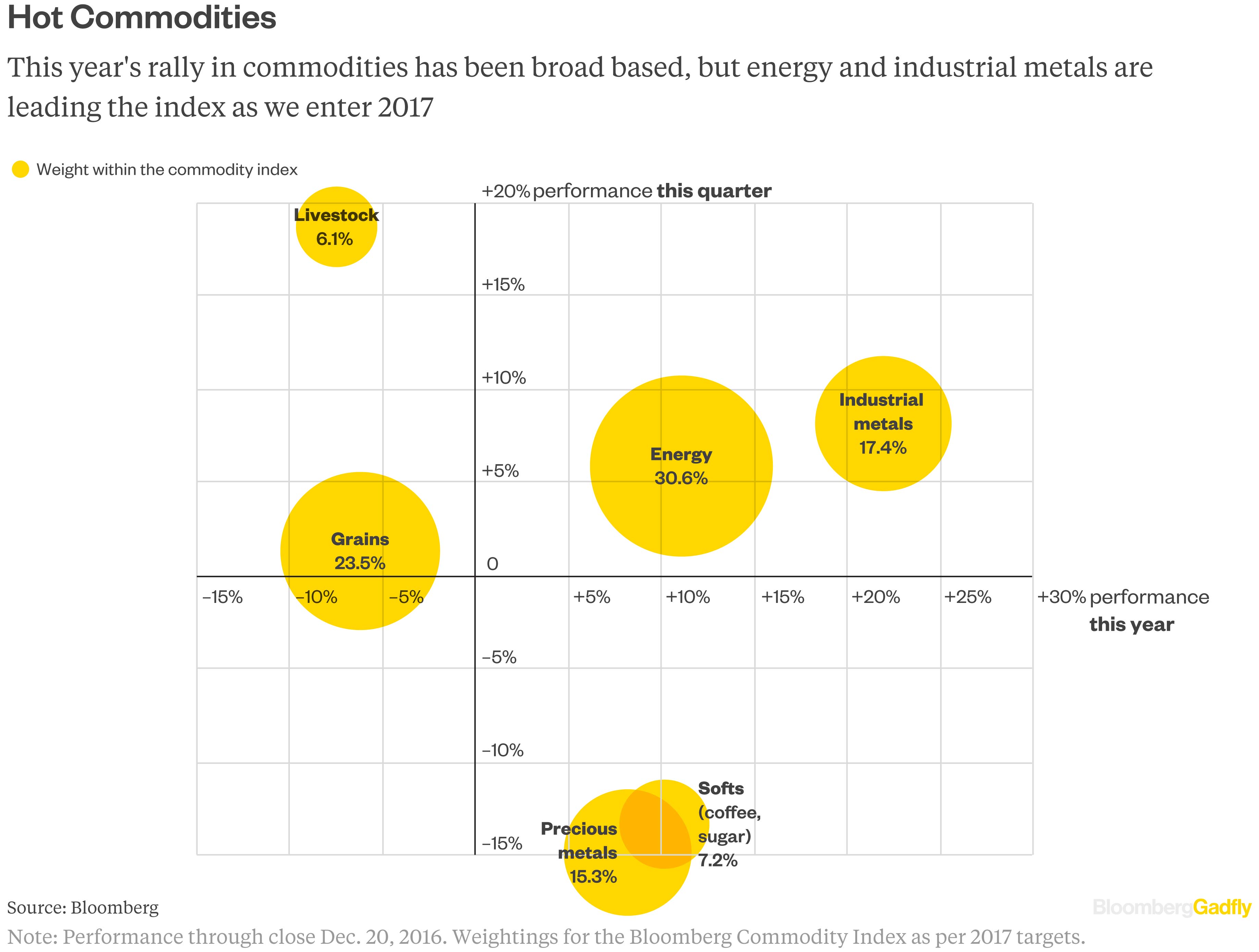 The first thing to notice is that the rally has been broad-based. While livestock and grains are lower this year, they represent less than 30 percent of the index overall -- based on proposed weightings for 2017 -- and have recovered somewhat in recent months. 
The second thing is that, of the four groups that are up, three really count: energy, industrial metals and precious metals (sorry, coffee and sugar, 7 percent is just a bit too small). These three add up to 63 percent of the index and will determine to a large degree whether it ends 2017 in the black, too.
Their fates are all tied to policy choices to a large degree.
Gold is the most obvious candidate on this front. After its initial surge in 2016, gold turned to, well, lead in the second half. Higher prices dampened jewelry demand, and then rising certainty of an increase in U.S. interest rates caused the hot money that had flowed into gold ETFs to start flowing out again.
The pressure of actual or anticipated Fed rate increases isn't likely to let up, so gold's fade into year-end could well carry on into 2017.
That said, with gold now back down to about $1,130 an ounce, jewelry demand in critical markets such as India should stabilize and could really pick up if the price falls below $1,000, a level not seen in seven years. Meanwhile, with the next U.S. president having already questioned such geopolitical constants as NATO and the One China policy, gold will likely get occasional jolts from the world's collective unease, too. So gold may stabilize and even rally later in 2017. Overall, though, it doesn't look likely to do much for the commodity index next year.
Gold's baser cousins, such as zinc and copper, meanwhile, have maintained much of their momentum, making the industrial metals the stars of 2016. The Trump rally, predicated on promises of an infrastructure splurge and other fiscal pump-priming, ties into a more general uptick in industrial sentiment.
As has been the case for a decade or more, though, the fate of the industrial metals isn't tied to the U.S. but to China. With the Communist Party's next twice-a-decade National Congress due to be held next fall, industrial metals buyers can probably count on Beijing to err on the side of expansionary economic policy through much of 2017. This should prevent chronic concerns about China's declining capital efficiency and soaring leverage becoming acute next year.
However, two risks to keep an eye on are how far President-Elect Trump's protectionist rhetoric -- much of it targeted at China -- translates into action and whether the leveling-off of house prices in China's top-tier cities starts spreading to those further down the chain, which account for the bulk of the market.
With precious and industrial metals pulling in opposite directions, it may fall to the other of the big three, energy, to cast the deciding vote on the index's overall performance next year.
About a quarter of the energy sub-index is tied to U.S. natural gas prices. While this market has been the graveyard of many a bullish prediction in recent years, there are some grounds for hope the market will at least avoid the pronounced slumps that characterized much of 2015 and early 2016. Gas inventories remain above the five-year average but are down from where they were this time last year.
However, with the benchmark price back to about $3.30 per million BTU already, further gains will depend largely on favorable weather -- as in, decidedly too cold or too hot for you and me.
A significant headwind to a gas rally may blow in from the rest of the energy sub-index: oil. Oil has bounced back from its near-death experience at the start of the year, courtesy of a coalition of the wilting: namely, OPEC members and friends all suffering enough from low oil prices to promise cutbacks in supply. How well they live up to those promises will be crucial to oil maintaining its momentum in 2017. But there's a catch.
OPEC's sacrifice is U.S. shale's gain, and indicators from rig counts to payrolls to M&A indicate rising prices will fuel some sort of recovery in American oil production next year. That is one of the biggest risks to the oil rally being sustained all the way through the year (and gas, too, as drilling for oil usually means more gas output).
So to ensure a really happy new year for commodities, you just need to put your faith in a gang of Indian brides, Chinese bureaucrats and Middle Eastern frenemies. Situation normal.
This column does not necessarily reflect the opinion of Bloomberg LP and its owners.
To contact the authors of this story:
Liam Denning in New York at ldenning1@bloomberg.net
Rani Molla in New York at rmolla2@bloomberg.net
To contact the editor responsible for this story:
Mark Gongloff at mgongloff1@bloomberg.net