It's a Fixer-Upper
Biogen's a Tough Gig for Any CEO
Investors pan the new leader, but only luck can end its woes.
By
After a five-month search, Biogen Inc. has finally found a successor to outgoing CEO George Scangos: chief commercial officer Michel Vounatsos, a former head of Merck & Co. Inc.'s primary-care business, who joined the company in April. 
No one seems all that excited about the choice. Biogen shares plunged nearly 5 percent on the news Monday afternoon before bouncing back somewhat. Investors may have assumed the pick meant Biogen was less likely to be bought in the near term or disliked Vounatsos' lack of a well-known track record for R&D or turnarounds. 
But even a more-exciting pick would have a difficult time restoring Biogen's fortunes.
Problem number one is Tecfidera, Biogen's leading drug. Sales volume has been flattening in the U.S., the company's most important market. Essentially all recent sales growth for the drug has come from price increases -- revenue has increased even as volumes have been flat or falling.
That's simply not sustainable. Competition is coming, from generic versions of Teva Pharmaceutical Industries Ltd.'s Copaxone and new drugs such as Roche Holding AG's Ocrelizimab, that will make it harder for Biogen to benefit from price hikes or grow volume for its drug. Biogen also faces challenges to Tecifera's patents from a Danish pharmaceutical company and a hedge-fund manager, another threat to future sales. The discounts Biogen is offering to keep market share in the U.S. already appear to be rising.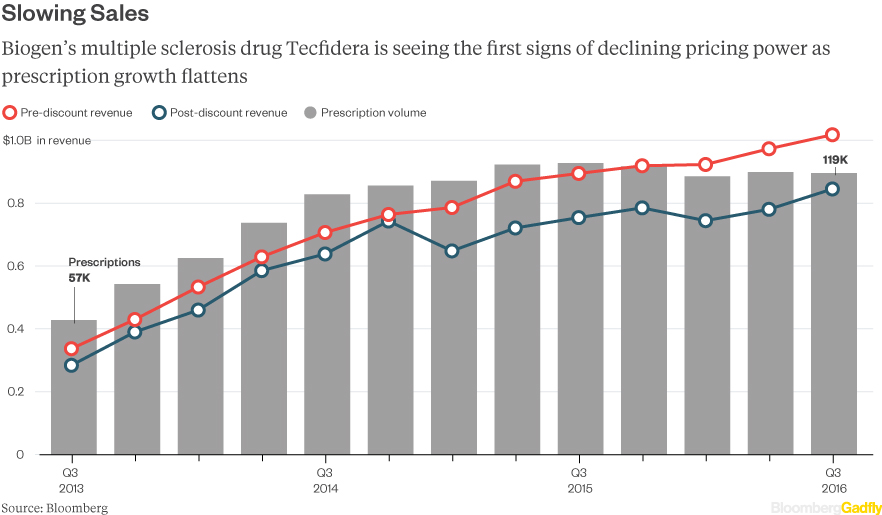 Tecfidera's slowdown and broader pressure on the company's portfolio of multiple sclerosis drugs -- which provide more than 60 percent of Biogen's sales -- mean the company's once-stellar sales growth has slowed. Biogen is set to spin off its hemophilia drugs, some of its fastest-growing treatments, early next year. Analysts expect sales growth to continue its downward trend in 2017. 
Spinraza, a treatment for a rare muscle-wasting disease developed with Ionis Pharmaceuticals Inc., may be approved next year and could be a blockbuster. But estimates of its potential vary wildly; the high estimate for 2019 sales is $2 billion, and the low is $363 million. If the skeptics are right, then the drug may not make up for Biogen's MS woes. 
Outside of Spinraza, Biogen's pipeline is a mix of disasters and prayers. This year brought high-profile failures in experimental treatments for MS and inflammatory bowel disease. The rest of the pipeline likely won't hit the market until 2018 or later, and includes risky bets such as the Alzheimer's drug aducanumab. It would be a blockbuster if approved, but the track record for Alzheimer's treatments generally is not encouraging. Eli Lilly & Co.'s effort, solanuzemab, using a thesis similar to Biogen's, failed a Phase 3 study in November.
The company badly needs to restock its pipeline. Vounatsos will have some flexibility for investments, with 7.4 billion in cash and a fairly light debt load. But picking and developing winning drugs is a tough task for any leader, let alone one without experience doing so as a CEO and facing several other pressing issues.
Hopeful Biogen investors will have to bank on an unlikely run of upside surprises, both from Vounatsos and the business he inherits.
-- With graphics by Rani Molla 
To contact the author of this story:
Max Nisen in New York at mnisen@bloomberg.net
To contact the editor responsible for this story:
Mark Gongloff at mgongloff1@bloomberg.net
Before it's here, it's on the Bloomberg Terminal.
LEARN MORE