See ya
Fed Leaves World in Rear-View Mirror
Yellen & Co. appear comfortable that the U.S. can go it alone.
By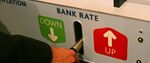 Janet Yellen's Federal Reserve isn't synonymous with boldness.
In fact, it has a reputation for trying to be as boring and predictable as possible. And yet on Wednesday, Fed members surprised markets by predicting a faster pace of interest-rate increases next year, with a plan for three as opposed to the previous forecast for two. (The central bankers also voted unanimously to raise rates for the second time in more than a decade, but that was expected.)
The accelerated forecast is significant. While an extra quarter of a percentage point in 2017 may look relatively minor on paper, it's not. It shows that the Fed is more concerned about a surge of domestic inflation than it has been in a while, or at least preparing for one, and in a departure it's worried less about what's going on around the rest of the world.

In response, traders sold short-term U.S. Treasuries, pushing up two-year yields to their highest levels since 2009.
This is in sharp contrast to the action in German two-year bonds, whose yields plummeted to record lows on Wednesday. The gap between the two benchmark rates hasn't been so wide since 2000.
The differential between 10-year U.S. and German bond rates is even bigger, with the dollar-denominated debt now yielding the most on record relative to the German notes.
All this helped the dollar to surge relative to its peers, with traders betting that global investors will allocate more cash to the U.S. to capture the higher rates being paid on the nation's debt.
Not so long ago, these divergences might have been a stumbling block for the Fed. The central bank could have tripped up on the question of whether the U.S. economy can accelerate meaningfully while other developed nations struggle to expand, or whether the dollar would become too strong and hurt U.S. companies internationally, or whether it would effectively cut off growth before it had a chance to take hold.

While policy makers more than likely discussed these issues at this week's meeting, they apparently felt comfortable they had a handle on growth and inflation. Fed Chair Yellen said she would be watching fiscal policies closely this coming year and commented on their lack of predictability. Indeed, central bankers are in an unenviable position of having to make market-moving decisions without a clear sense of President-elect Donald Trump's policies or their likely outcome.
But bond traders indicated they had a more bearish view of the consequences. They bought longer-term bonds, causing the yield curve to flatten, meaning they were pricing in less long-term growth as the Fed positioned itself to move more quickly. Riskier assets sold off. Longer-term inflation expectations declined.

Going forward, it will be crucial to watch the gap between yields in German bonds and the $13.6 trillion U.S. Treasury market. The more that divergence widens, the more the dollar will likely strengthen, hampering potential growth. The Fed can't forget about the rest of the world just yet.
To contact the author of this story:
Lisa Abramowicz in New York at labramowicz@bloomberg.net
To contact the editor responsible for this story:
Daniel Niemi at dniemi1@bloomberg.net
Before it's here, it's on the Bloomberg Terminal.
LEARN MORE