Let the Sunshine In
Alexion's Information Blackout Isn't Working
It's past time for more details on C-suite departures and a sales probe.
By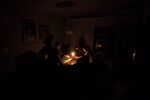 ALEXION PHARMACEUTICALS INC
+0.70
At Closing, January 19th
The sudden resignations of a CEO and CFO in the middle of a probe of sales tactics is the sort of development that needs explanation. 
Alexion Pharmaceuticals Inc. investors got no such explanation Monday morning, when the company unexpectedly announced it had replaced its CEO and CFO. What they got instead was a brief, chipper, information-light introduction to the replacements, along with platitudes about how everything was dandy. There was no Q&A.
Alexion began an internal investigation after a former employee alleged something was fishy about the way it sold Soliris, a rare-disease treatment that is its biggest drug. Alexion said Monday the investigation is nearly finished. It also said it hasn't uncovered anything requiring a financial restatement and that its increasingly late third-quarter 10Q will come in January or sooner. 
But there's a whole lot of space between "no restatement" and "everything's fine." Something completely unknown in that space was grim enough to likely cause two simultaneous C-suite departures, though Alexion's press release chalked those up to "personal reasons" and "new opportunities."
Alexion shares fell 16 percent Monday morning. The company needs to shine some light on its inner workings as soon as possible. Keeping investors in the dark puts a damper on an otherwise promising growth story. 
Sales scandal and executive sword-falling aside, Alexion appears to be in solid shape. Lead drug Soliris is an undisputed blockbuster. The company had two new rare-disease drugs approved last year and has promising follow-on drugs in its pipeline. 
Analysts expect Alexion to crack $3 billion in sales this year, with the vast majority coming from Soliris, and $4 billion by 2018.  
But the lack of information about Alexion's sales issues and executive departures -- still mysterious after the company's nine-minute scripted call -- makes those impossible to ignore. 
The probe's focus on Soliris is particularly troubling. The drug accounted for 91.2 percent of Alexion's sales in the third quarter, a greater proportion than any other product for any other drugmaker on the Nasdaq Biotech Index with at least $250 million in quarterly revenue. 
Selling expensive "orphan" drugs -- those that treat rare diseases -- is a complicated and high-stakes business. Soliris is one of the most expensive such drugs in the world, with a list price of $538,000 a year for one of its indications and $725,900 for another disease it treats.
Even a relatively small disruption in sales volume or reimbursement as a result of this investigation could have an outsize impact on Alexion. There's also a chance there are broader issues with the way the company sells medicines for rare conditions and that fixing them could take some time. 
The extreme cost of its medications already exposes Alexion to pricing criticism. Even before news of the investigation broke, shares were down 37 percent year to date, due to public criticism of high drug prices generally and a partial failure of a study aimed at getting Soliris approved in another disease. Any hint of misconduct may heighten regulatory and investor scrutiny of the high costs of the company's treatments.
Alexion's bad crisis management and poor communication with investors is making a bad situation worse. Until Alexion's new leaders get its SEC filings in order and actually answer investor questions, all of the company's potential growth comes with a very large asterisk.
To contact the author of this story:
Max Nisen in New York at mnisen@bloomberg.net
To contact the editor responsible for this story:
Mark Gongloff at mgongloff1@bloomberg.net
Before it's here, it's on the Bloomberg Terminal.
LEARN MORE