Going Flat
Coke's New CEO Needs to Shake It Up
An insider must turn things around more quickly to keep activists at bay.
By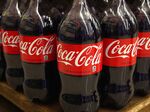 COCA-COLA CO/THE
+0.28
At Closing, January 19th
PEPSICO INC
+1.12
At Closing, January 19th
Coca Cola Co. has been refreshingly open about its CEO succession plans. So it was no surprise Friday when it officially announced CEO Muhtar Kent would step down after 38 years at the company, giving operating chief James Quincey the top job. What happens next isn't as crystal clear. 
Quincey isn't some outsider tapped to stir things up; he's spent the past 20 years running various parts of the business. But he may be forced to do some stirring, if he wants to succeed at running one of the world's most iconic companies just as consumers are shifting away from the sugary drinks on which it built its business.
The outgoing CEO already set in motion a turnaround plan to sell off bottling operations, further diversify into water, tea, and juices, and refashion Coke into more of a marketer than a manufacturer. But it's going to be up to Quincey to execute on and accelerate that plan. Because, so far, the changes haven't helped reverse a nearly four-year-old sales slump, nor Coke's worst return on invested capital since at least the 1980s.
Quincey will have to move faster than his predecessor. Here are a few places to start: 
Deals: Quincey made his name as a deal-maker, with Coke's acquisitions of companies such as juice makers Jugos del Valle and Innocent. Coke has recently focused on smaller, bolt-on acquisitions, but Quincey might need to think bigger if he wants to turbo-charge Coke's growth outside of soda. In an extreme example of thinking big, analysts at Susquehanna and Bernstein recently considered a tie-up between Coke and Anheuser-Busch InBev. AB InBev's most recent $103 billion takeover of SAB Miller, Coke's $182 billion market cap, and a boatload of anti-trust issues make that a hard deal to swallow. But the analysts are on the right track. With global growth and soda demand continuing to slow, further consolidation among food and beverage makers is inevitable. Coke's new leader should think beyond just buying small brands that take awhile to meaningfully boost sales growth. 
Warren Buffett: Berkshire Hathaway owns around 9 percent of Coke's shares, which has so far shielded the slow-growth soda maker from activist investors, who have regularly gone after its peers. But Coke might not be able to rely on that protection forever. Buffett praised Coke's succession announcement on Friday; but just a day earlier, his son and Berkshire board member, Howard Buffett, retired from Coke's board. The timing might be coincidental. Or, as Bernstein analyst Ali Dibadj suggested, it might augur a change in Berkshire's position on Coke. If Buffett pares his stake, then the soda maker could instantly become catnip for activists. 
Technology: Kent has joked the iPhone didn't exist when he took the helm at 130-year-old Coke. Since then, the way customers shop has completely changed. As fewer people go into Walmart or Target to buy soda, consumer-goods makers are struggling to create their own e-commerce arms and fight competition from Amazon, which has been creating its own product lines. Coke needs to step up its tech game, too. That could include elevating its e-commerce arm to be on par with other important business units and teaming with online grocery-delivery and meal-kit services to pitch its products. 
Marketing and Regulatory Policy: Regulations that require new labels to highlight added sugars are coming, as are more beverage taxes. Coke has smartly changed its packaging to offer smaller beverage sizes and says it's reformulating many of its drinks to contain less sugar. It should stay clearly on that path, rather than fighting such changes with misleading studies and opaque lobbying efforts. Quincey should realize that selling soda at a time when there's an all-out war on sugar is just as much a marketing problem as a regulatory issue.
It's a hefty to-do list. And while Quincey is certainly prepared -- he's been groomed for the position for long enough -- he's going to need more than just experience to break Coke out of this losing streak. He's going to have to shake things up. 
To contact the author of this story:
Shelly Banjo in New York at sbanjo@bloomberg.net
To contact the editor responsible for this story:
Mark Gongloff at mgongloff1@bloomberg.net
Before it's here, it's on the Bloomberg Terminal.
LEARN MORE