Inflation Sideshow
Draghi's No Good as a Bond-Market Scrooge
Investors shouldn't be disappointed in their wish for a nice QE extension this Christmas.
By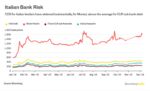 European Central Bank President Mario Draghi is no stranger to Christmas disappointment. He found himself in possession of a sharp selloff in bunds last year, after policy makers fell short of expectations for an extension of bond purchases.
The risks of a repeat might be higher for Draghi this time around, with fixed-income markets having had a torrid time since the U.S. election and Italian bank rescue plans hanging by a thread. Economists are looking for Thursday's policy decision to include a six-month extension of bond purchases, at the current pace of 80 billion euros ($85.8 billion) a month, from the current planned March expiry date. 
The two December policy decisions are similar, in that both fall under the shadow of a Federal Reserve interest-rate increase. But to avoid the same fate this time, Draghi will have to look through a crop of recent signs that suggest not quite so much stimulus is needed.
For one thing, a weaker euro certainly is a good omen for faster inflation.
And inflation expectations are rising, due in no small part to the OPEC agreement on production cuts.
The recent steepening of the yield curve alleviates some of the tapering pressure, as it makes more securities eligible for purchase through quantitative easing (if yields are too low, then the ECB can't buy them).
These are all sideshows. The market fallout from the Italian referendum result was a long way from Armageddon in no small part because of a broad expectation that Draghi would take action, as Gadfly has argued.
Italy's banking sector is still in need of repair, and Moody's Investors Service adjusted its outlook for long-term Italian government debt to negative from stable late Wednesday.
And that's not all Draghi has to do. The ECB must also address the crunch in the EU collateral repo markets. While two-year German yields have eased marginally from their -0.76 percent tight level to -0.69 percent, the system is still locked up in a collateral freeze. That's a serious problem that needs urgent attention.
There is much to contend with, and while some pressures have eased, the overall requirement to extend stimulus is very much there. Draghi should make sure European markets get the Christmas they've been hoping for.
To contact the author of this story:
Marcus Ashworth in London at mashworth4@bloomberg.net
To contact the editor responsible for this story:
Jennifer Ryan at jryan13@bloomberg.net
Before it's here, it's on the Bloomberg Terminal.
LEARN MORE