Sirens On
Aussie Banks Party Like It's 2008
The big four lenders are already leveraged to the housing-market hilt, and home building was hit particularly hard.
By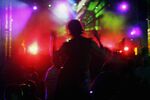 COMMONWEALTH BANK OF AUSTRAL
-0.07
At Closing, January 19th
NATIONAL AUSTRALIA BANK LTD
-0.07
At Closing, January 19th
As a country's economy goes, so go its banks.
So what does it mean for Australia's richly valued lenders that the nation just put in its worst performance since 2008?
Gross domestic product contracted by 0.5 percent in the third quarter from the second, well below economists' estimates of a 0.1 percent drop. Even when you factor in the strong performance in the previous period, the growth rate of 1.8 percent from a year earlier was the equal weakest since 2009.
Australia's big four banks took all this as good news. Commonwealth Bank of Australia, Westpac Banking Corp. and Australia & New Zealand Banking Group Ltd. rose 1.5 percent or more Wednesday to put in their best performance in almost a month, while National Australia Bank Ltd. gained 1.1 percent.
There's an obvious reason for this contrary response. Such a serious miss on growth increases the odds that the Reserve Bank of Australia will cut interest rates further in 2017. Capital Economics argues the cash rate may fall to 1.0 percent next year, from 1.5 percent at present. That would probably be good news for lenders, given how heavily they're leveraged to the country's housing market.
The bad news was buried deeper in the release. The biggest drag on GDP in the quarter came from investment in new buildings, which subtracted 0.3 percentage point. Home building was particularly hit, with fixed capital formation of private dwellings down 1.6 percent from the previous period.
That's consistent with new home approvals that fell to their lowest level in more than two years in October, and the regular reminders from the Reserve Bank that rents are growing at the slowest pace in decades.
Australia has done well taking the edge off the decline in mining investment by splurging on an apartment-building boom -- but with more cranes in Sydney, Melbourne and Brisbane than in the major cities of North America in the September quarter, the fall in building approvals is an indicator the construction industry is belatedly trying to reverse its way out of a glut.
Investors in bank stocks look significantly less cautious than the builders to which financial institutions are lending. Price-book ratios of the big four are around their highest levels all year.
That's despite returns on equity, which ought to be the driver of valuations, looking about as weak as they have at any point over the last decade.
Shorting Australian banks is a celebrated widow-maker trade, and the country's housing market has a seemingly unstoppable ability to defy gravity.
But the central bank and building industry are both signaling the market is looking soft, and with buy-to-let investors now accounting for about half the value of mortgage lending, housing may be more volatile in the face of price weakness than it was previously.
First-home buyers -- a traditional safety valve of the housing market who rushed in to prop up sales in 2009 -- have declined so fast that in the September quarter they numbered just 21,825, according to a report from Adelaide Bank and the Real Estate Institute of Australia. That figure, according to the lender, is "equivalent to the number of lions believed to be left in the wild."
Like big cats, Australia's banks still have enough roar in them to intimidate. But a proper downturn in the housing market could leave them looking more like endangered species.
To contact the author of this story:
David Fickling in Sydney at dfickling@bloomberg.net
To contact the editor responsible for this story:
Katrina Nicholas at knicholas2@bloomberg.net
Before it's here, it's on the Bloomberg Terminal.
LEARN MORE