Caracas, Tehran, Moscow ... the list of cities cheering OPEC's first pledge to cut supply in eight years goes on and on.
Perhaps the loudest hollers could be heard in Houston. If you weren't in earshot of the Texan oil capital, never mind: The stock market tells the whole tale. With crude prices jumping 8 percent, the energy sector was of course the best S&P sector by a mile on Wednesday.
But that's only half the story.
While U.S. exploration and production companies have been more resilient to the oil crash than previously expected, the past two years have certainly taken a toll on headcount, stock prices -- and balance sheets.
So we took a look at which E&P stocks did best on Wednesday after news of the cut broke, and matched them up with their credit profiles. The 40 stocks below are all members of the SPDR S&P Oil & Gas Exploration & Production ETF (we've excluded Exxon Mobil Corp. and Chevron Corp. due to their size, as well as refiners and a handful of companies with no long-term credit rating):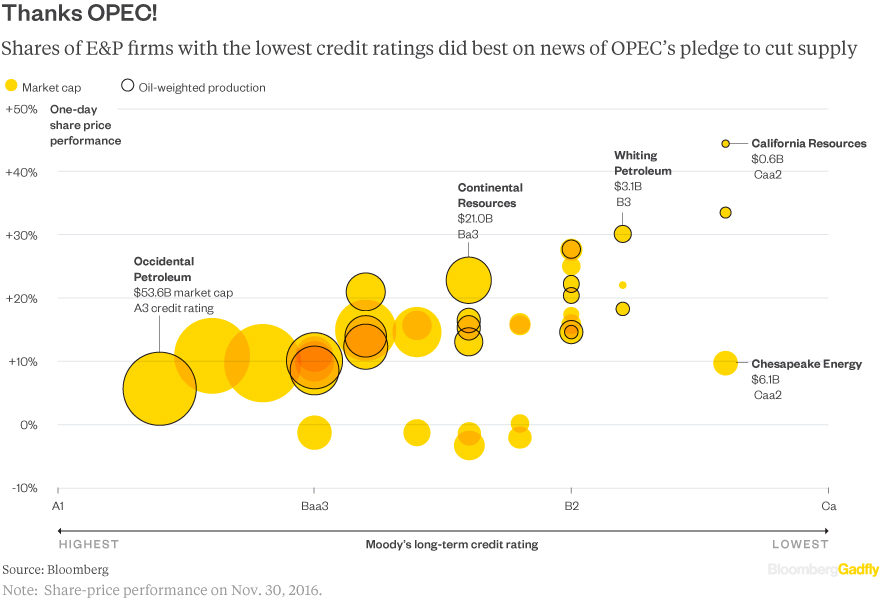 Notice how shares in those E&P firms residing at the less desirable end of the credit spectrum tended to do much better (especially if a majority of their production is oil rather than natural gas; sorry Chesapeake Energy Corp.) So three cheers for leverage and all that. But that reaction should temper OPEC's enthusiasm.
The one thing that has really kept the shale show on the road has been access to capital, with the E&P sector proving very adept at selling more stock, sweet-talking bankers or rejiggering their bonds as the opportunity arises. And, after two years of trying to sweat out higher-cost rivals,  OPEC members have delivered another such opportunity by shifting strategy and jolting prices with a pledge to reduce their own market share.
Wednesday's junk-weighted jubilation in E&P stocks suggests shale drillers will take advantage of it.
-- Graphic by Rani Molla
This column does not necessarily reflect the opinion of Bloomberg LP and its owners.
To contact the author of this story:
Liam Denning in New York at ldenning1@bloomberg.net
To contact the editor responsible for this story:
Mark Gongloff at mgongloff1@bloomberg.net