Call it the Grinch trade. 
Sales during Thanksgiving weekend, the official kick-off to holiday spending, came in lower than expected as consumers went shopping but spent less than they did a year ago. That theme is likely to continue in the coming months, with a fourth quarter characterized by higher discounts and a shift to profit-biting online sales. 
Investors who want to avoid retailers with the greatest exposure to holiday-driven sales might consider staying away from companies such as GameStop and Kay Jewelers parent Signet, which derived 38 percent and 37 percent of their annual sales from the fourth quarter last year, respectively.
They are the retailers with the most at stake during the holidays, among the 96 companies in the S&P Retail Select Industry Index. In contrast, Finish Line, Advance AutoParts and Big Lots each got just about 21 percent of their 2015 sales from the fourth quarter, the lowest in the index:
Black Friday and other holiday shopping events, while still meaningful to many consumers, have become less important to retailers in the past decade. That's partly because shoppers realize they can get good deals throughout the year, especially on e-commerce sites such as Amazon. They no longer need to wait in line during Thanksgiving weekend to snag the best price on popular items. 
What's more, the percentage of consumers who claim not to buy holiday gifts topped 10 percent this year, up from 4.7 percent in 2009, according to survey data from Kantar Retail.
And those that do shop will only do so with steep discounts: Thirty-six percent of consumers surveyed by Prosper Insights & Analytics said they only bought items that were on sale, up from 32 percent last year. 
Roughly 60 percent of the retailers in the S&P Retail Select Industry Index have seen their reliance on holiday sales decrease over the past decade. For example, Macy's got 43 percent of its sales during the holidays in 2005. Last year, it got 33 percent of annual sales from the fourth quarter. 
Only a handful of companies in the retail index -- mostly dollar stores and auto companies -- actually increased the percentage of sales coming in the fourth quarter.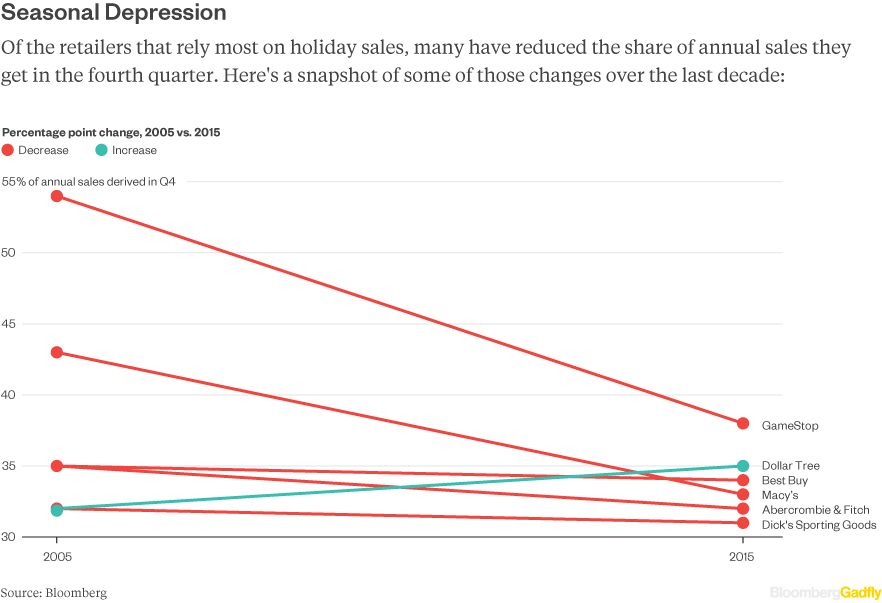 But investors should also look beyond sales; many retailers still get a hefty chunk of their profits from the holiday season. For example, while Macy's relies less on the fourth quarter for sales, it still gets 53 percent of its annual earnings from the holidays.
So while holiday shopping grabs all the headlines, investors might want to leave retailers with the greatest holiday exposure on the shelf. 
-Gadfly's Rani Molla contributed graphics.
This column does not necessarily reflect the opinion of Bloomberg LP and its owners.
To contact the author of this story:
Shelly Banjo in New York at sbanjo@bloomberg.net
To contact the editor responsible for this story:
Mark Gongloff at mgongloff1@bloomberg.net