Retailers Need More Screen Time
This is the year holiday shopping went mobile.
By and
MACY'S INC
+0.37
As of 10:52 AM EDT
WALMART INC
-0.66
As of 10:52 AM EDT
Shoppers looking online for Black Friday deals from Macy's were probably confused when the retailer's mobile site flashed a message that said: "Temporarily unavailable due to some routine site maintenance." 
On the busiest shopping day of the year, Macy's Inc. was doing routine maintenance?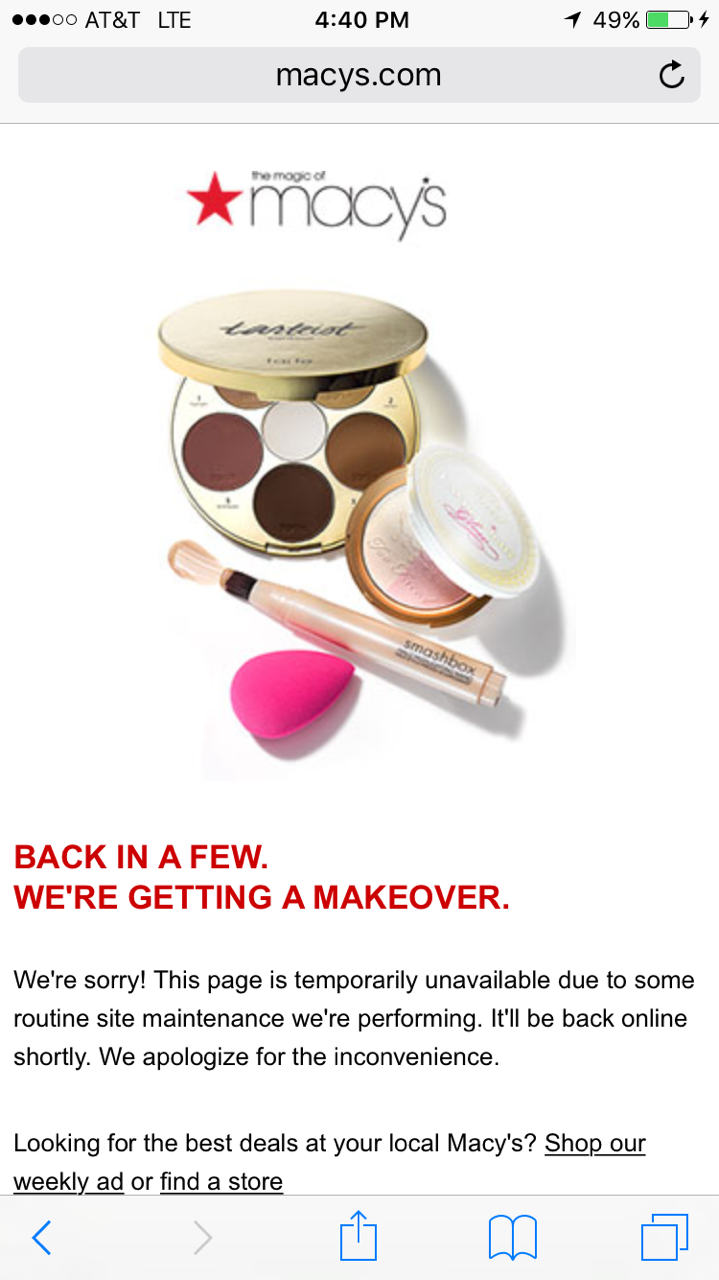 Actually, no. The retailer's mobile site was overwhelmed by traffic for more than eight hours on Friday, according to website-monitoring firm Catchpoint Systems Inc. Its desktop site was, too.
The outages couldn't have come at a worse time: Mobile accounted for 56 percent of website visits and 37 percent of online sales during Thanksgiving weekend, according to Adobe Digital Insights.
Make a note to your future self about holiday season 2016: This is the moment when shopping on smartphones went mainstream. In fact, Black Friday was the first day in retail history with more than $1 billion in mobile revenue, a 33 percent jump from the year before, Adobe said.  
Some pockets of retail skewed even more mobile. Wal-Mart Stores Inc. said 60 percent of orders placed online on Black Friday were purchased with mobile devices, up from half last year. Online sports retailer Fanatics Inc. said 56 percent of Thanksgiving Day sales were on mobile devices.
Such numbers underscore how important it is for Macy's and other retailers to quickly get up to speed in mobile, an area where Amazon.com Inc. has big advantages.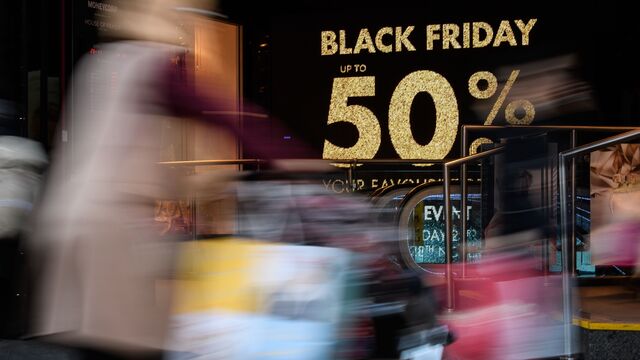 This might seem obvious if you surfed your smartphone under the table during turkey dinner last week. But there's a lingering denial in many industries about how much mobile is changing consumer behavior. Let this holiday season put the skepticism to rest: People will buy cars on their mobile phones. They will watch movies and football games there. And many will use their thumbs to do the bulk of their holiday shopping. 
Here are three tips for retailers looking to catch up: 
Digital payments: In a store, it's just as easy to pay for stuff with a credit card as it is to use Apple Pay or other digital payment services. Typing credit-card and shipping information into a phone screen is far more annoying -- one reason people browse shopping sites but fail to complete purchases. Not only are conversion rates lower on mobile, the average order size is also smaller: $81 for smartphones, compared to $119 on desktop, according to research firm Monetate.
Amazon has credit-card and shipping information on file for millions of customers, making shopping a one-click breeze from mobile phones. Retailers such as Bloomingdale's and Kohl's do have customer data from their own loyalty programs, but they lack the reams of information Amazon has on its shoppers, and they don't cater to new customers.
Giving shoppers the option of using digital payment services that work across many sites -- think Apple Pay or PayPal -- could help boost conversion rates. Companies such as Walmart that limit payment options risk falling further behind. 
Don't neglect basic infrastructure: A retail website should, at a minimum, handle a crush of one-day traffic. And yet there's always at least one retailer that face-plants on Thanksgiving weekend. This year it was Macy's (though it was not alone). Last year it was Neiman Marcus. Two years ago, Target's data breach posed a different kind of infrastructure nightmare.
Walmart says its website gets 10 times the usual traffic on Thanksgiving weekend. But it and other retailers stress-tested their sites to make sure they could handle the flood of holiday orders. Walmart also now funnels its traffic through multiple regional clouds, versus a single cloud, to avoid site downtime. 
Smartphones have made people increasingly impatient with slow or inaccessible websites and apps. Many shoppers who couldn't reach Macy's on their phones over the weekend likely didn't wait and come back later. Other options were one swipe away.
Targeting rules: Shoppers spent 3.5 percent less this Black Friday weekend than they did a year ago, according to a survey by the National Retail Federation. And more than a third of shoppers said they only bought stuff that was discounted.
That's a troubling sign for retailers' profit margins. One way retailers can adjust is by using mobile-phone push notifications to offer discounts to customers who are likely to spend more, using data on location, shopping habits and loyalty. This helps retailers give discounts to more-profitable customers and avoid the blanket price cuts that hurt margins the most. 
Consumer trends are typically magnified during the holidays and often signal permanent changes in behavior. Two years ago, online Black Friday shoppers outnumbered in-store shoppers for the first time, and the trend toward online shopping has only gained steam since then.
Many retailers were sluggish to embrace that change. They shouldn't make the same mistake with the shift to mobile. 
To contact the authors of this story:
Shelly Banjo in New York at sbanjo@bloomberg.net
Shira Ovide in New York at sovide@bloomberg.net
To contact the editor responsible for this story:
Mark Gongloff at mgongloff1@bloomberg.net
Before it's here, it's on the Bloomberg Terminal.
LEARN MORE