Metals Discount Trump's Emissions Stance
A narrowing palladium-platinum price gap points to higher demand for catalytic converters -- a sign of tighter rather than looser regulation.
By
Anyone expecting that President-elect Donald Trump will have a free hand in tearing up U.S. rules on auto emissions may find a rude shock in precious metals markets: The ratio between platinum and palladium prices is collapsing.
Last Tuesday, a troy ounce of platinum cost about 50 percent more than the same amount of palladium. A week later, it was worth about $945 an ounce 1 , only about a third more than palladium's $701. The ratio between the two metals is only narrowly above its tightest levels in almost 15 years.
With auto lobbyists urging the Trump transition team to loosen emission regulations, you might expect that measure to be going the other way.
About 72 percent of the world's palladium goes into catalytic converters, the filters attached to vehicle exhausts that capture soot and convert nitrogen oxides and carbon monoxide into less toxic gases. Some 19 percent is for catalysts in North America alone, but palladium has risen about 5 percent since last week's election. That suggests traders are betting on strong consumption growth -- hardly the move you'd expect to see from a metal facing a demand crunch.
There are a couple of alternative explanations for the shifting ratio.
One possibility, more worrying for global climate, is that Trump's election is being seen as a blow to electric vehicles. Cars that don't produce exhaust pollutants don't need reactive precious metals to catch them, and the real nightmare scenario for platinum (also used in catalytic converters) and palladium is the sort of rapid switch toward battery-powered cars that Volkswagen AG and General Motors Co. are betting on.
Another is that palladium is just behaving like the industrial metal it is in all but name. Jewelry and bullion accounted for less than 5 percent of palladium demand in 2013, compared with 42 percent for platinum. Bloomberg's index of such lower-priced commodities is up 2.2 percent since the election, versus a 4.9 percent decline for the precious metals index.
The simplest explanation is normally the best, however, and palladium's relative health is easiest to explain as a reaction to real demand expectations. Auto emissions are forecast to tighten further in all countries over the years ahead, as Johnson Matthey Plc -- a U.K. producer of specialist metals -- pointed out in a presentation earlier this year: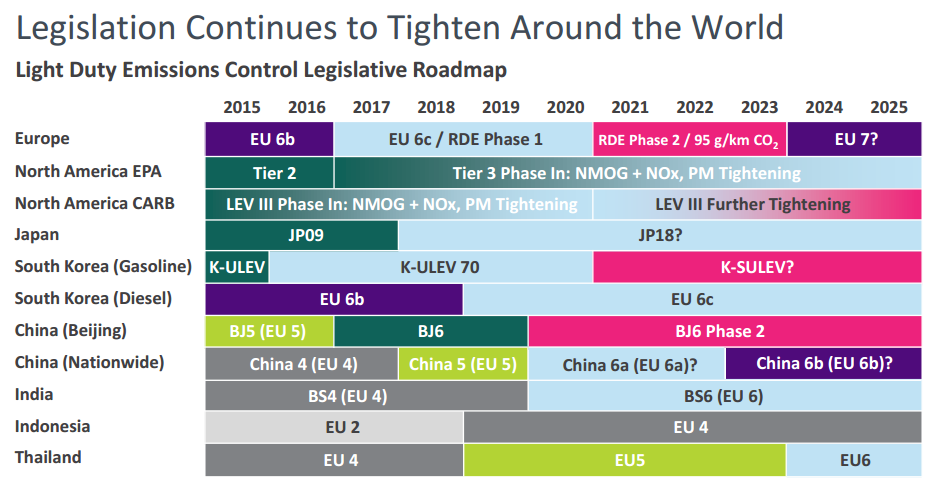 Tightening auto regulations in North America and China are still one of the main bullish demand factors for palladium, the company said in its latest market outlook Monday. The platinum-palladium ratio says Trump won't reverse that trend.
To contact the author of this story:
David Fickling in Sydney at dfickling@bloomberg.net
To contact the editor responsible for this story:
Matthew Brooker at mbrooker1@bloomberg.net
Before it's here, it's on the Bloomberg Terminal.
LEARN MORE