Pimco's Turnaround Gets Trumped
One quarter of inflows doesn't mean the corner has been turned.
By
ALLIANZ SE-REG
+1.00
At Closing, April 20th
Only a week after taking the reins at Pacific Investment Management Co., CEO Emmanuel "Manny" Roman has some good news. 
The bond fund manager broke a three-year run of outflows in the third quarter, parent Allianz SE said on Friday.  A sign, then, the business has turned a corner, according to the German insurer.
But investors will have to adjust to another new leader with a lot of influence on Pimco's earnings: Donald Trump.
His bombshell election victory has left bond markets in disarray and investors running for cover as markets bet on a rise in interest rates, inflation and government spending -- all bad for safe-haven assets like bonds.
In a matter of days, Pimco's flagship Total Return exchange-traded fund has sunk to its lowest since March. Pimco isn't alone. Rival low-cost fund specialist Vanguard's Total Bond Market fund has also taken a hit.
In all, more than $1 trillion has been wiped off the value of bonds around the world this week. Analysts at Bank of America are hailing the beginning of the inflation era.
It's not yet certain whether this is a story of short-term investor positioning or the death throes of a 30-year bull market for bonds.
But in the meantime, Roman's task becomes trickier. Success will hinge on whether can outperform peers in a tough market.
It will be difficult to win big over the next few months, even if a money manager gets a few big bets right, as my Gadfly colleague Lisa Abramowicz points out. Pimco's Total Return fund is up 3.1 percent year-to-date, slightly more than Doubleline Total Return's 2.85 percent advance, but lower than the Vanguard Total Bond Market ETF's 3.3 percent.
If performance takes a turn for the worse, Roman will have the unenviable job of eliminating more costs, especially with competition from passive fund managers squeezing margins across the industry. Performance fees had already shrunk in the third quarter, falling to 65 million euros from 165 million euros.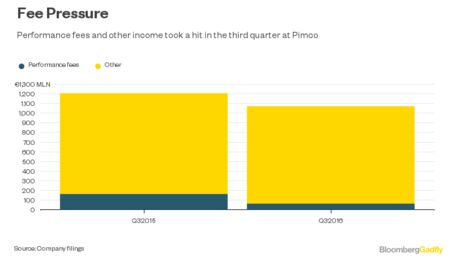 Assets under management at Pimco and Allianz Global Investors could also be threatened. But Pimco could limit the damage to the fourth quarter with a strong performance, according to Bankhaus Lampe analyst Andreas Schaefer.
Pimco has won big -- and lost big -- in recent dramatic market moves. The money manager ballooned in size after 2008 by navigating the financial crisis with returns that beat 82 percent of rivals. It then suffered a big blow to performance and credibility after bad bets on central-bank moves that ultimately led to star fund manager Bill Gross's departure.
Roman has the right strategy to get Pimco back on an even keel -- diversify away from bonds into higher-margin alternatives. Trumponomics will complicate that task. It may be too early to say the corner has truly been turned.
To contact the author of this story:
Lionel Laurent in London at llaurent2@bloomberg.net
To contact the editor responsible for this story:
Edward Evans at eevans3@bloomberg.net
Before it's here, it's on the Bloomberg Terminal.
LEARN MORE