The oil business has been cutting back on everything -- except when it comes to selling stock. Average oil prices are at their lowest since 2004, but this is by far the biggest year for equity issuance by U.S. E&P companies as far back as Bloomberg tracks the data.
It's been a year of two halves. Early in 2016, as oil crashed below $30 a barrel and the E&P industry stared into the abyss, there was a flurry of equity issues to help shore up creaking balance sheets. Almost 40 percent of this year's stock sales happened in that fraught first quarter …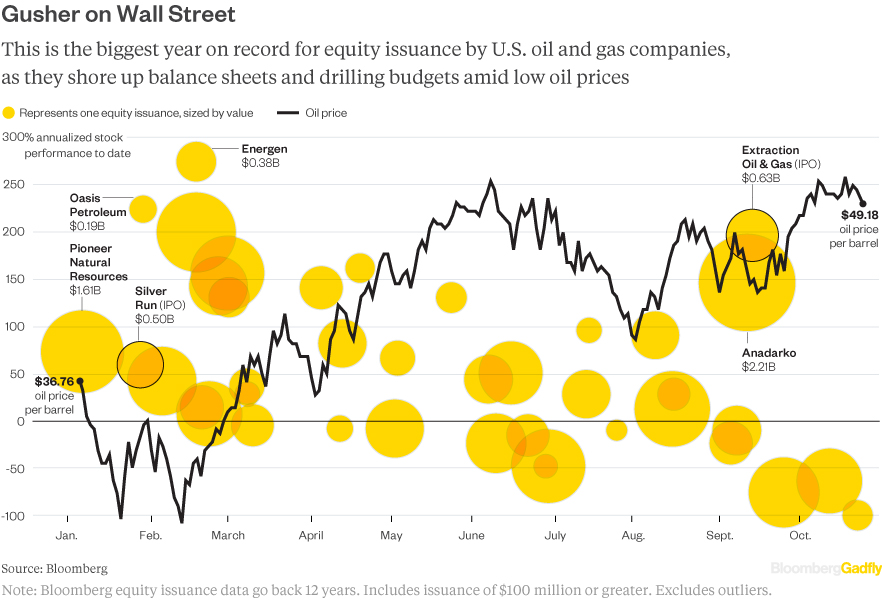 … which was also the best time to buy new E&P stock. The rally in oil prices since then has lifted the entire sector, and some of those discount sales have notched up huge gains. Annualizing these helps to compare them, even if the implied expectation of continued performance over an entire year is something that only really makes sense in models.  In general, though, if you bought the stock sold during that fraught first quarter, you have notched the biggest gains as the sector has since rallied along with oil prices.
That rally has led E&P companies to take advantage and continue selling new shares (this year has even included two IPOs), both to keep cutting debt and to pay for drilling in the latest hot spot, the Permian shale basin. But with oil prices mostly moving sideways since June, buyers of most of the latest issues could be waiting a while for big payoffs of their own.
This column does not necessarily reflect the opinion of Bloomberg LP and its owners.
To contact the authors of this story:
Rani Molla in New York at rmolla2@bloomberg.net
Liam Denning in New York at ldenning1@bloomberg.net
To contact the editor responsible for this story:
Mark Gongloff at mgongloff1@bloomberg.net