Tesla's stock has had an interesting Thursday after the company reported blowout results the evening before.
The likely reason is that, after the initial panic of the many short sellers targeting Tesla Motors Inc., a closer reading of the numbers showed the company had really pushed the pedal to the floor to make this a doozy of a quarter. You can't blame Tesla for this; the boss demanded it, after all. And, to be clear, every company should be striving to maximize cash flow and profits. If Tesla is to mature into the self-funding giant its many fans foresee, then this has to happen.
The big question is whether the latest quarter can be taken as a sign of things to come. As I wrote here, there were several signs it would be premature to think so, including a big increase in Tesla's payables and accrued liabilities -- essentially, money Tesla owes but hasn't yet paid.
In fact, when you look at Tesla's cash conversion cycle, this latest quarter really stands out on several fronts. The cash conversion cycle measures how quickly a company converts inventory into cash flow. The lower the number, the better. It's a calculation derived from thee other calculations. There's a good explanation of it in this blog post on the CFA Institute's site, but here are the basics:
(A) Days of Receivables Outstanding: How quickly you get paid after making a sale, on average.
(B) Days of Inventory Outstanding: How long inventory sits on the shelf, on average.
(C) Days of Payables Outstanding: How quickly you pay your suppliers (or, really, how long you can hold off paying), on average.
The cash conversion cycle is (A) plus (B) less (C).
For Tesla, we have to estimate its payables outstanding at the end of the third quarter because its initial announcement lumps them in with accrued liabilities. Assuming the $628 million increase in this number was all payables, we get a balance at the end of September of $1.74 billion. Using that, here's how Tesla's cash conversion cycle looks over time: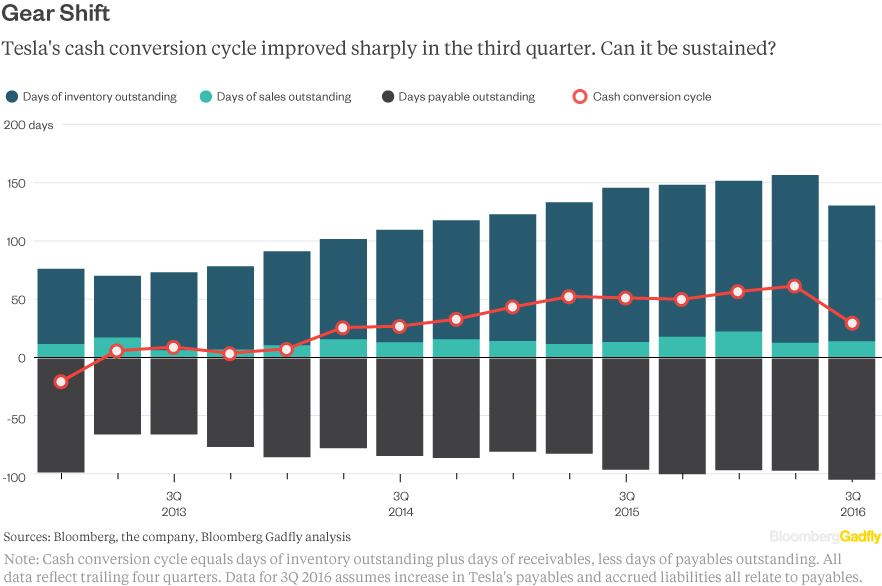 You can see that, under our working assumption, days payable jumped to 103, about a week longer than the second quarter. Days of sales outstanding slipped by about a day, but there was also a big improvement in inventory management, with time on the shelf dropping by almost four weeks to its lowest level since early 2015. Overall, Tesla's cash conversion cycle more than halved to less than a month.
Such shifts can be a sign of an operating model starting to hum. But in the context of CEO Elon Musk's stated desire to make a splash in the third quarter, this sudden improvement risks being more of an unsustainable reach.
More clues will come early next year, when Tesla reports results for the final months of 2016 -- provided the impending addition of SolarCity doesn't render all such comparisons meaningless.
-- Cash conversion cycle chart by Rani Molla
This column does not necessarily reflect the opinion of Bloomberg LP and its owners.
It is possible that Tesla's payables did not increase by the full $628 million attributed to payables and accrued liabilities in the results. Assume instead that the payables went up by 37 percent, which is the figure Tesla gave on Wednesday evening's conference call for the increase in vehicle production. On that basis, payables would have increased by $413 million. Even then, Tesla's cash conversion cycle would have dropped to 36 days from 60 days in the prior quarter.
To contact the author of this story:
Liam Denning in New York at ldenning1@bloomberg.net
To contact the editor responsible for this story:
Mark Gongloff at mgongloff1@bloomberg.net