European banks, the favorite scare story in financial markets, are looking a bit less ghoulish as Halloween approaches. Both Deutsche Bank AG and Barclays Plc posted better-than-estimated third-quarter figures on Thursday.
Both were helped by a bumper quarter for bond trading. But the results left the question of each firm's long-term profitability up in the air.
First, the good news. The wheels didn't come off at Deutsche Bank as the lender braces for a potential $14 billion fine from U.S. regulators.
Its global markets operation was able to profit from a strong quarter in fixed income, with debt-trading revenue up 14 percent year-on-year. Falling costs also lifted profit.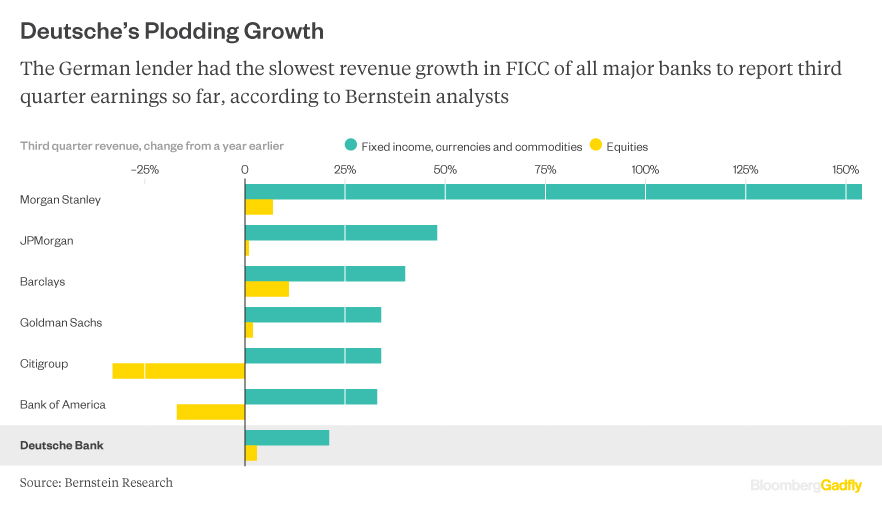 That buys some time for CEO John Cryan, who is under pressure to shrink the bank and bolster capital without killing the brand or destroying staff morale.
U.K. peer Barclays did even better, posting the strongest revenue from fixed-income in more than two years as well as an 11 percent jump in equities revenue, a performance even better than some U.S. peers.
Considering CEO Jes Staley was facing calls to spin off or sell Barclays' investment bank at the start of the year, it's a sign his strategy to focus on being a transatlantic corporate and consumer bank is paying off. Staley says he's ready to stop shedding jobs. That should allow the division to gain market share.
Both firms still need to prove they can produce returns that exceed their cost of capital in the long term. Return on tangible equity was 2 percent at Deutsche Bank and 3.6 percent at Barclays. Both have a very long way to go before they match U.S. peers or their own cost of equity.
Both are at the lower end of their European peer group when it comes to core capital strength. Deutsche Bank, in particular, needs to prove it can bolster capital without outside help.
That helps to explain why the market reaction to the results was positive but hardly euphoric: At midday trading Barclays shares were up 1.5 percent and Deutsche Bank shares were flat.
Investors are still in the dark over what Deutsche Bank will look like in coming years. Much is outside the lender's control, such as the size of the eventual settlement with the Justice Department over mortgage-backed securities. 
Even where it does have freedom of action, it's hemmed in. Deutsche Bank wants to offload Postbank, its consumer unit, to raise capital. But this looks a tough sell when low interest rates are crushing margins on lending.
There's some speculation the bank might sell its asset-management unit -- but that would rob it of one of its highest-return businesses. There is a cost to shrinking further.
Barclays is in a much stronger position, though it still has to close the gap between its profitable "good" bank and the unprofitable "bad" bank it's trying to offload.
This is no small task: Barclays wants to cut its 44 billion pounds of non-core risk-weighted assets to 20 billion pounds in 2017. It's also begun the process of selling its African business to boost capital. Brexit and new rules forcing banks to erect firewalls around their consumer businesses will only complicate the journey.
In sum, Barclays and Deutsche Bank's earnings managed to beat expectations this quarter. But these firms are still only generating low-single-digit-returns amid low interest rates, growing regulation and structural change. They've both done enough to buy time and hold onto the share gains in the last month. It will take longer to reduce their steep valuation discounts to their peers.
--Gadfly's Elaine He contributed graphics.
This column does not necessarily reflect the opinion of Bloomberg LP and its owners.
To contact the author of this story:
Lionel Laurent in London at llaurent2@bloomberg.net
To contact the editor responsible for this story:
Edward Evans at eevans3@bloomberg.net