No Deal
GE Isn't Going to Do Elliott's Work
The activist will have to find other ways to create value at SLM because GE isn't paying up for it.
By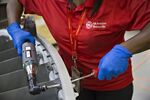 SLM SOLUTIONS GROUP AG
+0.10
At Closing, January 17th
GENERAL ELECTRIC CO
-0.86
At Closing, January 17th
General Electric Co. is making Elliott Management Corp.'s job a lot harder.  

The activist fund led by Paul Singer amassed a more than 20 percent stake in SLM Solutions Group AG, a German 3-D printer maker that GE agreed to buy in September. Elliott came out against the takeover on the grounds that it wasn't in the best interest of shareholders. The strategy seemed to mimic tactics that investment firm has employed with success at Swedish software maker Industrial & Financial Systems IFS AB and drug distributor Celesio AG. There's one problem though: in those instances the companies' would-be buyer stuck around and eventually played ball with Elliott. GE gave notice on Wednesday that it's walking away from its SLM offer.
SLM shares plummeted, while GE gained.
Honestly, good for GE. Its 38-euro-a-share offer for SLM amounted to 660 million euros ($720 million) after subtracting net cash. Even if GE had doubled its bid, that barely would have made a dent in its $99 billion cash stockpile. But the company didn't get to where it was by throwing money around. There was no real financial reason for GE to increase its already expensive bid. GE's offer was a 37 percent premium to SLM's unaffected price and amounted to nearly 100 times SLM's Ebitda in the last 12 months. Those high multiples were tolerable because the acquisition was about growth -- but that doesn't mean they needed to go higher.
SLM's metal-based additive manufacturing technology is gaining traction among industrial companies looking to cut costs and reduce waste on production of industrial parts. Bringing its machines -- along with those of Arcam AB, another 3-D printing company GE's trying to acquire -- in house would yield up to $5 billion of production savings within 10 years and as much as $1 billion in extra revenue by 2020, GE said. But it's hard to use those benefits as justification for a higher price because they simply don't exist without GE. There's no way that SLM -- which sold fewer than 100 machines last year for a grand total of $73 million in revenue -- is getting to $1 billion any time soon.
So where does that leave Elliott? The hedge fund has shown a willingness to remain a minority holder in potential takeover targets in order to benefit from what they see as more upside. It's possible Elliott's stake in SLM is more about the company's stand-alone potential than getting more money out of GE. Elliott said in September that it was seeking to exert influence over the company's capital structure, its dividend policy and the composition of its board.

But if that is Elliott's investment case, it should be prepared to wait a while. Consider the fact that SLM itself had continued to urge shareholders to take GE's offer, contending in an Oct. 5 statement that the deal would give the company better access to financing and significantly accelerate its development. The offer is "significantly above the share price targets which were released by various analysts a short time before the intended takeover was announced," SLM's management and supervisory boards noted. Translation: Guys this is a really great deal, what are you doing?
Maybe Elliott is wagering that another industrial conglomerate will be willing to pay up for SLM. That's possible, but other would-be suitors have had almost two months to come forward with a counterbid and so far none have emerged.
For GE's part, it's a bummer to lose SLM but perhaps the company decided its deal with Arcam was the one worth fighting for. GE is already Arcam's biggest customer and holds about a 14 percent stake in the $640 million Swedish company. While Arcam and SLM generally do the same thing, their approaches are a bit different. Arcam says its electron beam method lends itself to a fast printing process and a wide range of printing materials. SLM uses a laser-based system, which is better for more detailed components.
Elliott has its fingerprints all over the Arcam deal, too, having built a more than 10 percent stake in the target that gives it the ability to prevent a full GE takeover. It hasn't formally said it will reject GE's offer -- yet. But should it pursue a round 2, the activist investor shouldn't expect GE to make any concessions. 
To contact the author of this story:
Brooke Sutherland in New York at bsutherland7@bloomberg.net
To contact the editor responsible for this story:
Beth Williams at bewilliams@bloomberg.net
Before it's here, it's on the Bloomberg Terminal.
LEARN MORE