Contagion Risk
Eli Lilly's Diabetes Misery Will Have Company
Pricing pressures are already here, and they're spreading.
By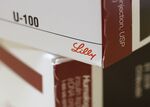 SANOFI
-0.53
At Closing, January 17th
NOVO NORDISK A/S-B
+3.00
At Closing, January 17th
With Bernie Sanders howling for drugmaker blood and biotech investors assuming a Clinton presidency will mean immediate drug-price controls, it's easy to forget about the price pressure that's already happening. 
Good, old-fashioned competition -- with a big assist from pharmacy benefit managers -- is pushing diabetes drug prices down. It caused Novo Nordisk A/S to slash guidance and jobs earlier this year, and Sanofi is struggling as well. On Tuesday, Eli Lilly & Co. missed analyst earnings expectations for the third time in the past four quarters after sales of its best-selling drug Humalog fell 9 percent from a year ago.
Lilly's misery is a sign of more to come for the industry. 
It's not a great sign when your best-selling medicine has its worst quarter in three years absent new competition. Humalog's sales were nearly $100 million short of expectations, despite the fact that sales volume actually rose 10 percent in the U.S. from a year ago  -- which says volumes about how much price pressure is hurting. 
Diabetes treatment is worth more than $70 billion globally, with multiple drugs competing for market share for just about every approach to managing the disease. It's the perfect ground for price competition. 
As insulins in particular get older -- Humalog was initially approved 20 years ago -- companies are increasingly competing on price and rebates to keep market share. PBMs and insurers are happy to help out. Facing pressure to reduce costs, they are becoming more aggressive in how they play companies against each other and decline to cover certain drugs in order to extract big discounts. CVS will exclude 154 drugs from its main coverage list in 2017, up from 34 in 2012. Express Scripts, the largest PBM, will exclude 85 medicines. 
Express Scripts prefers Lilly's diabetes drugs to alternatives from Novo Nordisk and Sanofi. CVS picked Lilly's Basaglar -- a copy of Sanofi's Lantus -- over the original. Such deals with PBMs help drugmakers keep or seize market share, but it's a safe bet they come at a cost.  
Higher private rebates can also mean higher rebates paid to the government; certain programs such as Medicaid get an extra statutory discount on top of what's paid privately. Even before this latest round of PBM deals, the implied rebate for Humalog -- the difference between reported gross and net sales -- had risen by more than 50 percent since 2009.
This trend will get worse. Every new year means more competition and a new round of payer contracts that ratchet prices down further.
It's not just diabetes getting the squeeze; rebates in other large and crowded drug classes such as asthma have risen dramatically. It's also getting tougher than ever to successfully launch new drugs in competitive areas, even with good trial results, as PBMs throw up roadblocks to prescribing drugs. Ask Novartis about the $2 billion analysts have shaved from sales estimates for its heart drug Entresto.
This trend is of particular concern to Lilly, which has ridden a wave of R&D productivity to a sector-leading 19.7 P/E ratio, compared with the large-pharma mean of 14.8. But its new and upcoming drugs are pretty much all in crowded classes. Humalog's troubles are bad enough. Add in potential slow launches for new drugs and the substantial risk that a highly anticipated Alzheimer's drug trial later this year will disappoint, and you've got an ugly downside scenario for Lilly. 
But rivals shouldn't cheer; if what's happening with diabetes worsens and spreads to more disease areas, then you have an ugly downside scenario for the whole industry.
To contact the author of this story:
Max Nisen in New York at mnisen@bloomberg.net
To contact the editor responsible for this story:
Mark Gongloff at mgongloff1@bloomberg.net
Before it's here, it's on the Bloomberg Terminal.
LEARN MORE