Theresa May's decision to greenlight a 16 billion pound ($19.5 billion) third runway at Heathrow suggests she's much happier about foreign ownership of strategic British assets than recent public comments might suggest. (A leaked tape of comments she made before the Brexit vote show how her private views may not always match the rhetoric.)
Since becoming prime minister, May's railed against a rootless capitalist elite and promised to review Britain's famously relaxed attitude toward foreign ownership of its assets.
So it's ironic that she's backing an expansion of Heathrow, Europe's busiest airport, which is almost entirely owned by non-Brit investors: including Spanish construction company Ferrovial SA, plus sovereign wealth funds Qatar Holding LLC and China Investment Corp. Similarly, the 18 billion pound Hinkley nuclear power plant, another white elephant approved by May's government, is owned by the French and Chinese: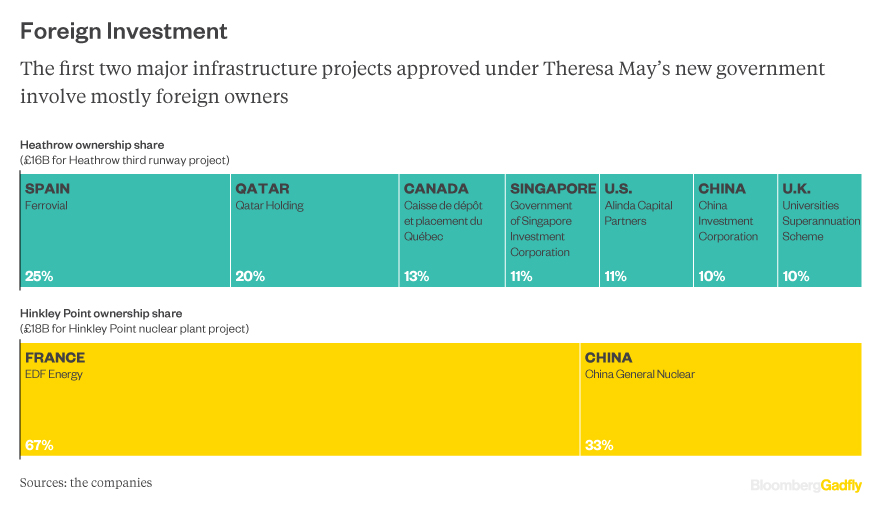 The government statement on Heathrow says it's a "fact" that an extra runway will deliver up to 61 billion pounds of economic benefits to the U.K., which seems extraordinarily precise for a 60-year projection. But both sides have tended to gloss over the returns for Heathrow's owners, probably because they're potentially pretty good.
True, Heathrow will need to borrow hugely to pay for all this (British taxpayers aren't picking up the construction bill for either Heathrow or Hinkley ). The airport operator already has about 12 billion pounds of net debt, not far off the size of its 15 billion pound regulated asset base.
A report for the U.K. airports commission found the new runway could lift that debt by as much as 27 billion pounds, making its total borrowings almost as big as oil giant BP PLC . Yet it should probably be okay because, like a utility, its potential returns are fixed by regulators, which bond investors like. A Heathrow bond maturing in 2046 yields just 3 percent.
The other trick with Heathrow ownership, is that its returns increase every time its asset base gets bigger, provided it keeps operating cost under control. 

Alive to warnings from British Airways and others that the new runway will be a license to fleece passengers, May's ministers say Heathrow must "aim" to keep landing charges "close to current levels" -- which are already high. But political promises have so far meant nothing in the Heathrow saga. Plus its returns are set by the Civil Aviation Authority, not the government.
Last year Heathrow's pretax profit margin (including aviation fees and income from retail and car parks) was about 8 percent. Despite its heavy debts, that allowed Heathrow to pay out 300 million pounds in dividends to its owners, which suggests Ferrovial and friends are onto quite a good thing.
Similar could be said about Hinkley, where French utility EDF stands to make a fortune by selling overpriced electricity, provided it doesn't completely lose control of costs -- though, in fairness, that's something that can't be ruled out for either project.
Overall, EDF expects a 9 percent internal rate of return from Hinkley, pretty tasty in a negative-yield environment.
Britain's openness to foreign investment is a strength, of course, and it depends on capital inflows to fund a large current account deficit -- a reliance Bank of England governor Mark Carney famously dubbed "the kindness of strangers".  
After Brexit, it's more important than ever that this continues and the people who provide it should make a reasonable return. But May's captivation with massive, high-risk infrastructure projects is hard to fathom.
Neither project will be completed for at least a decade -- if at all -- and the main financial beneficiaries won't be British. With Hinkley and Heathrow, the U.K is also being very kind to strangers.
This column does not necessarily reflect the opinion of Bloomberg LP and its owners.
To contact the authors of this story:
Chris Bryant in Frankfurt at cbryant32@bloomberg.net
Elaine He in London at ehe36@bloomberg.net
To contact the editor responsible for this story:
James Boxell at jboxell@bloomberg.net