party line
Unicom Hopes on Hold
Previous government-inspired shakeups have disappointed. This may be no different.
By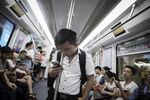 CHINA MOBILE LTD
+0.25
At Closing, January 23rd
CHINA UNICOM HONG KONG LTD
-0.02
At Closing, January 23rd
Buying the targets of China's program to make state-owned companies more competitive has become a favorite game for investors. China Unicom shows the strategy is far from a sure bet.
The weakest of the nation's three mobile-phone operators disclosed on Oct. 10 that it was a candidate for "mixed-ownership" reform 1 , under which private capital will be allowed to play a bigger role in industries previously restricted to the state. Unicom's Hong Kong-traded shares surged 5.6 percent the following day, the biggest gain in almost two months.
That rally evaporated this week after the company said Tuesday that it expects net income for the first nine months to plunge about 81 percent from a year earlier. At Thursday's close of HK$9.43, the stock is barely above its level before Unicom announced it was a restructuring prospect.
That shouldn't be a surprise. The Hong Kong-traded shares of three state companies touted for mixed-ownership trials  -- Unicom, China Eastern Airlines and Harbin Electric -- have all underperformed the city's benchmark Hang Seng Index this year.
Unicom's business could certainly do with an overhaul. Revenue and earnings trail those of market leader China Mobile and China Telecom. The company has provided the most generous iPhone 7 subsidies in an attempt to lure 4G subscribers, according to Bloomberg Intelligence analyst Michelle Ma. Those 4G marketing costs, along with fees paid to its part-owned mobile-phone tower network, were blamed by Unicom for the profit slump.
The mixed-ownership plan could involve issuing stock incentives for employees and executives and, at an extreme, private management of state-owned assets, Ma and other analysts say. Such changes have the potential to increase efficiency and lift shareholder returns.
Still, investors willing to bet on the results of the revamp should remember history. China has regularly shuffled assets and personnel between the telecom carriers (including merging Unicom with China Netcom in 2008) without fundamentally changing the nature of the industry as a government-directed fiefdom rather than a freely competitive market.
If the most recent shakeup is any guide, investors can expect more of the same. In October last year, Unicom and its two competitors put their tower assets into a separate company. China Tower plans to go public next year in an IPO that could value the network at as much as $55 billion. That will undoubtedly benefit Unicom, which holds a stake of about 28 percent in the company.
But for now, the three mobile carriers have to pay leasing fees to China Tower that are set, needless to say, by the government. Unicom, China Mobile and China Telecom will probably pay about 66 billion yuan ($9.8 billion) to the company this fiscal year, Credit Suisse estimates. That makes China Tower the world's largest base station company by revenue, according to the Swiss bank. Despite this, China Tower contributed a 150 million yuan loss to Unicom's consolidated accounts in the first half.
Unicom investors appear to be placing high hopes on the latest shakeup. Even after their recent decline, the company's shares are trading at 38 times estimated earnings, compared with 15 for China Mobile and China Telecom, according to data compiled by Bloomberg.
After previous disappointments, it's worth bearing in mind that the companies targeted by China's market reforms are also those where the government is least willing to relinquish control. The invisible hand may have its uses, but the visible hand of the state remains paramount.
To contact the author of this story:
Nisha Gopalan in Hong Kong at ngopalan3@bloomberg.net
To contact the editor responsible for this story:
Matthew Brooker at mbrooker1@bloomberg.net
Before it's here, it's on the Bloomberg Terminal.
LEARN MORE