With Hillary Clinton leading Donald Trump in the opinion polls, the political risk factor facing the Federal Reserve is subsiding -- though policy makers would never say so themselves.
The chances of a 25 basis-point increase in the Fed Funds rate in December are close to the 70 percent level former U.S. Treasury Secretary Lawrence Summers has opined is the key to a Fed meeting being properly alive.
But is the market ignoring November? It might just be, judging by the 17 percent probability it's putting on a rate hike by that month.
Could Federal Reserve Chair Janet Yellen get the "one and done" over with -- at least for now -- before the election? The risk can't be ignored.
History shows the policy makers have been perfectly willing to vote in its last meeting before election day. Bloomberg First Word market strategist Christopher Maloney has pointed out that in the nine presidential races between 1980 and 2012 the Fed moved rates four times in its last meeting before the vote. A November move, Maloney notes, would be a shock to the market, but it wouldn't be unprecedented.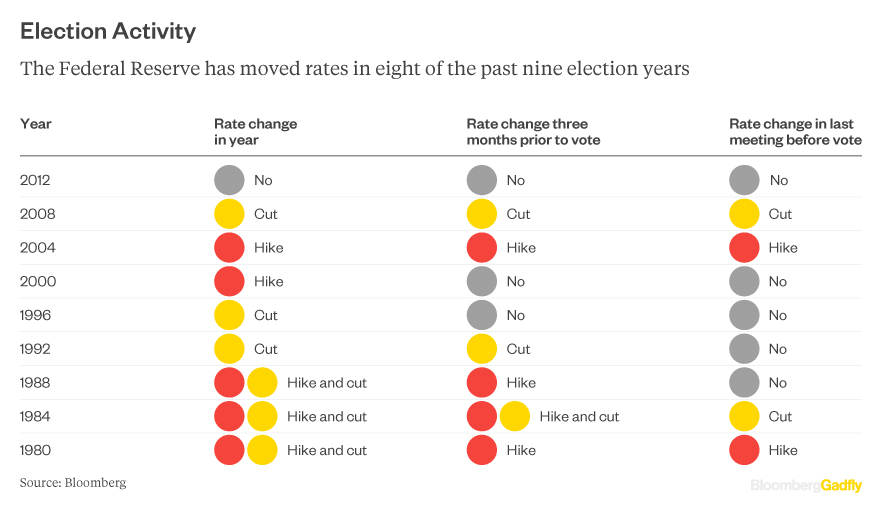 Policymakers are already emphasizing the need for a rate increase.
Boston Fed President Eric Rosengren, previously seen as dove, has become one of the more vocal proponents for an imminent hike, saying that the near 70 percent likelihood for December is priced correctly. That has been backed up by New York Fed chief Bill Dudley -- whose pronouncements on rate policy over the past 18 months have probably been the most accurate.
Vice Chair Stanley Fischer echoed this in his hawkish speech yesterday. He mentioned that the Fed's preferred inflation measure, the personal consumption expenditure price deflator, is very close to its 2 percent target at 1.7 percent. He made a pointed remark that other measures, such as CPI, are already above the 2 percent level at 2.3 percent.
Fischer, together with Dudley, is a member of the Praetorian guard that walk in step with Yellen. Most likely, his remarks were an effort to douse market expectations that the Fed might be prepared to tolerate more inflation in the short term after Yellen's "high pressure" economy speech on Friday.
Might the Fed want the market to expect a rate hike sooner rather than later? 
--Gadfly's Elaine He contributed graphics.
This column does not necessarily reflect the opinion of Bloomberg LP and its owners.
To contact the author of this story:
Marcus Ashworth in London at mashworth4@bloomberg.net
To contact the editor responsible for this story:
Edward Evans at eevans3@bloomberg.net