Welcome to positive territory, Netflix.
After an encouraging quarterly report on Monday afternoon, Netflix shares were climbing about 19 percent in early trading Tuesday. The stock price is now nearly 4 percent higher since the end of 2015. That eases what has been a letdown from last year, when Netflix was the best-performing stock in the S&P 500.
Better-than-expected third-quarter subscriber gains helped erase some investor anxiety about what has been a slow stretch for new customer sign-ups. Broader worries persist, including about the company's deepening negative cash flow as Netflix splurges on new shows and movies to lure more subscribers.
About half of the stock analysts who follow Netflix recommend buying the shares, according to data compiled by Bloomberg. That is hardly bullish, but it's also a reasonably cautious stance for a company valued at about 300 times its trailing 12 month earnings.

Netflix is a tale of two companies. In the U.S., it is slowly adding customers to its already large roster of 48 million web video subscribers. Those domestic customers generate a plump 36 percent contribution margin -- or revenue minus the costs to buy and stream programming and market Netflix to customers. Outside the U.S., the company is adding subscribers by the millions each quarter, but in the aggregate Netflix is losing money overseas.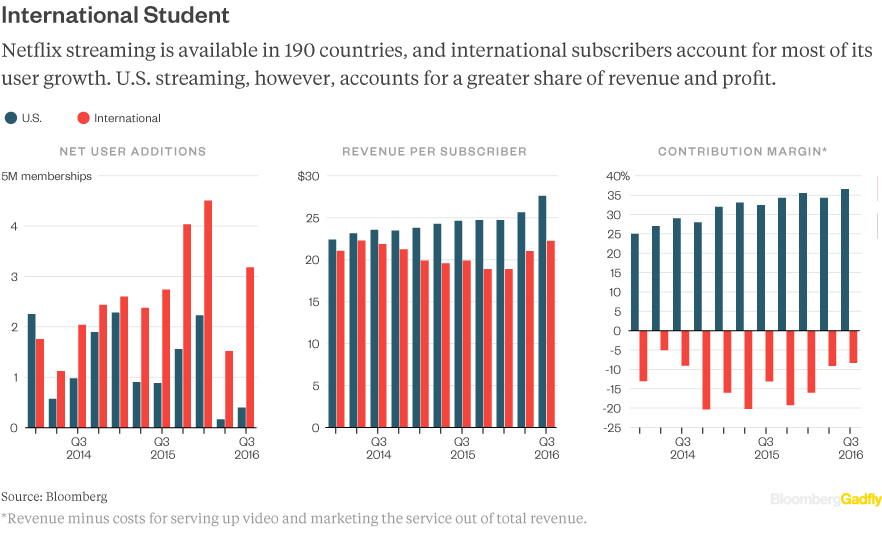 Netflix optimists see this condition as a healthy setup for company that wants to be the first global television network. The profits in the U.S. can finance Netflix's pricey expansion into nearly every country on Earth.
It's also a bet with high risks for the potential high rewards. Netflix needs to achieve its international subscriber goals to justify its billions of dollars in annual fixed costs for programming. If new global customers prove elusive -- or if they generate substantially lower revenue on average than Netflix's U.S. customers do -- the company's cash burn could turn into a bonfire. 
This column does not necessarily reflect the opinion of Bloomberg LP and its owners.
To contact the authors of this story:
Shira Ovide in New York at sovide@bloomberg.net
Rani Molla in New York at rmolla2@bloomberg.net
To contact the editor responsible for this story:
Daniel Niemi at dniemi1@bloomberg.net