How Low Can British IPOs Go?
There's a price at which any deal can be done. But it's falling.
By and
Brexit is taking a bite out of British IPOs. Rubbish collector Biffa and software group Misys are the latest victims.
Biffa listed on Monday at 180 pence a share, having previously set a range of 220 to 270 pence a share. Misys is looking to go public with an approximate 3.2 billion-pound ($3.9 billion) to 3.75 billion-pound equity valuation, having scaled that back by about 1 billion pounds.
That's unlucky, but not a bad result in the circumstances: after all the preparation, Biffa and Misys will still get their listings and can always sell more shares at a later date. Misys' private-equity owners are scaling back the amount of shares being sold in the flotation.
It's a reminder of how the June 23 referendum has choked the flow of IPOs in London. Here, companies have sold only a few hundred million pounds of shares since June 23, compared with 3.7 billion pounds in the year-earlier period, according to Bloomberg data.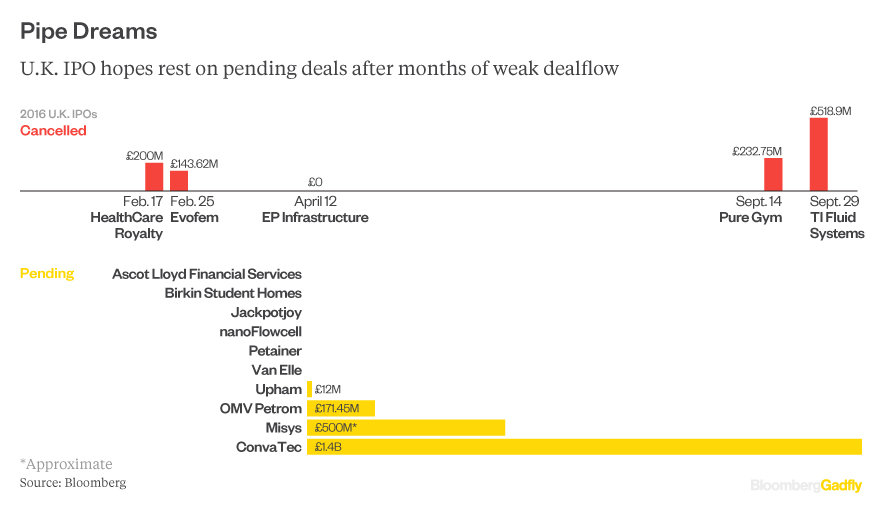 Things had appeared to be on the turn, with a reasonably large pipeline of offerings lined up for the final quarter of the year. That stands at about 2.2 billion pounds right now.
But the shrunken offerings of Biffa and Misys are the latest in a series of setbacks that threatens to undermine a comeback. Sentiment has turned markedly since the party conference of the U.K.'s governing Conservative party stoked fears of a so-called hard Brexit.
Some of those companies affected may be able to persuade investors that their international operations are more valuable because of sterling's plunge. While Biffa is almost entirely a U.K.-focused business, ConvaTec, a medical products group lining up a 1.4 billion-pound offering, got almost half of its revenue from the Americas last year. Misys operates in more than 40 countries. Overseas exposure is nevertheless no guarantee of success. TI Fluid, a maker of automotive systems which pulled its IPO on Sept. 29, is a globally diversified business, too.
There's a price at which almost any deal can get done. As Biffa and Misys show, that price is coming down.
To contact the authors of this story:
Elaine He in London at ehe36@bloomberg.net
Chris Hughes in London at chughes89@bloomberg.net
To contact the editor responsible for this story:
Edward Evans at eevans3@bloomberg.net

Before it's here, it's on the Bloomberg Terminal.
LEARN MORE