Illumina, the global leader in DNA sequencing machines, is just not selling enough of them.
The company on Monday warned revenue in the recently ended third quarter was just $607 million, well short of its earlier guidance of $625-$630 million. It also substantially lowered its fourth-quarter revenue forecast. Shares fell about 25 percent on Tuesday, the biggest one-day decline since 2011. 
This marks the third time in the past four quarters Illumina has missed expectations of one sort or another, including an April 18 revenue warning that sent shares tumbling 20 percent.
The string of bad headlines suggests Illumina's core business may be slowing as growth opportunities for its machines take their sweet time arriving. If a long-awaited expansion into new markets doesn't materialize soon, then Illumina will face a lot more pain and may have more trouble fighting off potential acquirers. 
Sequencing machine revenue fell 26 percent quarter-over-quarter, according to an investor call on Monday. And the company is no longer counting on a pickup of sales of its most expensive machines to bolster revenue in the fourth quarter. It expects growth in the quarter to be flat or slightly up sequentially. That's a far cry from the 16 percent year-over-year growth to $684 million analysts expected.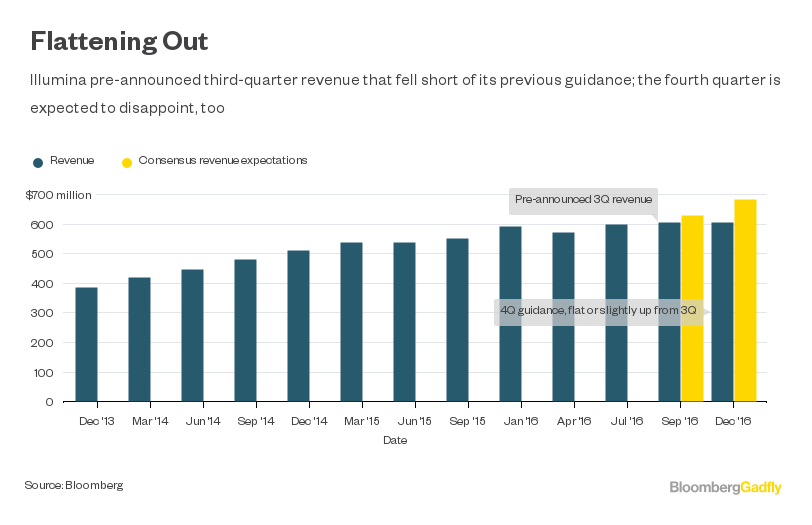 Illumina needs to better explain what exactly is causing this slowdown. It offered little detail on Monday's call, saying it will divulge more on its November 1 earnings call.
If a couple of contracts haven't gone its way, then that's fine. That will even out. But demand for both its big and small machines has substantially disappointed at different points this year. BTIG analyst Dane Leone suggested in a note that the sequencer market Illumina dominates might be saturated. And there are always potential new sequencing methods that could threaten the company's leadership. 
The fact that its results and guidance have been so inconsistent suggests Illumina is reading the market poorly.
The company maintains that, as personalized medicine -- bespoke medical treatment based on a person's genetic information -- gets more popular, oncologists, reproductive and genetic specialists and other users will push the sequencing market beyond traditional researchers and specialists. Illumina believes the potential market for its products is $20 billion, or around 10 times its current $2.2 billion in annual sales. 
But that transition is very much a work in progress; personalized medicine is still nascent, as are the company's moonshot forays into consumer genetics (Helix) and early cancer detection (Grail). The company's outsize ambitions have given it a premium market valuation that its performance may not justify.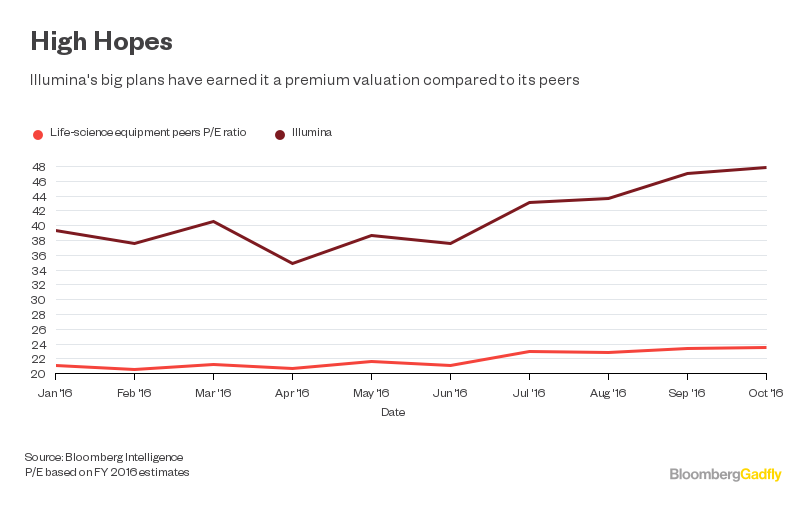 Illumina seems to believe in its potential so much that it fought off a $6.7 billion offer from Roche in 2012 -- a decision vindicated when it more than quadrupled its market cap in the following years to a peak of $34 billion.
But Roche could be thinking about taking another crack. And Thermo Fisher was at one point thought to be cooking up a $30 billion bid. 
If investors can't trust the company's projections and aren't seeing that mythical $20 billion market materialize, then Illumina may struggle to recover from its latest swoon.
With its market value knocked down to $20 billion lately, opportunistic buyers may come knocking.
This column does not necessarily reflect the opinion of Bloomberg LP and its owners.
To contact the author of this story:
Max Nisen in New York at mnisen@bloomberg.net
To contact the editor responsible for this story:
Mark Gongloff at mgongloff1@bloomberg.net