It must be galling for those SVG Capital shareholders who sold their stock on Friday.
Then the stock was at 668 pence. On Monday, it jumped as high as 689.5 pence after SVG received yet another bid for its portfolio of holdings in private equity funds.
The aspiring buyer is HarbourVest of Boston. It's trumping a rival offer for SVG's assets made by a unit of Goldman Sachs and a group of Canadian pensioners.
Awkwardly, it's also topping its own bid for SVG itself -- an offer it is banned from raising.
Shareholders might have thought HarbourVest couldn't do anything to push SVG's shares higher. It had declared its 650-pence-a-share offer for SVG "final" the day it was made on Sept. 12. Under U.K. rules, that means it can't be increased.
HarbourVest hasn't done anything wrong here.
Its take-it-or-leave-it offer for SVG, valued at 1.02 billion pounds ($1.3 billion), is unchanged. It is simply proposing an alternative: paying 783 million pounds to take SVG's investments, and leaving the company that selects and manages those holdings. There would be no change of control for SVG the company, which could then do what it wanted with the proceeds.
The proposal is worth 500 pence per SVG share. After the deal, SVG would have 325 million pounds of cash, equivalent to about 208 pence a share, most of which it could then return to shareholders.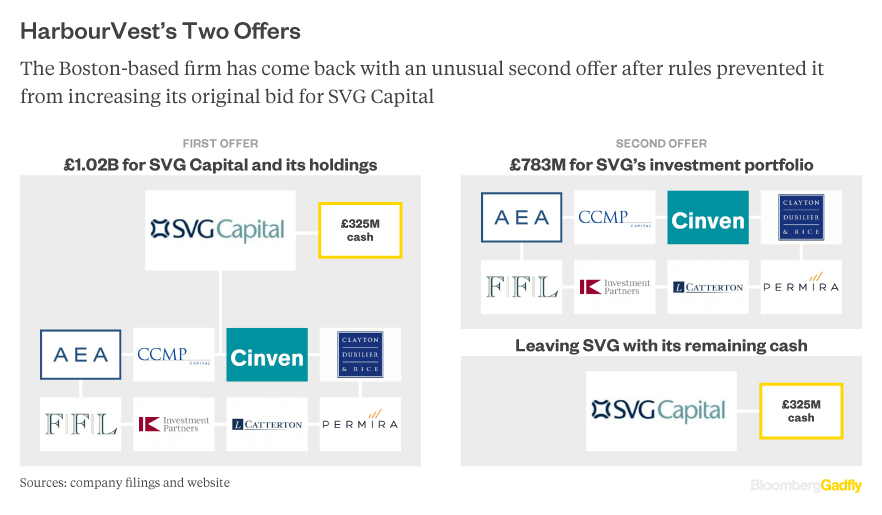 That adds up to a lot more than HarbourVest's original offer for SVG. So is this against the spirit of the U.K. takeover rules?
Not really. HarbourVest's bid for SVG's investments isn't a like-for-like increase on its original offer for the company.
U.K. takeover supervisors can't, however, sit easy. It's possible to imagine occasions where bidding for a company's assets instead of the company would be a more obviously deliberate and cynical ploy to get around the restrictions on raising final offers.
This situation could arise again -- especially for publicly traded companies that have no operating business and are simply a collection of financial assets. At its harshest, any fund management company with underperforming employees would be vulnerable to the same tactics.
It would be good for the Takeover Panel, the body that oversees the rulebook, to codify what bidders with "final" offers can do in these situations.
For now, SVG CEO Lynn Fordham has got an auction going for the firm's investment portfolio when shareholders really want an auction for the shares.
If Goldman and the Canada Pension Plan Investment Board want to see off HarbourVest, they could do worse than reinvent their own bid and make an offer for SVG stock.
--Gadfly's Elaine He contributed graphics.
This column does not necessarily reflect the opinion of Bloomberg LP and its owners.
To contact the author of this story:
Chris Hughes in London at chughes89@bloomberg.net
To contact the editor responsible for this story:
Edward Evans at eevans3@bloomberg.net