Theresa May might not like it, but there's one early winner from the Brexit vote: the global capitalist elite. The British leader bemoans rising asset prices, but the decision to quit the EU has put a rocket under U.K. stocks. These are within a whisker of record highs after the pound plunged to a three-decade low against the dollar. The mid-cap-focused FTSE 250 index has already hit fresh peaks, though the blue chip FTSE 100 hasn't quite breached last year's record.
It's no secret that the beneficiaries of the post-Brexit rally are generally bigger companies that get a proportion of revenue outside the U.K., in currencies other than sterling. This chart of FTSE 350 companies shows just how stark that effect is -- the best performers since the referendum have tended to be bigger and more multinational. As long as currency markets take a dim view on Brexit, that isn't going to change.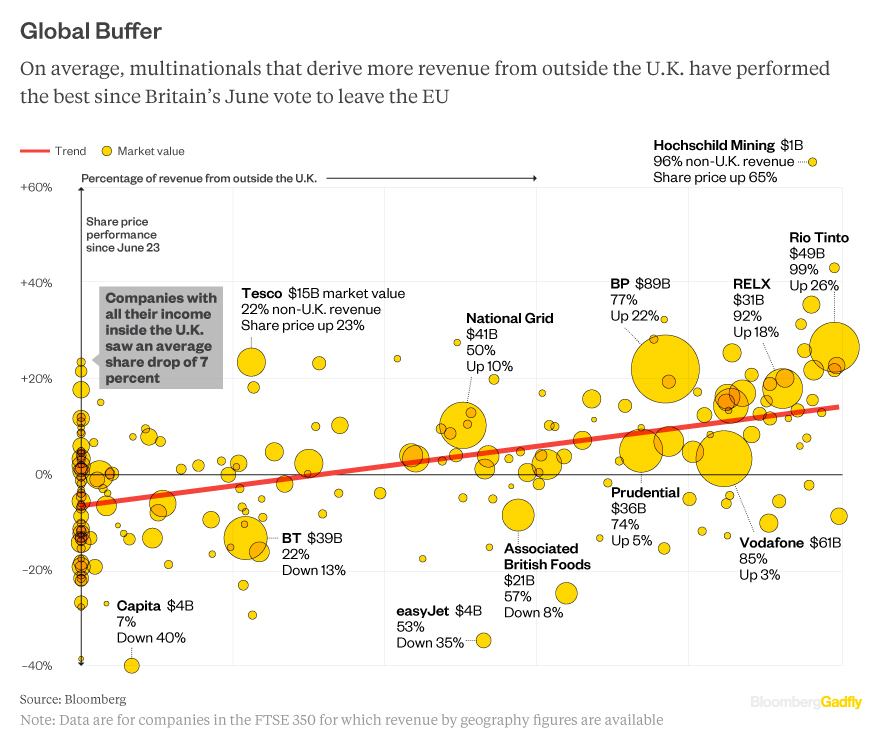 This column does not necessarily reflect the opinion of Bloomberg LP and its owners.
To contact the authors of this story:
Elaine He in London at ehe36@bloomberg.net
Chris Hughes in London at chughes89@bloomberg.net
To contact the editor responsible for this story:
James Boxell at jboxell@bloomberg.net