Britain's new home secretary Amber Rudd has caused a bit of a kerfuffle by saying she might force U.K. companies to draw up lists of foreign staff. It's all apparently part of a plan to shame migrant-friendly employers into hiring more Brits. While it's always wise to discount much of the content of any political party speech -- and Rudd later backtracked by saying she wouldn't "definitely" do this -- the crudeness of her message was worrying.
As the chart below shows, about two out of five FTSE 100 bosses hail from overseas, an inevitable consequence of globalization.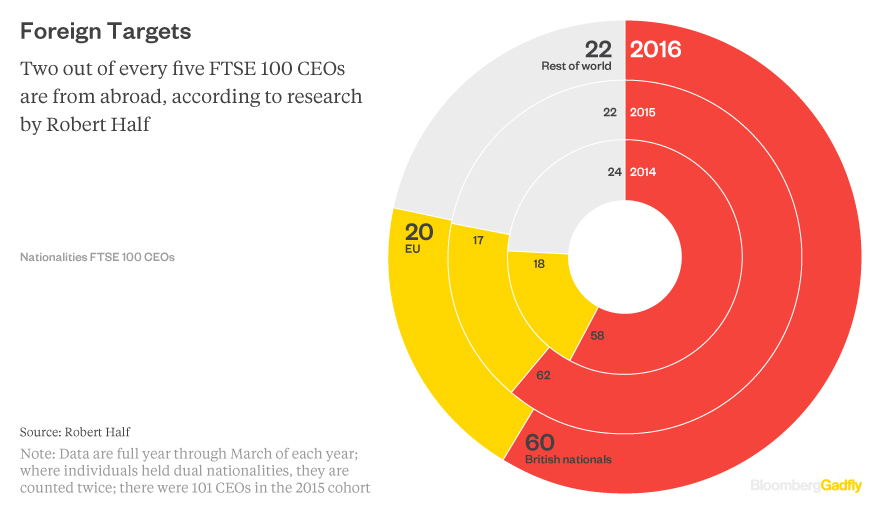 That elite group of companies isn't, of course, a perfect proxy for British employers, seeing as a large part of its revenues come from overseas. It does, though, highlight what should be obvious to a right-of-center government in an advanced economy: the hunt for talent is international. This applies to staff as much as bosses.
Theresa May's government would be better off concentrating on improving the country's skills base and poor productivity than indulging in crowd-rousing. Will she come for those foreign CEOs next?
This column does not necessarily reflect the opinion of Bloomberg LP and its owners.
To contact the author of this story:
Elaine He in London at ehe36@bloomberg.net
To contact the editor responsible for this story:
James Boxell at jboxell@bloomberg.net