The Samsung Dilemma
The biggest risk isn't that the Korean company will lose market share, but that it will sell cheaper to win back trust.
By and
SAMSUNG ELECTRONICS CO LTD
-58000.00
At Closing, April 20th
Samsung's Note 7 battery fiasco comes as the South Korean company has begun to rely on its telecommunications unit for almost half of its revenue amid weaker growth in semiconductors and displays. 
As the world's largest smartphone maker with a more than 20 percent market share, even a total write-off of all its Note 7 handsets would barely dent overall shipment numbers. Yet the reported cost of as much as $2 billion could take a relatively more painful toll on earnings because the Note 7 is a high-end device.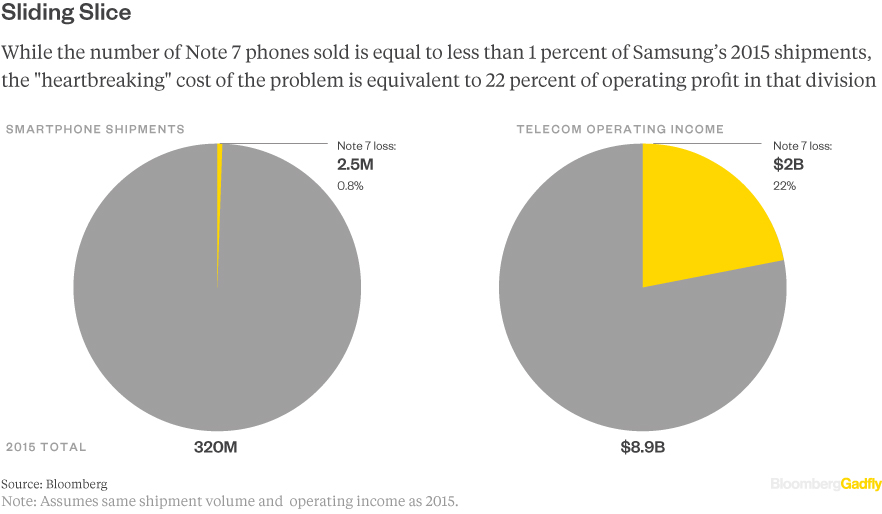 One downside of its higher average selling price is that each lost unit will be more expensive to replace -- or result in a greater amount of lost revenue.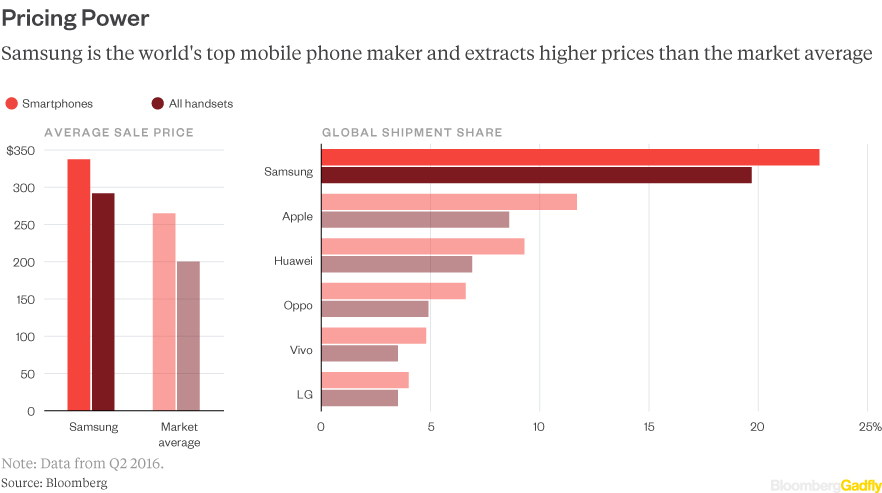 Samsung currently charges 26 percent more per smartphone than the market average. If it can maintain that pricing power despite the massive recall costs and a possible decline in market share, then there's every chance it can limit the downside and even boost operating profit.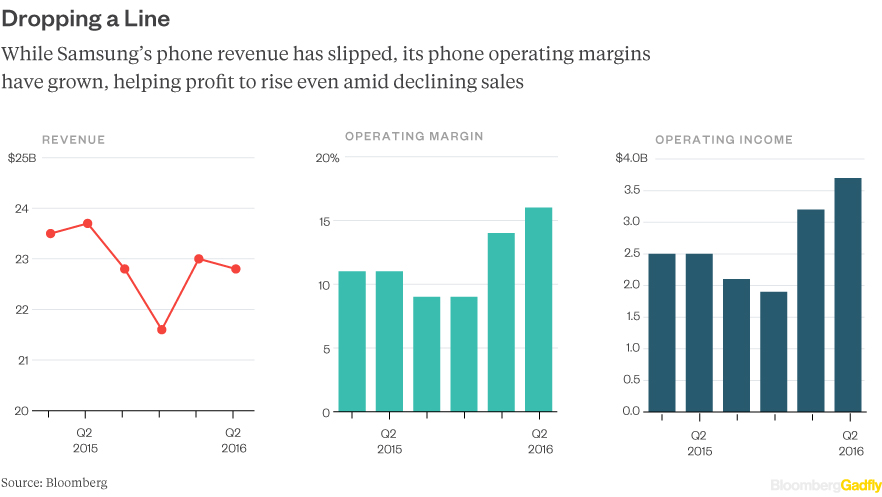 What may be unquantifiable is the loss to Samsung's reputation. Cutting prices to chase customers and buy loyalty may help the company maintain market share, yet that would surely result in slimmer margins at a time when it enjoys higher profitability than most competitors.
A better longer-term strategy would be to boost its R&D focus, invest more in quality control and spend money on marketing to win back trust.
Each of those choices would increase costs in both the short and long term. But so far it looks like investors are willing to ride out the storm in the belief customers will be forgiving.
To contact the authors of this story:
Tim Culpan in Taipei at tculpan1@bloomberg.net
Rani Molla in New York at rmolla2@bloomberg.net
To contact the editor responsible for this story:
Katrina Nicholas at knicholas2@bloomberg.net
Before it's here, it's on the Bloomberg Terminal.
LEARN MORE